Reports Q4 2020 results on Wednesday, Feb. 10, before the open
Revenue Expectation: $36.1 billion
EPS Expectation: $1.64
Detroit-based auto maker General Motors (NYSE:GM) has very successfully diverted investor attention from its current challenges to its hopefully more promising future, when it sees itself as a major player in the electric vehicle market. As a result, its stock is on a tear, trading at a record high even when selling new, conventional cars is a struggle during the pandemic.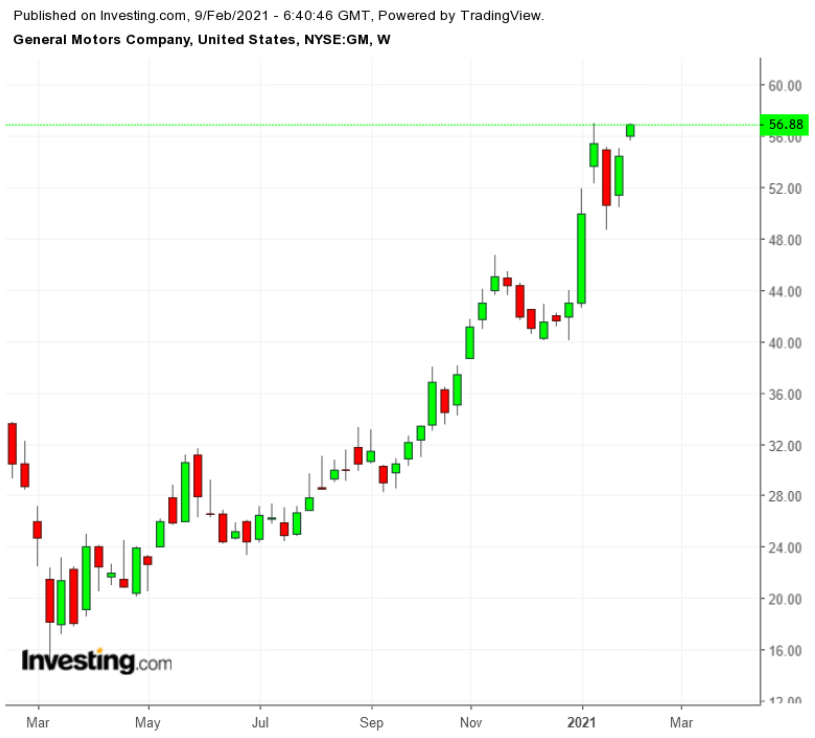 GM Weekly TTM
In its bid to convince investors that it has a plan to survive in a market ruled by EVs, the nation's biggest auto-maker, is spending $27 billion through 2025 to develop electric and driverless vehicles. GM's initiative is part of Chief Executive Officer Mary Barra's strategy to take on Tesla's (NASDAQ:) leadership and transition away from being a maker of gas-guzzling, carbon-spewing trucks and SUVs.
Said Barra in a statement last month:
"Our team accepted the challenge to transform product development at GM and position our company for an all-electric future. What we have done is build a multi-brand, multi-segment EV strategy with economies of scale that rival our full-size truck business with much less complexity and even more flexibility."
The heart of GM's strategy is a modular propulsion system and a highly flexible, third-generation global EV platform powered by proprietary Ultium batteries. This will allow the company to compete for nearly every customer in the market today, whether they are looking for affordable transportation, a luxury experience, work trucks or a high-performance machine.
The strategy seems to be working, and winning over other companies to become partners. Honda (NYSE:HMC) will use GM's electric-vehicle platform for upcoming models following deals struck last year, while Microsoft (NASDAQ:MSFT) last month agreed to join GM's Cruise LLC, a self-driving car startup in a deal that will bring the software giant's cloud and edge-computing capabilities to the venture.
Staying Profitable
Amid this EV initiative, a big challenge for GM is to continue generating cash flows from its existing operations to fund lower-margin electric vehicles. News on that front is also encouraging.
The Detroit auto-maker posted a 4.8% increase in deliveries during the October-December quarter—its best fourth quarter for retail sales since 2007. Average transaction prices in the three-month period climbed to a record $41,886, suggesting GM's bigger sport-utility vehicles, like the Chevrolet Tahoe and GMC Sierra pickups, are gaining market share. Due to Q4 sale rebound, GM was successful in limiting the pandemic-triggered damage to its sales in 2020, when they fell 12%.
The sales turnaround in Q4, coupled with its joint ventures in EV and possible cost savings from its business restructuring in North America are fuelling gains in GM share price this year. The stock closed yesterday at $56.90, after surging 50% during the past quarter.
Argus Research analyst William Selesky said in a recent note that also issued an upgrade to GM to buy from hold:
"We believe that investors have undervalued the company's strength in traditional internal combustion vehicles, as well as its Chinese joint venture, Ultium battery and financial services businesses."
Bottom Line
General Motors' current momentum clearly shows that the automaker has a plan to survive the EV revolution and its current operations have the power to fund that transition. Tomorrow's earnings report could very well reflect that story.
Leave a comment