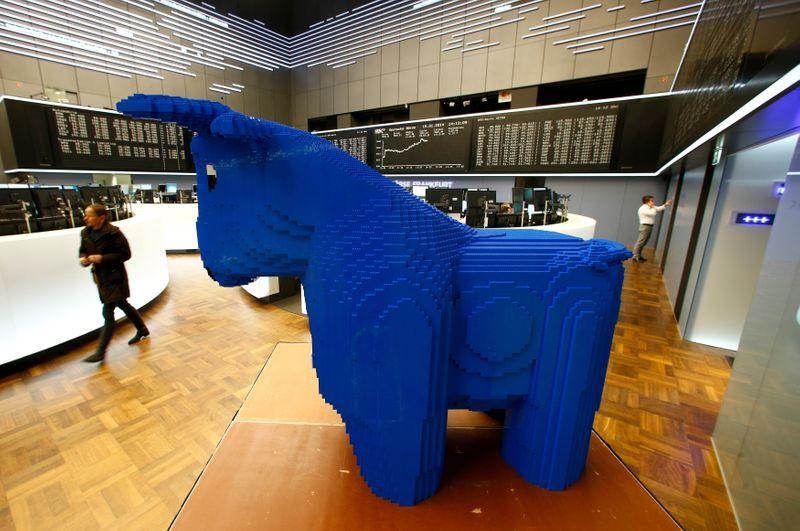 © Reuters
By Peter Nurse
Investing.com – European stock markets traded in a mixed fashion Tuesday, as investors weighed up better than expected German retail sales data with new Covid-inspired lockdowns and U.S. political uncertainty.
At 3:55 AM ET (0855 GMT), the DAX in Germany traded 0.1% lower, the CAC 40 in France fell 0.1%, while the U.K.'s index climbed 0.4%.
German retail sales rose 1.9% in November, against analysts' expectations of a contraction, thanks in part to very strong growth in online sales as consumers continued to spend despite the country being partially locked down to combat the rising Covid-19 cases. The country's unemployment data also surprised positively, with 37,000 jobs created in December instead of the expected 10,000 jobs lost.
That said, the number of its Covid-19 cases continued to rise sharply throughout the continent.
The U.K. ordered a new, more rigorous lockdown on Monday. In Germany, Chancellor Angela Merkel and the state premiers are scheduled on Tuesday to discuss a possible extension of the current lockdown beyond Jan. 10. Restaurants, bars, museums and cinemas remain shut in France, while Italian ministers decided to keep nationwide restrictions in place this weekend to slow coronavirus infections.
Also prompting wariness among investors is the uncertainty surrounding the Senate runoffs in Georgia due later Tuesday. These could determine the control of this branch of the U.S. government and thus impact the economic policies President-elect Joe Biden will be able to introduce.
Both contests are seen as being very tight and the outcomes may not be immediately known, which could result in the type of political chaos which followed the presidential election in November.
Fashion retailer Next (LON:NXT) stock jumped 7.9% after saying its Christmas sales were much better than it had expected, while Ryanair (LON:RYA) stock fell 0.5% after the airline a sharp drop in December traffic as European nations imposed restrictions on movement.
Oil prices edged higher Tuesday as a group of the world's top producers continue to discuss a production policy for next month, amid concerns about demand growth due to the Covid-19 pandemic.
OPEC and allied producers including Russia, a grouping known as OPEC+, were unable to decide Monday, split over whether or not to proceed with a planned increase of 500,000 barrels a day from February. They decided last month to raise output by just 500,000 barrels per day in January, but are still holding more than 7 million barrels a day of output back from the market.
U.S. crude futures traded 0.2% higher at $47.72 a barrel, while the international benchmark Brent contract rose 0.1% to $51.15. Both contracts fell more than 1% on Monday.
Elsewhere, gold futures fell 0.1% to $1,945.80/oz, while EUR/USD traded 0.2% higher at 1.2274.
Leave a comment