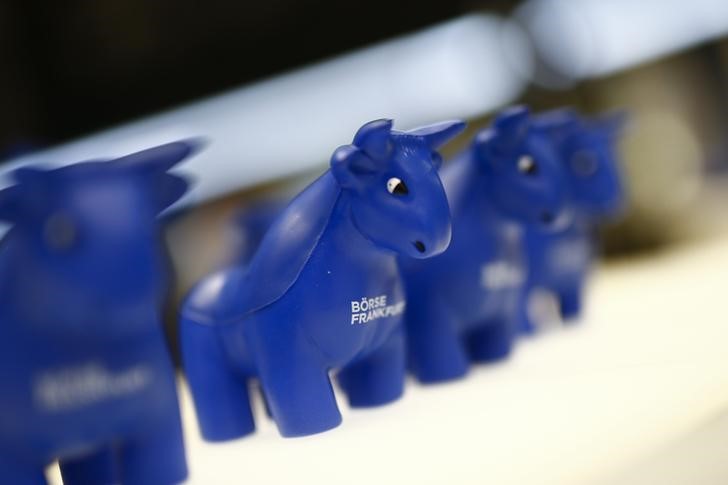 © Reuters.
By Peter Nurse
Investing.com – European stock markets are seen opening largely higher Friday, helped by increasing confidence of a U.S. stimulus package that is reinforcing the positive sentiment generated by the rollout of Covid-19 vaccines.
At 2:05 AM ET (0705 GMT), the DAX futures contract in Germany traded 0.2% higher, the FTSE 100 futures contract in the U.K. rose 0.4%, while the CAC 40 futures in France dropped 0.1%.
Global stock markets have seen strong gains over the last few weeks, helped by investor optimism that vaccine developments will support a global recovery in 2021. The U.K. is set to roll out the Pfizer-BioNTech Covid-19 vaccine as early as next week.
Adding to the confidence is the idea that a bipartisan, $908 billion coronavirus relief plan is gaining traction in the U.S. Congress. This potential deal was endorsed by Democrat leaders, House Speaker Nancy Pelosi and Senate Minority Leader Chuck Schumer.
Republican Senate Majority Leader Mitch McConnell released his own smaller plan, but he did see "hopeful signs" for reaching a relief agreement before the end of the year.
On top of fiscal support, the European Central Bank is widely expected to increase its bond buying next week and the U.S. Federal Reserve is likely to adjust its guidance around its asset purchase scheme later in December.
Elsewhere, talks between the EU and U.K. negotiators to secure a Brexit deal continued, although a U.K. government source warned chances for a breakthrough were receding.
Looking at economic data Friday, German factory orders increased by 2.9% in October, a rebound from September's revised 1.1%, but the major release will be the monthly U.S. official employment report. This is expected to show an addition of 469,000 jobs for November, a slowdown from the 638,000 seen in October.
Oil prices gained Friday after a group of leading producers agreed to continue restricting production given the severe hit to demand in the wake of the Covid-19 pandemic.
The Organization of the Petroleum Exporting Countries and Russia, a group known as OPEC+, agreed Thursday to ease production cuts by 500,000 barrels per day from January 2021, backing down from the original plans to raise output by 2 million barrels a day.
The group will also meet once a month to review conditions, but stated that any monthly increases will not be greater than 500,000 barrels per day.
U.S. crude futures traded 1.4% higher at $46.28 a barrel, while the international benchmark Brent contract rose 1.6% to $49.51, with the two benchmarks heading for their fifth consecutive week of gains.
Elsewhere, gold futures rose 0.3% to $1,846.80/oz, while EUR/USD traded 0.1% higher at 1.2155, having hit a new 31-month high overnight.
Leave a comment