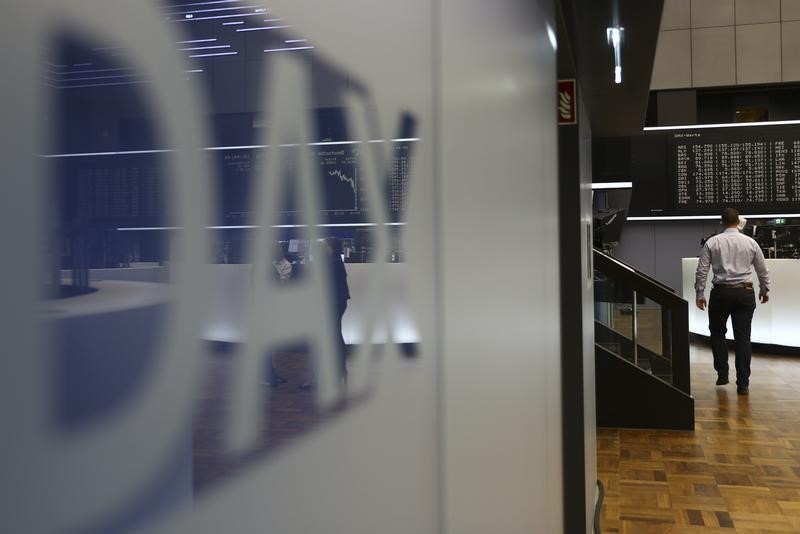 © Reuters.
By Peter Nurse
Investing.com – European stock markets are seen opening largely unchanged Thursday, pausing for breath while waiting for more news about Covid-19 vaccine approvals as well as Brexit trade negotiations.
At 2:05 AM ET (0705 GMT), the DAX futures contract in Germany traded just 0.01% higher, CAC 40 futures in France climbed 0.03% and the FTSE 100 futures contract in the U.K. fell 0.1%.
Global stock markets, and those in Europe are no exception, have seen strong gains on the idea that vaccines to combat the Covid-19 virus are coming shortly, returning the world's economies back to some form of normalcy.
On Wednesday, the U.K. became the first country to grant emergency approval to the Pfizer-BioNTech vaccine. The U.S. and Europe are expected to follow in short order, while drugmakers Moderna (NASDAQ:MRNA) and AstraZeneca (NASDAQ:AZN) are also seen shortly offering up their products for approval.
There was positive economic news earlier in the day, as the Caixin services Purchasing Managers' Index for November came in at 57.8, beating expectations and showing the Chinese economy is well on the way to recovery.
The equivalent European figures are due later in the session, but are unlikely to be as upbeat given the restrictions in place throughout much of the continent to combat the latest surge of the virus.
Another potential fly in the ointment could be the negotiations surrounding the future trading relationship between the U.K. and the European Union after the end of the post-Brexit transition period on Dec. 31.
France warned Wednesday it could veto a trade deal between the two parties if it doesn't like the terms, a move that could mean trade with the U.K. next year would become subject to tariffs and quotas.
In corporate news, the French telecommunications company Orange (PA:ORAN) announced plans late Wednesday to launch a takeover bid for its Belgian subsidiary Orange Belgium, valuing the unit at 1.3 billion euros ($1.57 billion).
Oil prices edged lower Thursday, weighed by continued uncertainty over whether a group of leading producers will extend record production cuts set in place to balance out the severe hit to demand in the wake of the Covid-19 pandemic.
The Organization of the Petroleum Exporting Countries and Russia, a group known as OPEC+, had been widely expected to roll over cuts of 7.7 million barrels per day, at least until March 2021. However, there has been disagreement within the group of the need to do so, particularly given the recent bounce in oil prices as vaccines have been approved.
U.S. crude futures traded 0.2% lower at $45.20 a barrel, while the international benchmark Brent contract was largely flat at $48.26.
Elsewhere, gold futures rose 0.3% to $1,836.50/oz, while EUR/USD traded 0.1% higher at 1.2121.
Leave a comment