Few stocks have rewarded investors more generously since the dot-com crash than Equinix (NASDAQ:EQIX). As the world's largest data center provider, the company holds the keys to the essential infrastructure making the ongoing technological revolution possible. In times when data are the most valuable commodity, EQIX offers a place for everyone to store theirs.
As a result of all the tailwinds pushing it forward, the company's revenue has more than doubled in the past six years. No wonder its stock has been on a tear, as well. However, even for the best of companies there comes a moment when the stock price starts to offer more risk than reward. Judging from the Elliott Wave chart below, we think that moment has come for Equinix.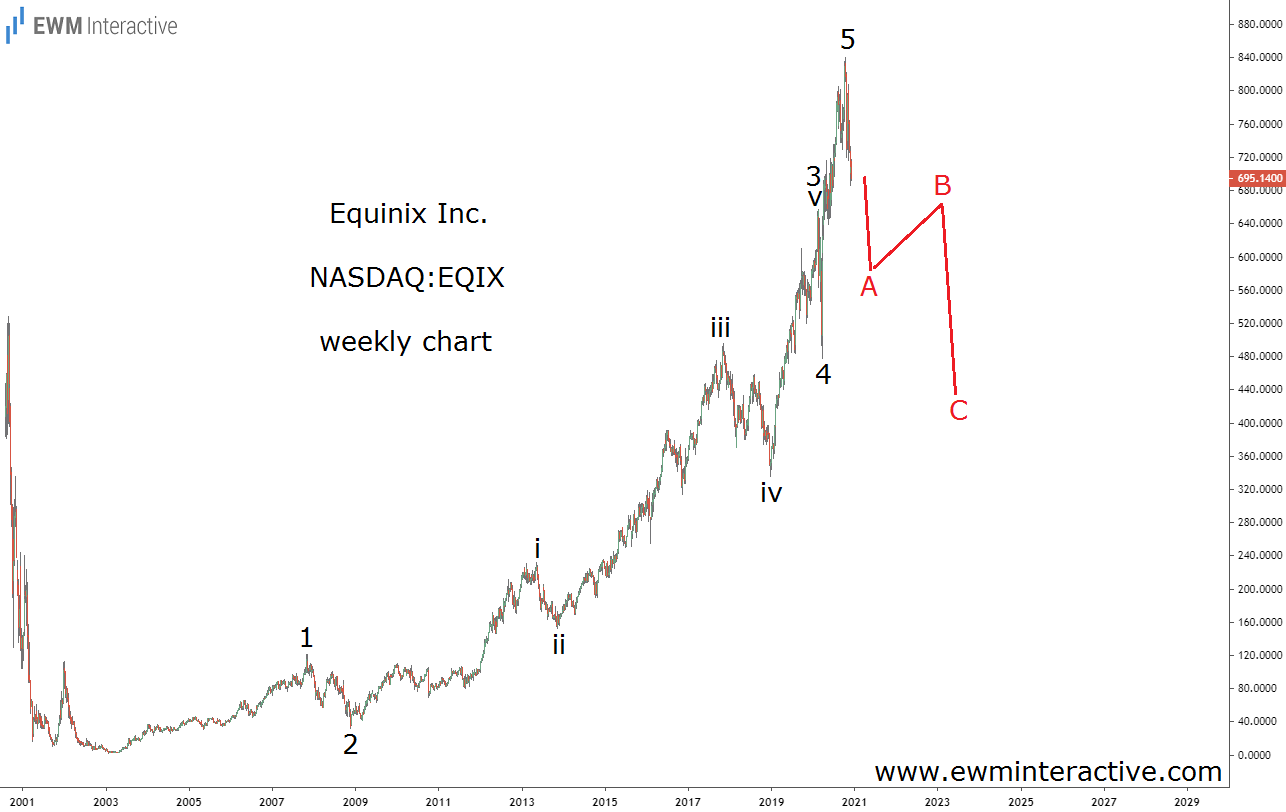 Equinix Stock Weekly Chart
The chart reveals Equinix 's entire journey from the rubble of the dot-com crash. The stock fell to as low as $2 per share in January 2003. Two months ago, in October 2020, it reached $840. Not counting the dividends, that is a 41,900% return in 18 years. This is how the big fortunes are made.
Equinix Vulnerable to a 30% Drop in 2021
But Equinix has had its fair share of drops, as well. In the Financial crisis of 2007-2009, it lost almost 3/4 of its market value. It later fell 34% in 2013 and 32% in 2018. During this years' coronavirus selloff, the stock plunged over 27%. So, just as any other company in the world, EQIX is not immune to price declines. In fact, the chart above suggests a big one is now on the horizon.
Equinix 's phenomenal uptrend from $2 to $840 can be seen as a complete five-wave impulse. The pattern is labeled 1-2-3-4-5, where the five sub-waves of wave 3 are also visible. According to the theory, a three-wave correction follows every impulse.
In most cases, the negative phase of the wave cycle erases the entire fifth wave. This means a decline to the support of wave 4 near $480 can be expected. This translates into a 31% drop from the current level. It seems the bulls are finally ready to face the reality of Equinix 's slowing growth rate over the past couple of years.
Leave a comment