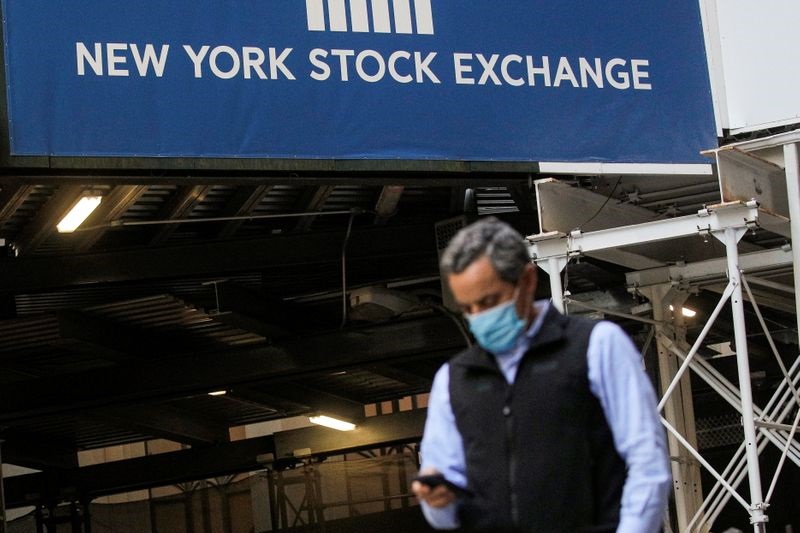 © Reuters
By Yasin Ebrahim
Investing.com – The Dow pared some gains but closed higher on Tuesday as renewed hopes for fiscal stimulus and positive vaccine news lifted investor sentiment and eased worries about Covid-19 infections across the U.S.
The Dow Jones Industrial Average climbed 0.63%, or 185 points. The S&P 500 was up 1.13%, while the Nasdaq Composite rose 1.28%.
Pharmaceutical giants Pfizer and Moderna (NASDAQ:MRNA) moved closer to receiving EU approval for their respective Covid-19 vaccines after the European Medicines Agency said it could complete its assessment of both companies' vaccines by Dec. 29 and Jan. 12 respectively.
Pfizer (NYSE:PFE) rose 3% and its development partner BioNTech (NASDAQ:BNTX) fell 8%, while Moderna slipped 8%.
The backdrop of progress on the vaccine front helped eased some investor fears that infections could continue to ramp in the weeks ahead as more people gather over the holidays.
U.S. coronavirus cases in America have doubled in a month to a record four million.
The impact of the rising Covid-19 cases appears to have triggered a sense of urgency among lawmakers to ramp-up efforts on a stimulus relief program that many argue is needed to support the economy until a widespread vaccine rollout.
House Speaker Nancy Pelosi and U.S. Treasury Secretary Steven Mnuchin are set to reignite talks over a new stimulus deal as lawmakers on Capitol Hill reportedly proposed a $908 billion coronavirus relief bill that includes aid for various parts of the economy including small businesses and unemployed Americans.
The positive news on vaccines prompted optimism from Federal Reserve Chairman Jerome Powell who touted upside risks in the medium-term for the economy, though continued to reiterate a long road to recovery.
In the medium term, there is upside risk, though there in the near term, there are a lot of small businesses in danger of going out of business this winter," Powell said. "We do have a long way to go on recovery."
Value stocks – those linked with the performance of the economy, clawed back some of their losses from a day earlier, with financials among the biggest gainers, up nearly 2%.
Energy, however, lagged the move higher in value stocks after major producers delayed a decision on whether to ease production output from January until later this week.
In tech, Zoom Video Communications (NASDAQ:ZM) was among the biggest decliners of the session, down 15%, after the video conference software maker reported better-than-expected results and guidance, but warned of increased churn in the final quarter of the year that will slow revenue growth.
"Given the elevated expectations heading into the print, and the fear around what a post-COVID growth rate may look like for the company, we would expect near-term share weakness to persist," RBC said after cutting its price target on Zoom to $550 from $600.
Among the Fab 5 stocks, Facebook (NASDAQ:FB) surged 3%, while Amazon.com (NASDAQ:AMZN), Alphabet (NASDAQ:GOOGL) and Microsoft (NASDAQ:MSFT) traded higher.
In other news, Kohl's (NYSE:KSS) jumped 13% after detailing plans to team up with Sephora to open more than 800 mini-shops inside its stores by 2023.
Leave a comment