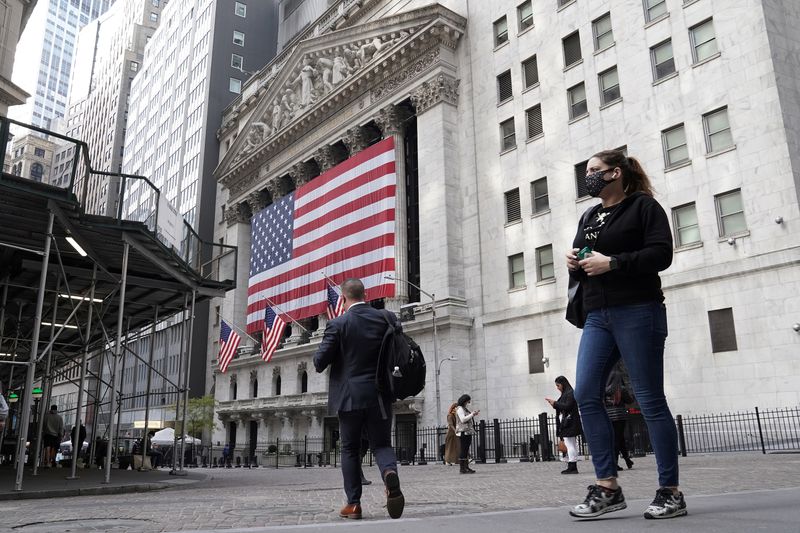 © Reuters
By Peter Nurse
Investing.com – U.S. stocks are seen opening slightly lower Wednesday, pausing for breath after recent strong gains, although talk of new fiscal stimulus continued to support the overall market.
At 7:05 AM ET (1205 GMT), the Dow Futures contract fell 105 points, or 0.4%, S&P 500 Futures traded 6 points, or 0.2%, lower, and Nasdaq 100 Futures climbed 17 points, or 0.1%.
The major indices all rose Tuesday, extending a month-long rally driven by progress in deploying vaccines to treat the coronavirus. The Dow Jones Industrial Average climbed 0.6%, hitting an intraday record, the S&P 500 climbed 1.1% to close at an all-time high, while the Nasdaq Composite closed up 1.3%, also a new record.
Earlier Wednesday, U.K. authorities approved the Pfizer-BioNTech Covid-19 vaccine for emergency use, the first western country to take such a step, with the shot set to be rolled out from early next week.
This medication is also in front of both European and U.S. regulators, with the expectation that approval from these bodies should also be received fairly promptly.
The U.S. suffered more than 2,500 deaths due to Covid-19 in a 24-hour period through Tuesday, the highest total since April, while the number of hospitalizations also rose to 99,000, a new record. Hospital admissions as a percentage of positive cases are falling across the U.S., suggesting that the strain on hospitals is causing the bar for admissions to be raised.
Treasury Secretary Steven Mnuchin and Federal Reserve Chairman Jerome Powell, in their testimony to the Senate Banking Committee Tuesday, referenced the hit to the economy from this new surge in infections while urging lawmakers to agree on another economic stimulus package. They both testify in front of the House later Wednesday.
A bipartisan group of lawmakers unveiled a $908 billion stimulus plan on Tuesday. This was quickly shot down by Senate Majority Leader Mitch McConnell, but the fact the two sides are talking again has boosted sentiment.
The main economic release Wednesday is the ADP monthly employment report, ahead of Friday's official jobs report. The U.S. private sector is expected to have added 410,000 people to payrolls in November, up from 365,000 in October.
In the corporate sector, Salesforce (NYSE:CRM) will be in focus after the cloud-based software company announced Tuesday it was buying workplace messaging app Slack (NYSE:WORK) for $27.7 billion, in what would be one of the biggest tech mergers in recent years.
Oil prices were mixed Wednesday, amid growing uncertainty after OPEC and its allies postponed to Thursday a decision over the level of next year's supply, raising concerns that pressure is growing within the group to raise output despite the current weak overall demand.
Official U.S. inventories data are due at 10:30 AM ET..
U.S. crude futures traded 0.4% lower at $44.38 a barrel, while the international benchmark Brent contract fell 0.2% to $47.32.
Elsewhere, gold futures rose 0.4% to $1,825.90/oz, while EUR/USD traded 0.1% lower at 1.2052.
Leave a comment