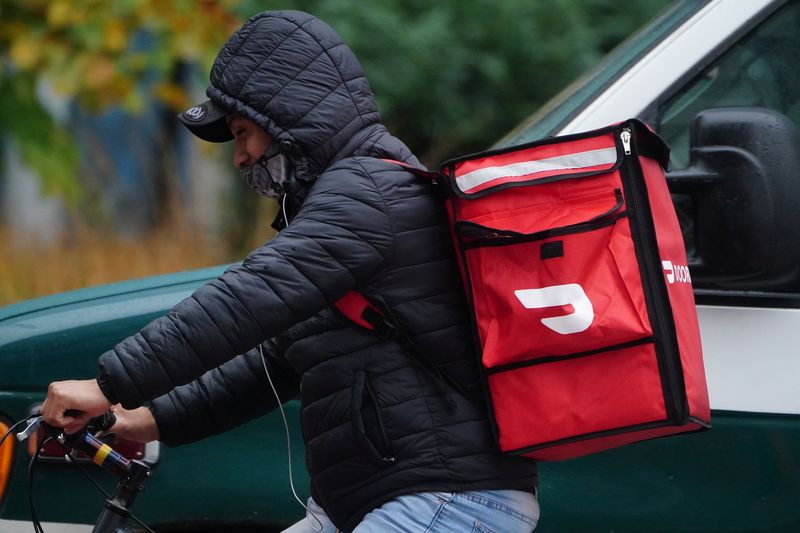 © Reuters
By Peter Nurse and Christiana Sciaudone
Investing.com — Doordash Inc (NYSE:DASH) shone on its market debut earlier this week, with its stock soaring 80% on its opening trading day.
Now, investors have to decide whether there's still a chance for gains.
DoorDash has benefited from the pandemic that has forced people to stay home, ordering food delivered instead of eating out in restaurants all the time. But it faces stiff competition by other companies that have more going on, including driving people round.
Investing.com's Peter Nurse argues the case in favor of DoorDash's prospects, while Christiana Sciaudone explains why it's a tough buy for investors.
The Bull Case
Even with these stunning gains there is value in owning the stock going forward.
It's not surprising the food delivery startup's stock has been in such demand – it has been one of the success stories of the Covid-19 era, with customers flocking to its app to get their favorite foods delivered as state restrictions forced restaurants to curtail indoor dining options.
Revenue surged to $879 million in the third quarter from $239 million the same time last year. It has also dramatically reduced losses and started making money on every order. More sharp growth is likely into 2021, as it will take time for the U.S. population to be fully vaccinated against the Covid-19 virus.
While the virus will eventually be defeated, the pandemic has likely fast forwarded a significant shift in consumer behavior. Millennials may find ordering food online as commonplace as booking an Airbnb or hailing an Uber, but the older generations have now had the opportunity to test the process out of necessity, and will likely have enjoyed the simplicity.
Another feature of the way the coronavirus has changed American society has been the likely long-lasting shift to favor seeking housing in lower-density suburbs, deemed to be much safer in terms of virus transmission.
This plays into DoorDash's hands. It has the lead in U.S. market share, with 49% of meal delivery sales in September compared with Uber's 22% and GrubHub's 20%, according to analytics firm Second Measure, but the dominance in the suburbs is even more evident, with 58% market share there.
Consulting firm Frost and Sullivan estimated the global food delivery service industry generated $82 billion in gross revenue in 2018, and predicted that this number will more than double by 2025.
DoorDash's major presence is in the U.S., but it also has operations in Australia and Canada and is looking to expand elsewhere. The industry has seen plenty of consolidation of late, but more is likely and DoorDash is likely to have plenty to say in this regard.
However, food delivery may not be the major reason in favor of owning DoorDash stock. The company is already considering the idea of moving beyond this to becoming an even more important player in the individual community.
DoorDash has already moved to turn uncertain cash flows into a subscription model, launching DashPass, a $10 monthly subscription that allows customers to get unlimited orders from participating restaurants.
And, "in the future, we envision this membership program becoming a wallet for the physical world, where a consumer can access not only restaurants, but all the local businesses in their community, and receive benefits while shopping in-store, at home or anywhere in between," DoorDash said in the prospectus.
Uber entered the food delivery business by starting with ridesharing, DoorDash can do the reverse, potentially growing its available markets substantially.
The Bear Case
Do we really need yet another delivery service?
Sure, demand's been pretty solid since we're all stuck at home. But that's bound to taper once we're permitted to step outside again (soon?) and we're sick and tired of sitting in the same kitchen/dining room/patio with the same people night after night after night.
And it's not like things have been easy this year. Let's take Grubhub Inc (NYSE:GRUB) as an example. It has been a clear winner with Americans stuck at home. But shares have had a very bumpy year, and are up about 43% so far. That might seem nice until you compare it to the other pandemic winners, like Zoom (NASDAQ:ZM) and DocuSign (NASDAQ:DOCU). They are up close to 500% and 200%, respectively.
And when might we expect a profit from DoorDash? Considering the competitive landscape — Uber Eats (NYSE:UBER), Grubhub, Postmates, Zomato, Swiggy, Slice, ChowNow, and the list goes on — it might be never.
DoorDash offers a membership program called DashPass, where customers can pay a flat monthly delivery fee of $9.99 for unlimited deliveries from eligible merchants. How lucrative can that possibly be? Uber Eats charges the same for a similar service, but it also offers rides for humans and is located in dozens of countries from Taiwan to Chile. Compare that to DoorDash's whopping presence in the U.S., Canada and Australia. Beyond the membership programs, there's not much motivation to be loyal to one or another app.
The same may be true for merchants. The food business is a tough one to make a living off of, and restauranteurs are loath to allow a third-party to take a cut of the business. The fees that it charges can be 30% of the cost of an order, though some cities, including New York and Seattle, have set limits on the amount of fees delivery services can charge restaurants, Bloomberg reported.
Ok, so if you have a long list of rivals and you've yet to expand beyond English-speaking countries, how soon will you turn a profit? We'll let the company speak for itself:
"We have incurred net losses in each year since our founding, we anticipate increasing expenses in the future, and we may not be able to maintain or increase profitability in the future," DoorDash said in its prospectus. "We incurred a net loss of $667 million and $149 million in the year ended December 31, 2019 and the nine months ended September 30, 2020, respectively, and, as of December 31, 2019 and September 30, 2020, we had an accumulated deficit of $1.2 billion and $1.3 billion, respectively."
Again, the company repeats, "We expect our costs will increase over time and our losses to continue as we expect to invest significant additional funds towards growing our business and operating as a public company." It could be a while, folks.
Growth rates are also likely to fall after rapid increases in recent years, with revenue growth in to the tune of more than 200%.
"Local food delivery logistics, the largest category of our business today, is fragmented and intensely competitive," the company said in its prospectus, and competitors may have advantages. Let's take, for example, Uber's purchase of Postmates and JustEat's acquisition of Grubhub, and the latter's deal with Lyft (NASDAQ:LYFT) to partner and offer loyalty-program members free delivery from Grubhub restaurants.
DoorDash also expects to expand into delivery of anything at all. We wonder if they'd heard of this place called Amazon.com Inc (NASDAQ:AMZN).
Don't take it from us. New Constructs Chief Executive Officer David Trainer called DoorDash's move to go public, "the most ridiculous IPO of 2020," according to a Dec. 7 Market Insider story.
"We think this proposed public equity offering holds no value, $0, beyond bailing out private investors before unsuspecting public investors realize the business is not viable in its current form," Trainer said.
Leave a comment