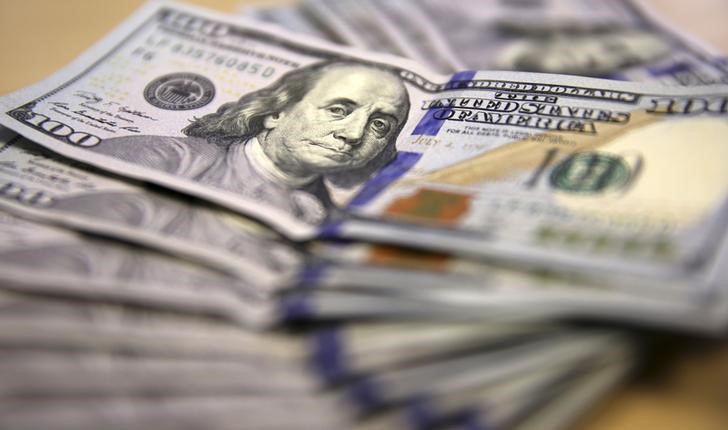 © Reuters.
By Peter Nurse
Investing.com – The dollar edged lower in early European trading Tuesday, retreating from earlier highs as progress towards a stimulus plan helped risk sentiment.
At 3:05 AM ET (0805 GMT), the Dollar Index, which tracks the greenback against a basket of six other currencies, was down 0.1% at 90.965, after pushing as high as 91.063 overnight for the first time since Dec. 10.
USD/JPY rose 0.1% at 105.00, EUR/USD rose 0.1% to 1.2066, rebounding after dropping 0.7% on Monday, the most since Jan. 15, following the severe drop in German retail sales for December, while the risk-sensitive AUD/USD fell 0.1% at 0.7611.
Risk sentiment received a boost late Monday as Democrats filed a $1.9 trillion budget measure in a step toward bypassing Republicans on President Joe Biden's Covid-19 relief package. This move came even as a group of Republican senators visited the White House to discuss a scaled-back $618 billion alternative plan.
Also helping were indications that the turmoil in the equity markets was on the wane after retail traders ganged together to buy heavily-shorted stocks such as GameStop (NYSE:GME) at the expense of the hedge fund industry. .
"The whole turbulence surrounding this targeted attack on a hedge fund and its short position shivered across assets and may have ignited one of the clearest de-grossing/de-leveraging weeks in a long time," said analysts at Nordea, in a research note.
However, GameStop stock, which had been run up some 400%, slumped 30% on Monday and has continued to drop in premarket trading Tuesday.
"If we get a more convincing signal that this has indeed been a light positioning wash-out this week, then we are tempted to buy in to (more) risk assets again ahead of the re-opening during the spring," added Nordea.
Additionally, GBP/USD rose 0.2% to 1.3683, with sterling receiving a boost as the U.K. steps up its coronavirus vaccinations to improve the chances of an economic rebound.
The U.K. has vaccinated over 9 million people from the Covid-19 virus, outpacing the U.S. and and Europe. This has resulted in markets reducing their bets that the Bank of England will adopt negative interest rates when it meets to discuss monetary policy on Thursday.
Leave a comment