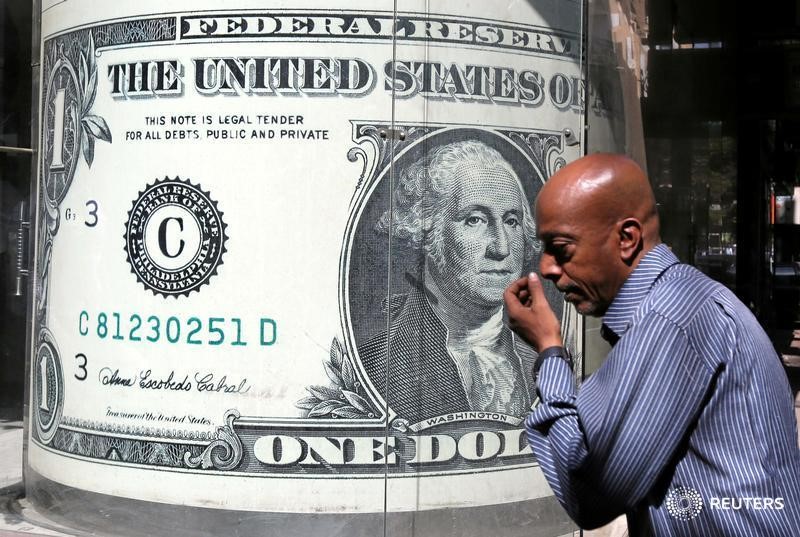 © Reuters.
By Peter Nurse
Investing.com – The dollar weakened in early European trade Friday, set to post weekly losses with traders expecting large-scale stimulus from the new administration to combat the Covid-19 pandemic.
At 3:55 AM ET (0755 GMT), the Dollar Index, which tracks the greenback against a basket of six other currencies, was down 0.1% at 91.892, near the three-month low since late Thursday. Volumes are likely to remain limited after Thursday's Thanksgiving holiday in the U.S., with many traders set to enjoy a long weekend.
EUR/USD climbed 0.1% to 1.1926, close to a two-month high, while USD/JPY fell 0.2% to 104.06. Additionally, AUD/USD rose 0.2% to 0.7372, near a three-month high, while NZD/USD gained 0.2% to 0.7021, near its strongest level in over two years.
"The dollar is back at its 2018 lows with DXY [the Dollar Index] breaking below the key 92.00 support," said analysts at ING, in a research note, stating that the pandemic "appears particularly concerning as major U.S. cities are experiencing large spikes in cases which may fuel further speculation that President-elect Joe Biden will opt for tougher restrictions once he takes office."
Outgoing President Donald Trump said on Thursday he will leave office if the Electoral College votes for Biden, the closest he has come to conceding the Nov. 3 election and another sign of the returning normalcy in U.S. political circles.
Biden has made it clear that tackling the pandemic is his first priority, and has called on U.S. lawmakers to pass a new stimulus bill before he officially takes office in January. His nomination of Janet Yellen, former head of the Federal Reserve who is credited with helping steer the economic recovery after the 2007 financial crisis and ensuing recession, has also played into the underlying belief that more fiscal help is on its way, likely pressurising the dollar.
GBP/USD gained 0.1% to $1.3369, near a three-month high of $1.3399 it touched on Thursday, as market participants look for progress on Brexit talks.
The European Union chief negotiator Michel Barnier will talk on Friday with some of the bloc's ministers responsible for fisheries to discuss the state of play in the trade discussions with Britain, an EU official said.
Leave a comment