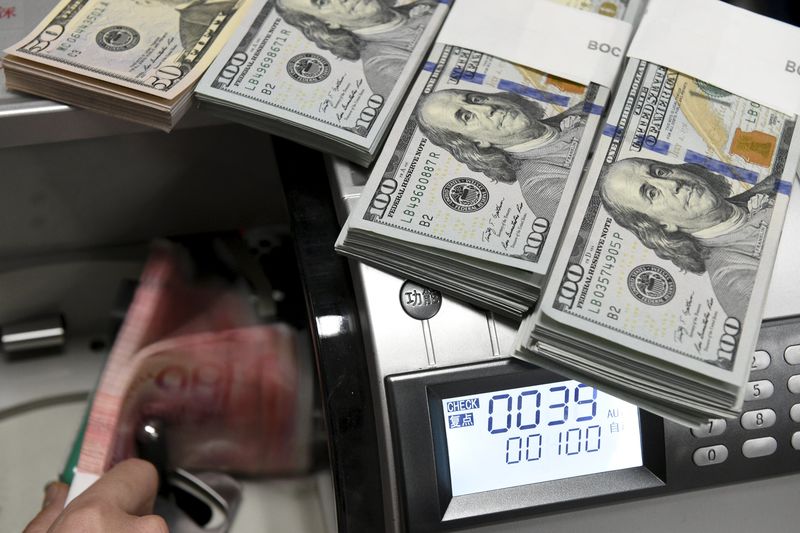 © Reuters.
By Peter Nurse
Investing.com – The dollar weakened in early European trade Tuesday, as positive Covid-19 vaccine news and the expectation of more monetary easing sends traders towards riskier currencies.
At 3 AM ET (0800 GMT), the Dollar Index, which tracks the greenback against a basket of six other currencies, was down 0.1% at 91.748, after suffering its worst month in November since July.
EUR/USD climbed 0.3% to 1.1965, just below the 1.20 resistance level, USD/JPY rose 0.1% to 104.33, while the risk-sensitive AUD/USD climbed 0.3% to 0.7366 after the Reserve Bank of Australia kept its key interest rate and three-year yield target at 0.10%, as expected.
Optimism about promising vaccine trials has driven the buying of riskier currencies at the expense of the greenback. This has continued after biotech Moderna (NASDAQ:MRNA) requested clearance for its coronavirus vaccine in both the U.S. and Europe on Monday, after late-stage trial results showed the vaccine was highly effective in preventing Covid-19, with no serious safety problems.
"While there are clouds on the horizon, they should not be enough to derail the generally positive risk environment, which is keeping the dollar under pressure," said analysts at ING, in a research note.
The major concern remains the accelerating number of Covid-19 cases throughout the U.S. For example, in California, Governor Gavin Newsom said the state was at a "tipping point", and he may have to introduce new "stay-at-home" orders on the state's roughly 40 million residents as the pandemic threatens to soon overwhelm hospitals.
Federal Reserve Chairman Jerome Powell will testify before Congress later in the day and on Wednesday, ahead of the central bank's policy meeting on Dec. 15 and 16.
Given the absence of new fiscal stimulus from U.S. lawmakers, investors now expect the Fed to step in with more bond buying at its December meeting, and thus his testimony will be listened to carefully.
Elsewhere, GBP/USD gained 0.5% to $1.3388, helped by U.K. house prices rising at the fastest pace in almost six years in November, up 0.9% from a month earlier and up 6.5% from a year earlier, as the property market defied a wider economic slump.
That said, the state of the Brexit talks remain the dominant influence, and EU chief negotiator Michel Barnier is expected to stay in London for two or three more days.
The overall tone has been helped by comments from Irish Prime Minister Micheal Martin, who said the negotiators have the options in front of them to conclude a Brexit free-trade deal this week.
USD/CNY dropped 0.2% to 6.5633, after activity in China's factory sector accelerated at the fastest pace in a decade in November, showing the world's second-largest economy is recovering strongly.
Leave a comment