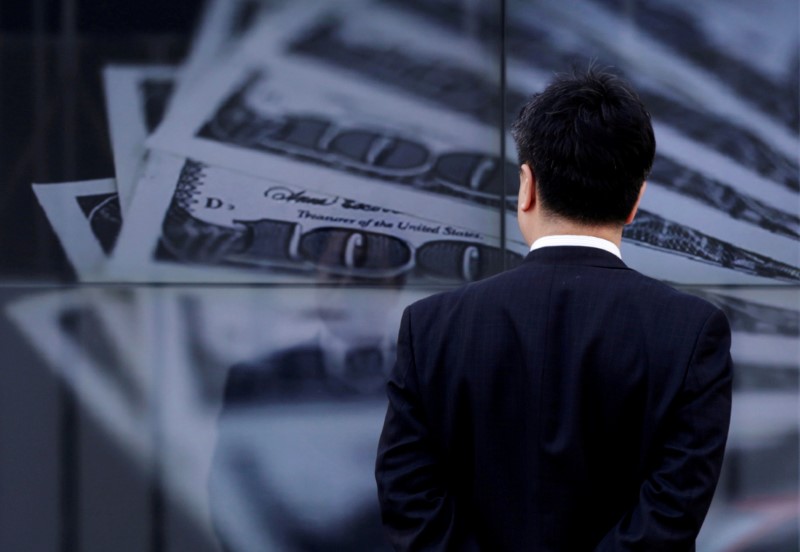 © Reuters.
By Peter Nurse
Investing.com – The dollar drifted lower in early European trade Monday, as lingering vaccine optimism and expectations of more Federal Reserve largesse see traders desert this safe haven.
At 3:55 AM ET (0755 GMT), the U.S. dollar index, which tracks the greenback against a basket of six other currencies, was down 0.1% at 91.705, having fallen to its lowest level since April 2018 and set to record its largest monthly fall since July, down 2.5%.
EUR/USD climbed 0.1% to 1.1968, close to a three-month high, while USD/JPY fell 0.1% to 104.03.
"We expect USD to stay on a gentle downtrend as the prospect of the Fed adding more liquidity if needed should keep a floor below risk assets and the U.S. data-flow may remain mixed," said analysts at ING, in a research note.
Largely promising trial results for three major vaccine candidates have prompted investors to seek out riskier assets, with the dollar being hit hard as a consequence, even with the wave of new infections, and fresh lockdowns, across Europe and the United States.
Given the absence of new fiscal stimulus from U.S. lawmakers to help the economy during the second Covid wave, investors now expect the Federal Reserve to step in with more bond buying, when it next meets in December.
With this in mind, Fed head Jerome Powell's testimony before Congress on Tuesday and Wednesday will be studied carefully for clues as to the central bank's thinking, as well as the monthly jobs report at the end of the week.
GBP/USD gained 0.3% to $1.3348, not far off a three-month high of $1.3399 seen late last week, as investors wagered a Brexit deal would be brokered in the near future.
The two sides are running out of time to clinch a Brexit trade deal, Environment Secretary George Eustice said on Monday.
"This is the crucial week, we need to get a breakthrough," Eustice told Sky News.
"The levels at which GBP is trading is still telling us that very little of the worst-case scenario is being priced in," added ING. "Accordingly, should negotiations definitively collapse, the downside reaction should still be asymmetrical."
Leave a comment