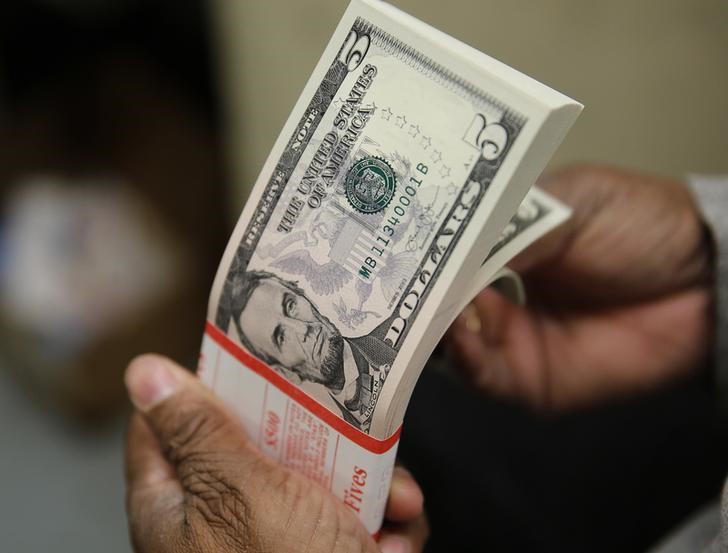 © Reuters.
By Peter Nurse
Investing.com – The dollar weakened Wednesday with Democrat confidence growing of victories in the U.S. Senate runoffs in Georgia, potentially resulting in a more expansive fiscal policy.
At 3:25 AM ET (0825 GMT), the Dollar Index, which tracks the greenback against a basket of six other currencies, was down 0.2% at 89.328 just off a new 2.5-year low that it hit earlier.
USD/JPY was largely flat at 102.72, just above a new 10-month low of 102.60 hit earlier Wednesday. EUR/USD rose 0.3% to 1.2328, its highest in 32 months.
GBP/USD climbed 0.2% to 1.3655, while the risk-sensitive AUD/USD was up 0.5% at 0.7795, at levels last seen in January 2018.
U.S. news networks and election prediction services reported that Democratic Party candidate Raphael Warnock was set to win the runoff election for one of the two Georgia Senate seats in play.
The other race, between Democrat Jon Ossoff and Republican David Perdue, is also leaning towards Ossoff, who holds a lead of nearly 13,000 with over 99% of votes counted, according to Decision Desk HQ.
Traders are watching these runoffs closely as victory by the Democrats in both seats would see them gain control of the Senate, likely resulting in more stimulus and infrastructure spending. Results are due later in the day, but the likely small margins could see legal delays. Perdue in particular has said he will take legal recourse.
"While a possible Democratic victory could raise concerns about more regulation, at least over the coming months this might be outweighed by expectations of larger fiscal stimulus (which would precede possible tax hikes and regulatory measures) and thus keep risk assets supported and the dollar weak over the coming months," said analysts at ING, in a research note.
There are a number of important economic releases due Wednesday, including the monthly ADP private payrolls for December, the Markit composite PMI number for the same month, and the November factory orders release. Also of interest will be the release of the Federal Reserve minutes of its last meeting of 2020.
Elsewhere, the USD/CNY pair was flat at 6.4552, steadying after the pair fell to its lowest level since June 2018 on Tuesday in the wake of the People's Bank of China lifted the midpoint of its trading band by 1%, the biggest one-day lifting since China abandoned the yuan's peg to the dollar in 2005.
The Caixin services Purchasing Managers Index for December, released earlier in the day, read 56.3, which was lower than November's 57.8 figure.
Among emerging currencies, the Israeli shekel surged again to its highest in 24 years, on perceptions that its public vaccination campaign is proceeding faster than any other in the world, giving it the best chances to return to normal economic life quickly. The Russian ruble and Kazakh tenge also both rose after the two countries emerged as the big winners from a meeting by the OPEC+ bloc to allow them to raise output in February while Saudi Arabia offsets the net increase in output with voluntary cuts of its own.
Leave a comment