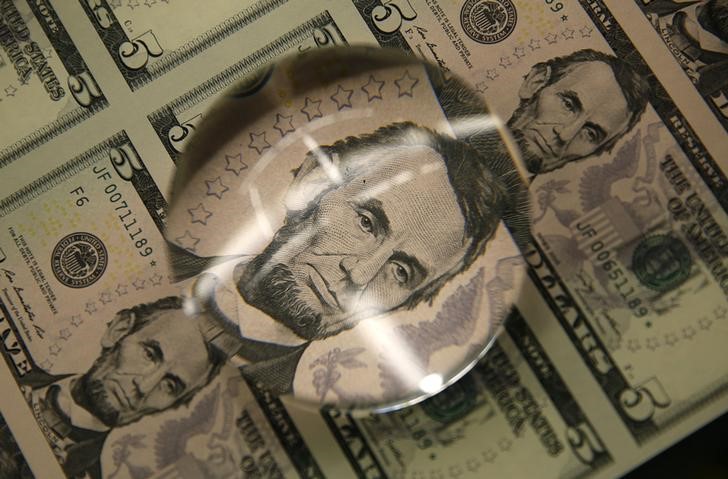 © Reuters.
By Peter Nurse
Investing.com – The dollar weakened in early European trade Wednesday, with growing confidence surrounding U.S. fiscal stimulus and the vaccine rollout prompting traders to seek out riskier currencies.
At 3:55 AM ET (0755 GMT), the Dollar Index, which tracks the greenback against a basket of six other currencies, was down 0.2% at 90.812, still only slightly above the recent 2 1/2-year low of 90.471.
EUR/USD edged 0.3% higher to 1.2132, but off the Friday's high of 1.2177, a level last seen in April 2018, USD/JPY rose 0.1% to 104.23, while the risk-sensitive AUD/USD was up 0.5% at 0.7445.
On Tuesday, Treasury Secretary Steven Mnuchin proposed a package of relief measures with a sticker price of $916 billion, fractionally more than the $908 billion package proposed by a bipartisan group of lawmakers last week. That increases the pressure on Senate Leader Mitch McConnell, who continues to reject any bill that includes help specifically for state and municipal governments, to drop his opposition.
Adding to the general air of optimism, hitting the safe haven dollar, was a Food and Drug Administration data dump flagging no new safety or efficacy concerns over the Pfixer/BioNTech Covid-19 vaccine, implying it will be approved for use in America when the administration meets on Thursday. The U.K. has already started vaccinating its population with this drug.
Elsewhere, GBP/USD rose 0.2% to 1.3382, with U.K. Prime Minister Boris Johnson set to have dinner with European Commission President Ursula von der Leyen later Wednesday, to try and find solutions to the remaining issues stopping holding up a post-Brexit trade agreement.
News on Tuesday that the U.K. government has dropped controversial clauses in its U.K. Internal Market Bill has helped the tone, being seen as a sign that the U.K. wants a deal more than Johnson is admitting.
The focus is also on the European Central Bank, as it's widely expected to increase the size and scope of its bond-buying program when its governing council gets together for the final policy-making meeting of the year on Thursday.
Investors will also be looking to see what the central bank will do or say about the euro, which has already gained 8% in 2020 and remains well above the $1.20 level which had previously been seen as a form of pain threshold.
"Given non-negligible market expectations of further ECB easing and the structural USD decline in place, it will be difficult for the ECB to lean against the wind and tame the euro upside," said analysts at ING, in a research note.
In Asia ovenight, meanwhile, the offshore yuan breached the 6.50 level against the dollar for the first time in two and a half years after reports that President-elect Joe Biden had dismissed talk of pursuing a decoupling of the U.S. and Chinese economies. It didn't hold below that level, however.
Leave a comment