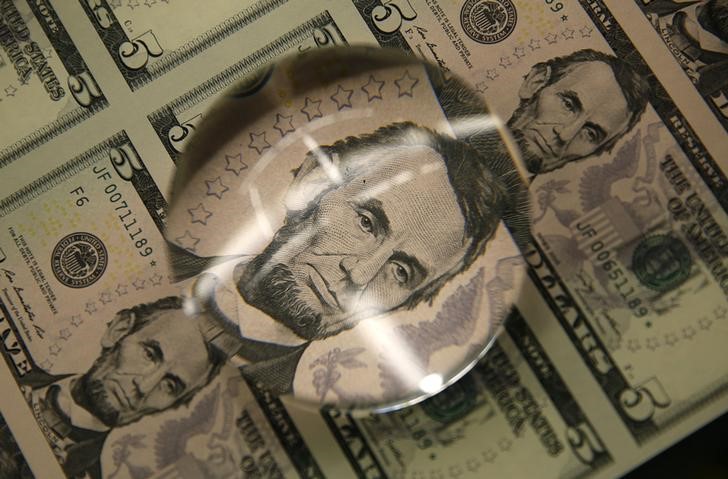 © Reuters.
By Peter Nurse
Investing.com – The dollar pushed higher in early European trading Monday, helped by a jump in Treasury yields on inflation concerns ahead of this week's meeting of the Federal Reserve.
At 3:55 AM ET (0755 GMT), the Dollar Index, which tracks the greenback against a basket of six other currencies, was up 0.2% at 91.817, climbing from the one-week low of 91.364 seen at the end of last week.
USD/JPY was up 0.2% at 109.23, EUR/USD fell 0.2% to 1.1928, after rising last week for the first time in three weeks, GBP/USD fell 0.1% to 1.3912, while the risk-sensitive AUD/USD dropped 0.4% to 0.7734.
Traders have started to become wary of rising inflationary pressures on the back of massive fiscal stimuli and pent-up consumer demand as the vaccination campaign ends lockdowns.
U.S. producer prices had their biggest annual gain in over two years, data showed on Friday, and this is before President Joe Biden's $1.9 trillion Covid relief package comes into effect.
Benchmark 10-Year Treasury yields were at 1.62% on Monday, close to Friday's top of 1.64%.
This will put the spotlight on the U.S. Federal Reserve's two-day policy meeting, ending on Wednesday. Expectations are low that the central bank will announce major policy changes at its second meeting of the year, but it's likely to raise its estimates of 2021 growth and inflation while making its first quarterly economic forecasts of the year.
" [Fed chief] Jay Powell will be faced with a truck-load of inflation questions on Wednesday, and if he keeps referring to inflation being allowed to 'moderately overshoot', then we should expect long bond yields to continue up since inflation expectations will likely follow," said analysts at Nordea, in a research note.
Both the Bank of Japan and the Bank of England are also set to hold policy meetings later in the week.
Elsewhere, USD/CNY fell 0.1% to 6.5057, with the yuan helped by the release of strong Chinese economic data, suggesting the world's second largest economy is recovering strongly from the Covid pandemic.
National Bureau of Statistics data released earlier Monday indicated that industrial production grew 35.1% year-on-year in February, while retail sales climbed 33.8% year-on-year.
Leave a comment