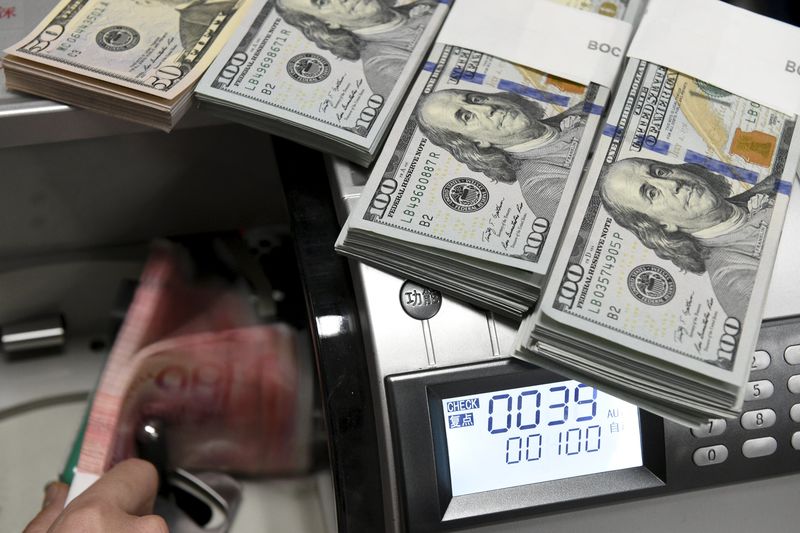 © Reuters.
By Peter Nurse
Investing.com – The dollar weakened in early European trade Wednesday, as vaccine optimism and talk of further fiscal stimulus from the United States gave fresh encouragement to higher-yielding currencies.
At 3:55 AM ET (0755 GMT), the Dollar Index, which tracks the greenback against a basket of six other currencies, was down 0.2% at 91.157, hitting its lowest levels since April 2018.
EUR/USD climbed 0.2% to 1.2081, its highest in over two-years, helped by a strong German retail sales for October. Sales rose 2.6% on the month after an upwardly revised drop of 1.9% in September.
USD/JPY rose 0.2% to 104.47, while the risk-sensitive AUD/USD climbed 0.2% to 0.7381.
Optimism about promising vaccine trials has driven the buying of riskier currencies at the expense of the greenback. The U.K. Wednesday became the first country in the world to approve the Pfizer/BioNTech coronavirus vaccine for widespread use, potentially rolling it out next week. However, it has been commodity-currencies that have profited most, the Canadian dollar hitting a new 52-week high in early trading.
Additionally, a bipartisan group of U.S. Senators and House members proposed $908 billion worth of coronavirus relief measures on Tuesday.
This bill was kiboshed by Senate leader Mitch McConnell, but with Treasury Secretary Steve Mnuchin and House of Representatives Speaker Nancy Pelosi talking again for the first time since the election, expectations are growing that a package can be agreed in the lame-duck period of the Trump administration.
Federal Reserve Chairman Jerome Powell warned that the U.S. economy remains in a fragile state, in Tuesday's hearing before the Senate Banking Committee, putting the pressure on Congress to provide more fiscal help.
Powell is due to testify before Congress again later in the day, and the Fed meets for its policy meeting on Dec. 15 to 16. The ADP employment release will also be watched later Wednesday, ahead of Friday's official jobs data.
"CFTC FX positioning data ending 24 November highlights new USD selling pressure as all but one of the G10 currencies saw an increase in long positioning vs the US dollar," said ING's Francesco Pesole, in a research note.
Elsewhere, GBP/USD gained 0.2% to $1.3438, close to a three-month high, with the focus remaining on the Brexit trade deal talks.
EU Brexit negotiator Michel Barnier is due to brief leaders that there may end up being no deal by the end of the year, newswires reported early Wednesday.
"We could see a short-squeeze if a deal is reached in the coming week, but the net short positioning displayed in CFTC data does not alter the fact that the downside impact would likely be asymmetrically stronger in a no-deal scenario," Pesole added.
Leave a comment