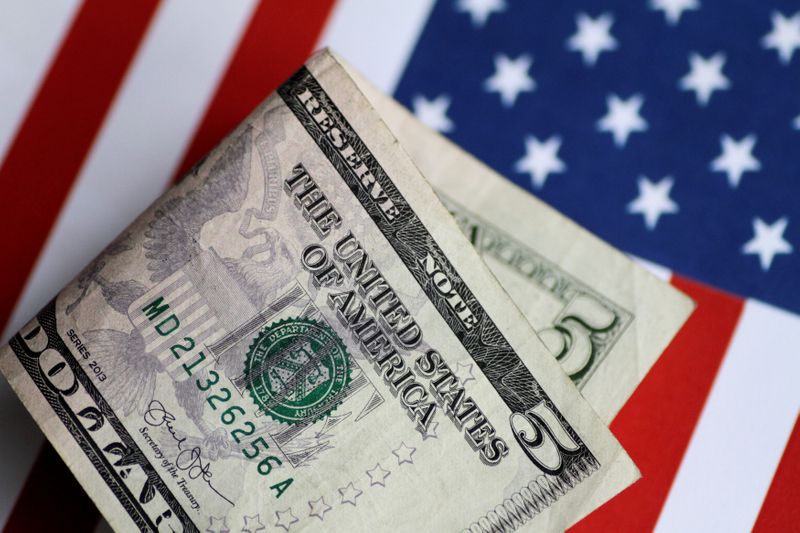 © Reuters
By Geoffrey Smith
Investing.com — The dollar slipped further on Tuesday as market participants continued to position themselves for a strong economic rebound across the globe in 2021 that is widely expected to benefit higher-yielding currencies and emerging market economies more than the greenback.
By 4:45 AM ET (0945 GMT), the dollar index, which tracks the greenback against a basket of advanced economy currencies, was down 0.3% at 90.002, barely one-quarter of a percent above the 32-month low that it hit earlier in December.
The dollar also slid against emerging currencies, with the Turkish lira, the Russian ruble and the Indian rupee all rising by over 0.2%. The rupee benefited from the Reserve Bank of India reaffirming its 4% inflation target, which appears to set limits to any further easing from the central bank, given that inflation is currently running at just under 7%.
The broad risk-on move was supported by the House of Representatives' vote approving an initiative by President Donald Trump to increase the size of direct payments to households under the new U.S. coronavirus relief package to $2,000 from the $600 originally foreseen. It isn't clear yet whether the Senate, which reconvenes on Tuesday, will schedule a vote on the measure. Republicans who have a majority in the upper chamber have traditionally opposed higher payments, but are under pressure on two fronts to go along with the measure, which would provide more effective near-term support for household spending.
On the one hand, Vermont Senator Bernie Sanders has threatened to filibuster a vote that is already scheduled to overturn Trump's veto of a separate bill on defense spending, unless the chamber also makes time for a vote on higher stimulus checks. On the other, the GOP also faces two key runoff elections in Georgia on January 5th that will determine control of the Senate for the next two years. Some have already signaled that they're afraid that a refusal to increase the payments could tip the runoffs against them, giving the Democratic Party full control of Congress.
Sterling and the euro both gained as EU ambassadors approved the free trade deal struck by the two sides before Christmas, something that paves the way for formal approval from EU member states' governments later on Tuesday. The pound rose 0.5% to $1.3512, recouping the losses it suffered on Monday, while the euro rose to $1.2252, on course for a new 32-month high.
""Although the rally in the GBP in 2020 suggests the FX market anticipated that a deal was more likely than not, confirmation allows the FX market to price out whatever modest probability had been attached to a 'no-deal' outcome," analysts at HSBC wrote in a note to clients. "In our view, the announcement should keep the GBP elevated over the near-term, but further upside will likely be limited, given the agreement looks largely priced in."
Leave a comment