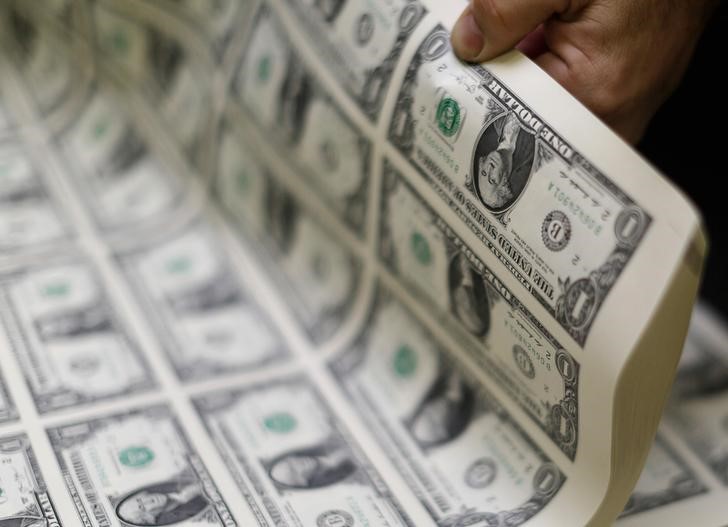 © Reuters.
By Peter Nurse
Investing.com – The dollar remained trading near its weakest level in nearly three years Thursday as the projected Democrat victories in the U.S. Senate runoffs in Georgia pointed to two years of loose fiscal and monetary policy..
At 3:55 AM ET (0755 GMT), the Dollar Index, which tracks the greenback against a basket of six other currencies, was down 0.1% at 89.472, still close to its overnight low of 89.206, a level not seen since March 2018.
USD/JPY was up 0.2% at 103.29, with the yen underperforming with a fresh state of emergency for Tokyo and the neighboring Saitama, Kanagawa and Chiba prefectures is due to be declared later in the day as Covid-19 cases rise.
EUR/USD fell 0.1% to 1.2317, after earlier reaching an almost three-year high of 1.2346. The euro was supported by stronger-than-expected German factory orders for November, which were the latest sign of the global manufacturing sector performing relatively strongly toward the end of last year.
GBP/USD dropped 0.2% to 1.3581, below the almost three-year high of $1.3703 seen on Monday, as the U.K. went into another lockdown. The risk-sensitive AUD/USD was down 0.2% at 0.7786, after touching a nearly three-year high of 78.195 on Wednesday.
The Democrat pair of Jon Ossoff and Raphael Warnock are projected to have won the two Senate seats in Georgia, meaning their party is now set to have control of the White House, the Senate and the House of Representatives.
This is raising expectations that President-elect Joe Biden will find it easier to push his agenda, including more stimulus measures, when his administration takes over in a couple of weeks.
"The outcome of the Georgia elections means a swifter and more aggressive spending package in 2021 that can help propel the recovery more rapidly, than would have been likely had the Republicans had retained their majority in the Senate," said ING analyst James Knightley, in a research note, and "the dollar is likely to come under increasing downward pressure in this more reflationary scenario."
The currency markets remained relatively calm overnight despite the violent disorder in Washington D.C., with supporters of President Donald Trump storming Capitol Hill to stop the certification of Biden's win in the November presidential election.
The main economic release on Thursday will be the weekly initial claims number, especially ahead of Friday's nonfarm payrolls release and after Wednesday's ADP figure indicated that U.S. companies slashed jobs for the first time since April last month.
Leave a comment