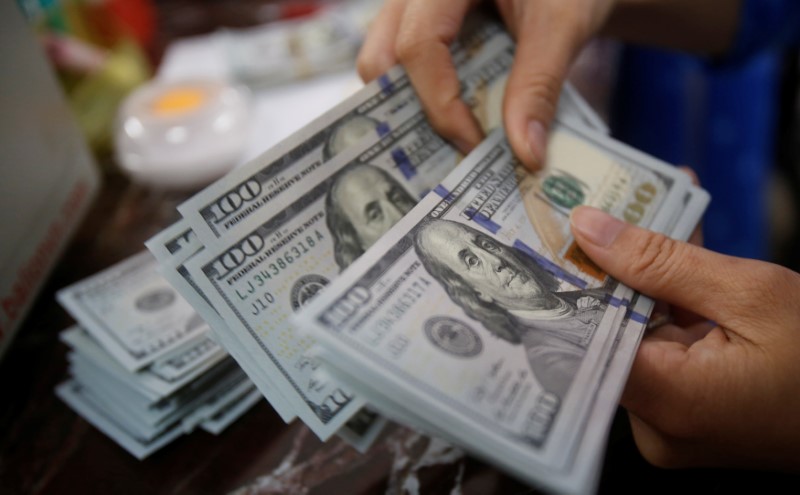 © Reuters.
By Gina Lee
Investing.com – The dollar was up on Friday morning in Asia, clawing back some losses. The U.S. currency saw its biggest losses in ten days after disappointing U.S. labor data finally dented recent optimism for the country's quick economic recovery from COVID-19.
The that tracks the greenback against a basket of other currencies inched up 0.09% to 90.632 by 9:16 PM ET (2:16 AM GMT). The index was little changed as Friday's session opened, after it dropped 0.4% overnight.
The pair inched up 0.06% to 105.72. The dollar was little changed against the safe-haven yen after two consecutive days of retreat from a five-month high hit on Wednesday.
The pair inched down to 0.06% to 0.7762 and the pair edged down 0.19% to 0.7206.
The pair was down 0.27% to 6.4691.
The pair edged down 0.12% to 1.3954. The pound was mostly flat after climbing to an almost three-year high during the previous session, the highest gains in more than a month, as the U.K. continues to roll out an .
Elsewhere in Europe, the euro was also flat after gaining 0.4% overnight.
The greenback is slowly returning to its safe-haven asset role, but sentiment was soured by the unexpected rise in the number of . A total of 861,000 claims were filed during the previous week, against the 765,000 claims in forecasts prepared by Investing.com and the 848,000 claims filed during the previous week.
The disappointing data is impacting the dollar, however, even as progress is made on a $1.9 trillion stimulus package proposed by President Joe Biden and other economic indicators are more positive.
"The prospect of a massive U.S. fiscal stimulus plus a successful vaccine roll-out are solid arguments to bet on a U.S. recovery this year … but the overnight jobless claims data serve as a reminder of the unevenness of the recovery so far," National Australia Bank (OTC:) senior foreign exchange strategist Rodrigo Catril said in a note.
Cryptocurrencies took a little breather, with bitcoin near the $51,500 mark after reaching a record $52,604 in a rally driven by endorsements from Tesla Inc. (NASDAQ:) among others. It has risen around 71% in 2021 to date, after it more than quadrupled in 2020.
took advantage of its larger rival's breather, climbing to a record high of $1,951.89 on Friday, soaring around 162% in 2021. It was also boosted after chipmaker NVIDIA Corp. (NASDAQ:) announced a new processor designed specifically for mining the cryptocurrency.
Leave a comment