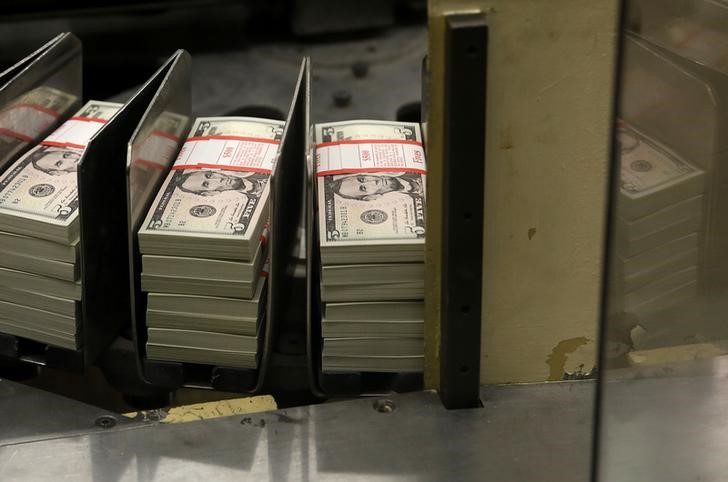 © Reuters.
By Yasin Ebrahim
Investing.com – The dollar hit two month highs Thursday, but it's revival is nothing more than "noise" and will eventually fade as U.S. Treasury yields are set to run out of steam, Citi said.
The U.S. dollar index, which measures the greenback's strength against a trade-weighted basket of six major currencies, rose 0.46%% to 91.53.
"Although we acknowledge the possibility of a stronger USD over a small timeframe, we remain steadfast in our belief that 2021 will be a weak year for the USD," Citi said in a note.
The dollar has found its footing recently rising U.S. Treasury yields as investors bet on vaccine-led recovery and pent-up demand in a post-pandemic world boosting inflation.
The 5-to-30 year Treasury curve – a gauge on the health of the economy – widened to levels not seen since March 2016.
"CitiFX Technicals also outlines the crossroads markets find themselves at. Developments that are indicative of inflationary rather than reflationary dynamics may create additional turbulence over the short run. We could subsequently see a brief uptrend in nominal yields that may tactically embolden the greenback," Citi added.
But not everyone on the Street appears keen to jump on the bearish dollar bandwagon.
Bank of America (NYSE:BAC) said return to focus on fundamentals including relative rates in FX markets will likely support the dollar through the year amid a pick-up U.S. government bond yields.
"Factor shifts lend support to our thesis that improving US fundamentals will provide a tailwind to the US dollar, increasing the risk of a rally as the year unfolds," BofA said.
Leave a comment