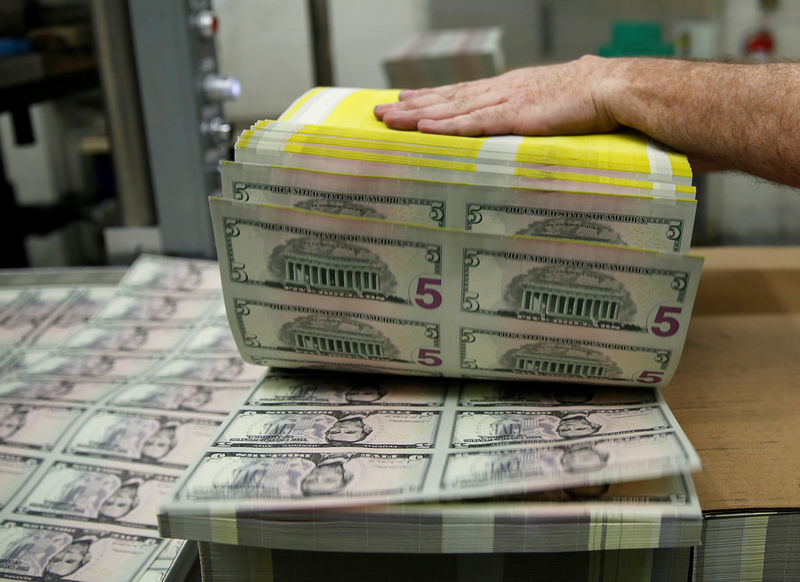 © Reuters.
By Yasin Ebrahim
Investing.com – The dollar slumped on Wednesday, paced by a decline in U.S. bond yields after the Federal Reserve kept rates on hold and projected no hikes through 2023.
The U.S. dollar index, which measures the greenback against a trade-weighted basket of six major currencies, fell by 0.43% to 91.48 as the U.S. 10-year Treasury yield retreated from 13-month highs.
The Federal Open Market Committee left its in the range of 0% to 0.25% and said it would continue its $120 billion monthly bond purchases.
"Following a moderation in the pace of the recovery, indicators of economic activity and employment have turned up recently, although the sectors most adversely affected by the pandemic remain weak. Inflation continues to run below 2 percent," the Fed said in a statement.
The Fed upped its growth targets for the years ahead, forecasting the economy to grow by 6.5% in 2021, and 3.3% in 2022, but it kept its interest-rate outlook unchanged for no hike through 2023.
Looking ahead, Fed chairman Jerome Powell suggested that the tapering was still a ways off as the economy has yet to achieve substantial economic growth. An eventual taper of bond purchases will be signaled well in advanced, the fed chief added.
"We will give a signal that we're on a path to possibly achieve substantial growth to consider tapering. I think what we've learned from the experience of these last dozen years, is to communicate very carefully, very clearly, [and] well in advance," Powell said.
Leave a comment