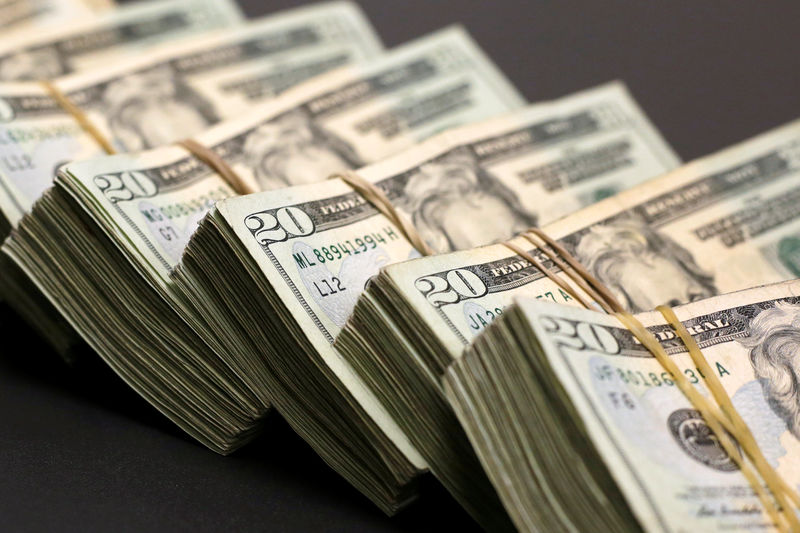 © Reuters.
By Yasin Ebrahim
Investing.com – The dollar fell to nearly three-month lows on Wednesday, as signs the Federal Reserve is shaping up to tweak its bond-buying policy and weaker than expected jobs data did little to drum up safe-haven support for the world's reserve currency, suggesting a further drop is on the horizon.
The U.S. dollar index, which measures the greenback's strength against a trade-weighted basket of six major currencies, fell 0.31% to 91.93.
Federal Reserve policymakers debated a range of options on bond purchases to support the recovery, including increasing the pace of purchases or shifting focus to longer duration bonds, the minutes of the Fed's Nov. 4-5 meeting showed.
For now, it appears the central bank will keep its asset purchases on autopilot, though will likely lay out its plan in coming meetings.
"Many participants judged that the Committee might want to enhance its guidance for asset purchases fairly soon," the minutes said.
The willingness to persist with current ultra-loose monetary policy comes in the wake of data showing a back to back rise in weekly jobless claims for the first time since July.
But the sign of weakness in the labor market – ahead of the next week's monthly jobs report – and the impact of the Covid-19 cases on the economy is unlikely to spur demand for the dollar as the optimism over the vaccine-led outlook is likely to persist.
"The dollar continues its fall from grace, with the benign risk environment (the Dow Jones hit 30,000 for the first time) and the positive outlook for the 2021 post Covid-19 recovery inducing further flows out of the dollar into cyclical FX, with the trade weighted dollar continuing to dip lower," ING said in a note.
Leave a comment