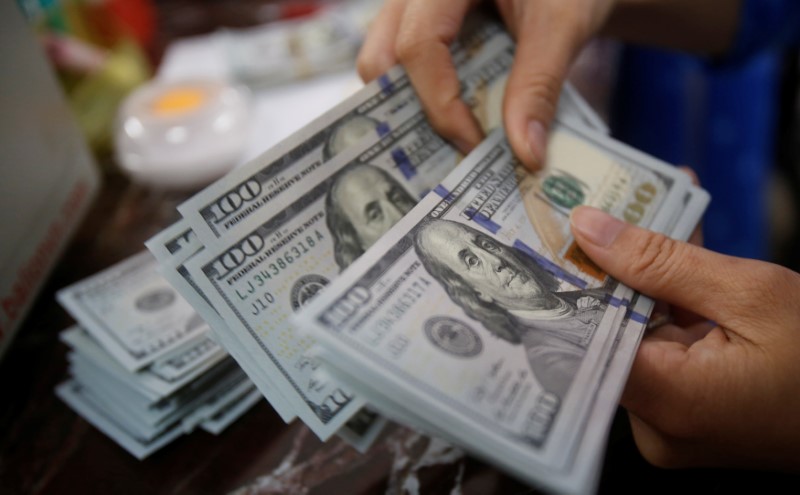 © Reuters.
By Peter Nurse
Investing.com – The dollar weakened in early European trade Friday, with optimism of a recovery from the Covid-19 pandemic weighing on this safe haven, while the pound weakened on growing Brexit uncertainty.
At 4:05 AM ET (0805 GMT), the Dollar Index, which tracks the greenback against a basket of six other currencies, was down 0.1% at 90.797, trading near a two-and-a-half year low.
USD/JPY fell 0.2% to 104.03, while the risk-sensitive AUD/USD was up 0.4% at 0.7558.
An advisory panel to the U.S. Food and Drug Administration on Thursday recommended approval of Pfizer (NYSE:PFE)'s Covid-19 vaccine for emergency use, paving the way for vaccinations to get underway in America, potentially as soon as next week.
This comes as Covid-19 cases spike in the U.S., recording daily records for new infections and deaths. The surge has hit business across the country, pushing initial jobless claims to their highest level since September, pointing to the economic damage caused by this surge in cases.
Elsewhere, GBP/USD fell 0.1% to 1.3287, continuing the sharp losses seen overnight after British Prime Minister Boris Johnson said late Thursday there was "a strong possibility" Britain and the European Union would fail to strike a Brexit trade deal.
Sterling has shed just short of 1% so far this week as negotiations between the U.K. and the EU to agree a trade deal over some $1 trillion in annual trade have proved fruitless to date.
"There is currently a stalemate in Brexit-negotiations and it is hard to imagine a deal being struck without an exogenous trigger," said Nordea's Andreas Steno Larsen, in a research note.
Additionally, EUR/USD edged 0.1% lower to 1.2129, dropping a touch but remaining not far off the previous week's 2 1/2-year high of $1.2177.
The European Central Bank also deployed another round of monetary stimulus totaling EUR500 billion ($605 billion) on Thursday as widely expected, in order to help the fight against the second wave of Covid-19 cases hitting the region.
ECB President Christine Lagarde added that the euro's exchange rate had not been targeted during the central bank's policy meeting on Thursday.
"In sum, the ECB did not over-deliver and the new set of measures is not strong enough to outweigh the strong bearish USD dynamics in place," said ING's Petr Krpata, in a research note. "There is more upside to EUR/USD. We target 1.25 in 2021, with strong upside risks to 1.30."
USD/TRY rose 1% to 7.9661, with the lira weakening after Turkey posted another current account deficit, its 11th month in a row, while its 12-month rolling deficit reached $33.8 billion from $30.8 billion in the previous month.
Leave a comment