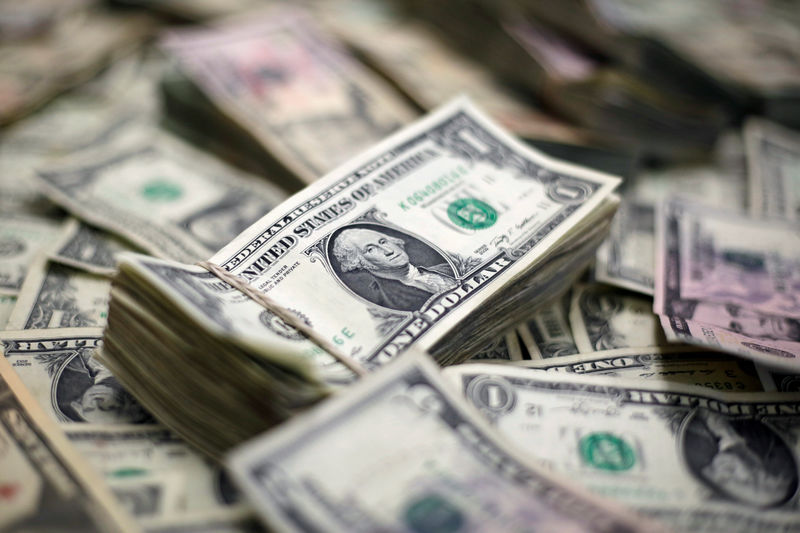 © Reuters.
By Peter Nurse
Investing.com – The dollar edged lower in early European trading Friday, consolidating after strong gains this week driven by growing confidence in the U.S. economic recovery.
At 3:55 AM ET (0755 GMT), the Dollar Index, which tracks the greenback against a basket of six other currencies, was down 0.1% at 91.523, but heading for its best week in three months after touching 91.60 for the first time since early December.
USD/JPY fell 0.1% at 105.51, EUR/USD was flat at 1.1961, after earlier dipping to 1.1952, a level not seen since Dec. 1, while the risk-sensitive AUD/USD rose 0.1% at 0.7601.
The dollar has gained many friends of late, and the index is on track for a 1.1% weekly rise, the most since Nov. 1, after a 0.3% gain the previous week.
This sentiment has improved on the prospect of a hefty stimulus from President Joe Biden's administration, rising Treasury yields and the continued roll-out of vaccines, turning the greenback from a safe haven to a risk-on currency.
Also helping has been signs of an improving U.S.economy. Thursday's data revealed that 779,000 initial jobless claims were filed over the past week, an improvement from the 812,000 claims reported during the previous week.
There's more U.S. jobs data due later Friday, in the form of the non-farm payrolls report for January, and this is expected to show a gain of 50,000 jobs after December's fall of 140,000.
By contrast, German factory orders fell for the first time in eight months after the spread of the coronavirus forced the euro area's biggest economy and many of its trading partners into lockdowns.
"Short term risks remain to the EUR/USD downside, given the positioning and slow pace of EZ vaccination," said ING analysts, in a research note.
Elsewhere, GBP/USD rose 0.1% to 1.3683, after the Bank of England signaled that negative interest rates are less likely. The two-year U.K. gilt yield rose to -0.02% and appears set to turn positive for the first time since May. .
However, the central bank also pointed to a rapid rebound in growth in the second half of 2021 as the country's vaccination program gathers steam. Government projections suggest all adults in the U.K. could be vaccinated by June. By contrast, Germany doesn't expect to reach that milestone until September.
"The latest decision from the Bank of England keeps the door open to negative rates, though only after a six-month period of industry preparation," ING added. "But optimistic growth forecasts suggest that a foray into sub-zero rates is increasingly unlikely in the current cycle."
Leave a comment