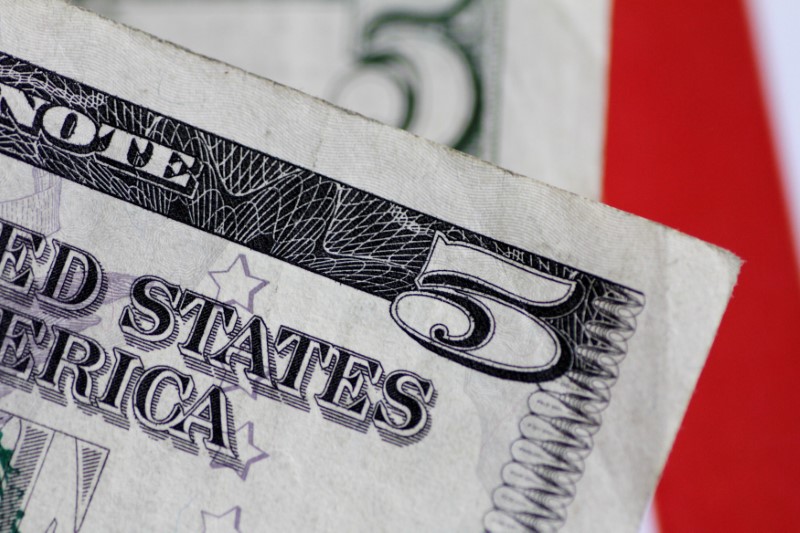 © Reuters.
By Peter Nurse
Investing.com – The dollar edged lower in early European trade Thursday, with traders keeping a wary eye on the ongoing negotiations over Brexit trade in Europe and a Covid-19 relief package in the U.S., ahead of key central bank meetings.
At 4:05 AM ET (0805 GMT), the Dollar Index, which tracks the greenback against a basket of six other currencies, was down 0.1% at 91.050, only slightly above the recent 2 1/2-year low of 90.471.
USD/JPY rose 0.3% to 104.50, while the risk-sensitive AUD/USD was up 0.2% at 0.7461.
Democrat and Republican negotiators have been unable to solve disagreements over aid to state and local governments, meaning that a broader stimulus package to help the U.S. economy recover from the Covid-19 hit remains a pipe dream, for now.
However, the two sides managed to get together to approve a stopgap government funding bill on Wednesday, proving that compromises can be made.
"The proactiveness shown by the parties involved is proving enough to keep markets upbeat, and this should limit the ability of the dollar to recover," said analysts at ING, in a research note.
Elsewhere, GBP/USD fell 0.6% to 1.3322, after U.K. Prime Minister Boris Johnson failed to come to an agreement in a dinner meeting with European Commission President Ursula von der Leyen late Wednesday over a Brexit trade agreement.
The pair agreed they have until Sunday to take a "firm decision" about the future of trade talks, but remain "far apart" on a deal.
The outcome disappointed some investors, who hoped that the dinner would bring some resolution to the stalemate between the two parties before the end-of-year deadline. The slowdown in U.K. growth, with October's GDP growth figure coming in at 0.4%, a drop from 1.1% in September, didn't help.
"Sterling remains highly exposed to the downside if the prospect of no deal becomes even more realistic," ING added.
Elsewhere, EUR/USD edged 0.1% higher to 1.2096, but this follows four straight days of losses, with the pair down almost a cent from its 2 1/2-year high of $1.2177 touched on Friday.
The European Central Bank is widely expected to increase the size and scope of its bond-buying program at its final policy-making meeting of the year later Thursday, against a background of a downward revision to its growth and inflation forecasts due to the latest wave of the pandemic.
"Our base case remains for a EUR500bn step up in the PEPP in December," said analysts at ABN Amro, in a research note. "In addition, we think the ECB will signal net asset purchases will continue for a very long time. The duration of PEPP will be expanded through to at least the end of 2021 and possibly into 2022."
Leave a comment