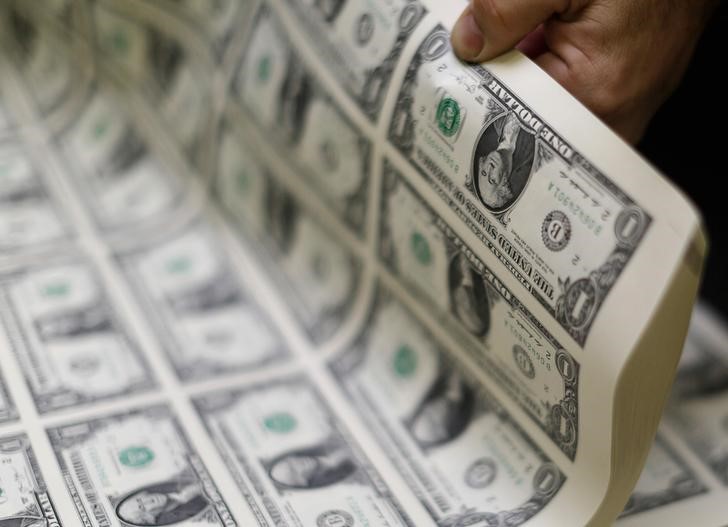 © Reuters.
By Peter Nurse
Investing.com – The dollar pushed higher in early European trading Thursday, helped by rising U.S. Treasury yields even after the Federal Reserve reiterated that it was in no hurry to raise interest rates while predicting strong growth in the world's largest economy.
At 3:55 AM ET (0755 GMT), the Dollar Index, which tracks the greenback against a basket of six other currencies, was up 0.2% at 91.602, climbing from the low of 91.295 seen earlier in the session.
USD/JPY was up 0.3% at 109.18, near the nine-month high hit earlier this week, as the Bank of Japan starts its two-day policy meeting, ending on Friday. A Nikkei report earlier Thursday said the BOJ is expected to slightly widen an implicit band at which it allows long-term interest rates to move around its 0% target.
EUR/USD fell 0.2% to 1.1957, but not far removed from its one-week high of 1.1989, while the risk-sensitive AUD/USD climbed 0.2% to 0.7812.
Chairman Jerome Powell made it pretty clear, as he handed down the central bank's latest policy decision on Wednesday, that the Fed would be sticking to its easy money policies for some time, even while predicting a strong economic recovery and a jump in inflation above target.
The Fed predicted that the economy would grow 6.5% in 2021, the largest annual jump in GDP since 1984 and a hefty increase from the 4.2% growth projected just three months ago. It saw core personal consumer expenditures – its favored measure of inflation – at 2.2% by the end of the year, and remaining marginally above 2% for the next two years.
The yield on the benchmark 10-Year U.S. Treasury note climbed above 1.73%, its highest level in more than a year, providing support for the greenback in the wake of Powell's dovish comments.
"Four out of eighteen FOMC members see a rate hike in 2022 compared to only one in December," said analysts at Nordea, in a research note, "which is another way of showing that the Fed has turned more upbeat, but they remain extremely cautious in terms of sounding just barely tightening biased and a clear consensus still refrains from hinting of any hikes at all."
Elsewhere, GBP/USD fell 0.1% to 1.3948, having gained around 0.5% overnight. The Bank of England is not expected to change its monetary policy stance when it meets later Thursday, but it probably will emphasize its high bar for tightening monetary policy even as the economic outlook brightens.
Looking at the emerging markets, USD/TRY rose 0.8% to 7.5601, ahead of a meeting by Turkey's central bank, which is expected to result in a rise in borrowing costs. The Indonesian rupiah was stable after Bank Indonesia left its key rate unchanged, while the Brazilian real was holding on to a 0.8% gain after the Brazilian central bank delivered the biggest interest-rate increase in more than a decade in order to tame inflation, hiking by 75 basis points to 2.75%, and becoming the first Group of 20 country to lift rates this year.
USD/BRL rose 0.1% to 5.5845 in early European trading.
Most economists see the central bank lifting its benchmark interest rate by 100 basis points to 18%, in order to combat soaring inflationary risks given the recent rises in oil prices and lira volatility.
Leave a comment