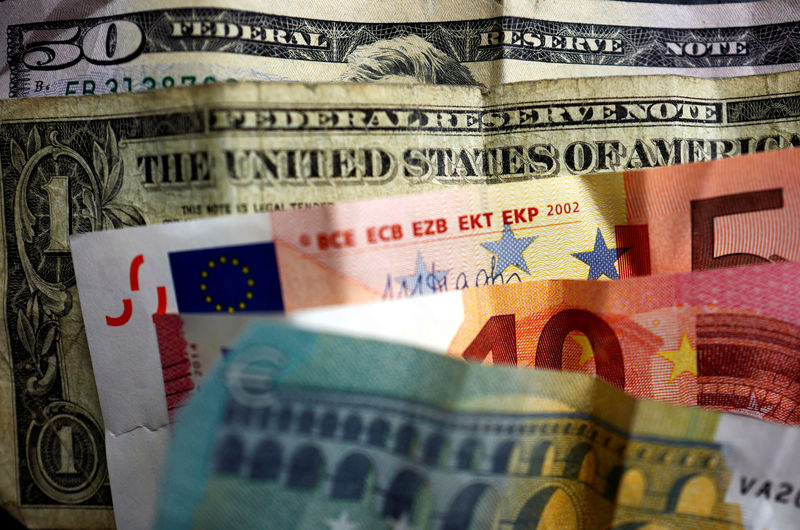 © Reuters.
By Peter Nurse
Investing.com – The dollar edged higher in early European trading Wednesday, particularly against the euro as traders fret about the state of Europe's pandemic recovery, particularly weighed against its U.S. equivalent.
At 3:55 AM ET (0755 GMT), the Dollar Index, which tracks the greenback against a basket of six other currencies, was up 0.1% at 91.097.
EUR/USD fell 0.1% to 1.2037, after dropping as low as $1.2011 overnight, its weakest level since the start of December. USD/JPY rose 0.1% to 105.06, GBP/USD fell 01% to 1.3653, while the risk-sensitive AUD/USD rose 0.1% at 0.7617.
Official GDP data out of the euro zone on Tuesday showed the gross domestic product in the 19 countries sharing the euro fell by 0.7% quarter-on-quarter in the final quarter of 2020, for a 5.1% year-on-year decline.
On top of this initial estimates showed the region was heading for another, probably steeper decline in the first quarter of this year given the extended lockdowns to combat the virus.
The U.S. recorded 4.0% annualized growth in the final quarter of last year, and on Tuesday Congress made the first moves towards passing President Joe Biden's $1.9 trillion stimulus package.
Earlier this week the Congressional Budget Office forecast the U.S. economic growth to recover "rapidly," with GDP expected to return to its pre-pandemic size by mid-2021.
President Biden's administration has made it a policy to lift the rate of vaccination for the population, with over 33 million shots already delivered. In Europe, only the U.K. can compete with that rate, with more of continental Europe struggling to organise a steady vaccine rollout.
"The early year consensus of a broad dollar decline looks like it will be further challenged this quarter. Virus mutations, uneven vaccine roll-outs and frothy asset markets all point to a period of volatility rather than benign rally in risk assets," said analysts at ING, in a research note.
Analysts at Bank of America (NYSE:BAC) also see the return to focus on fundamentals, including rising U.S. Treasury yields, will boost the world's reserve currency.
"Factor shifts lend support to our thesis that improving U.S. fundamentals will provide a tailwind to the U.S. dollar, increasing the risk of a rally as the year unfolds," BofA added, in a research note.
Elsewhere, USD/CNY rose 0.1% to 6.4594 after economic data showed China's services sector grew at the slowest pace in nine months in January, as an outbreak of Covid-19 cases in the country impacted consumer sentiment.
January's Caixin services Purchasing Managers Index came in at 52, above the 50-mark indicating expansion, but still a fall from December's 56.3.
Leave a comment