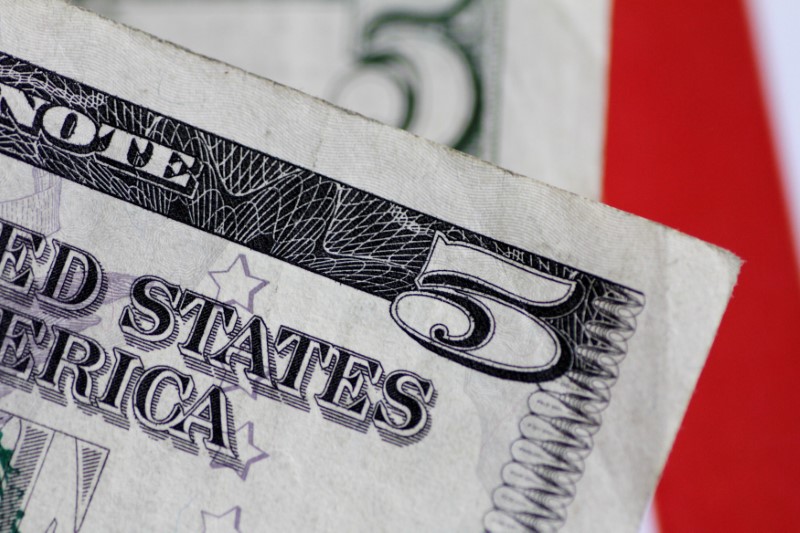 © Reuters.
By Peter Nurse
Investing.com – The dollar edged higher in early European trading Monday, with traders starting a fresh week in a cautious vein given last week's turmoil in the equity markets.
At 3:05 AM ET (0805 GMT), the Dollar Index, which tracks the greenback against a basket of six other currencies, was up 0.1% at 90.575.
USD/JPY rose 0.1% at 104.72, EUR/USD fell 0.1% to 1.2125, while the risk-sensitive AUD/USD rose 0.2% at 0.7659.
Wall Street's main equity indices suffered their worst week since the end of October last week as hedge funds were forced to liquidate positions to generate funds as retail traders ganged together to buy heavily-shorted stocks, such as GameStop (NYSE:GME) and AMC Entertainment (NYSE:AMC).
Although some of this pressure seems to have eased early Monday, foreign exchange traders are still wary of this war erupting once more. Throw in disagreements on Capitol Hill over President Joe Biden's proposed $1.9 trillion Covid relief bill and delays to global vaccine rollouts and foreign exchange traders are happy to remain in the dollar safe haven, and least for now.
"An unusual driver of risk appetite in the past few days has been the retail-trading-induced high volatility in some stocks and the following trading restrictions by online platform Robinhood. That surely remains one thread to follow, and might keep investors jittery for a little longer, suggesting fresh defensive dollar positions may not be unwound just yet," said analysts at ING, in a research note.
Risk sentiment had been buoyed for many weeks after President Biden, in one of his first acts on taking office, proposed a $1.9 trillion Covid relief package. However, this bill is struggling to make its way through Congress, and a group of 10 Republican senators sent him a letter on Sunday, urging him to consider a scaled-down proposal.
Additionally, the EU and the U.K. had a public falling out on Friday over the supply of Covid-19 vaccines to the continent, which at one point threatened to create a border between Northern Ireland, which is in the U.K., and EU member Ireland.
The slow rollout of vaccines in the EU has weighed on the single currency of late, with EUR/USD down 0.1% at 1.2127.
Additionally, German retail sales plunged far more than expected in December, slumping 9.6% on the month in real terms, as tightened lockdown measures choked consumer spending in Europe's largest economy
Leave a comment