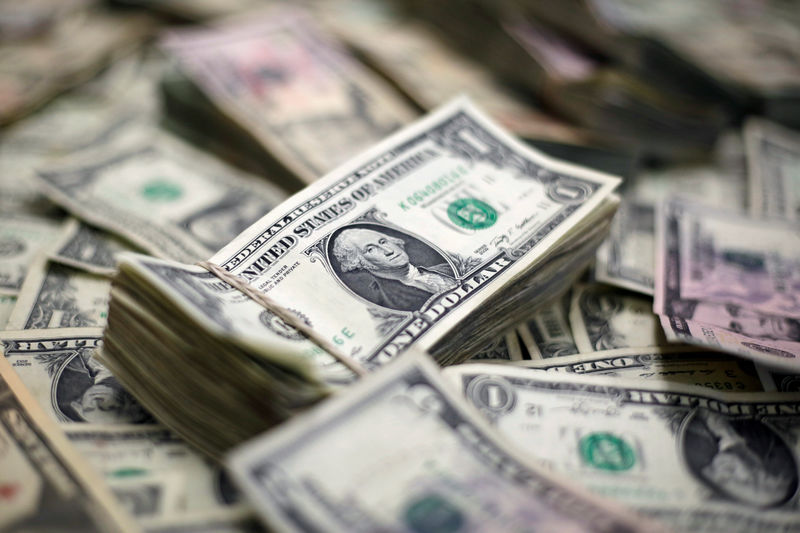 © Reuters.
By Peter Nurse
Investing.com – The dollar pushed higher in early European trade Monday, rebounding from multi-year lows as Covid-19 cases continue to mount and lockdowns expand, weighing on the U.S. economic recovery.
At 4:10 AM ET (0810 GMT), the Dollar Index, which tracks the greenback against a basket of six other currencies, was up 0.3% at 90.993, rebounding a touch having hit a 2 1/2-year low of 90.471 on Friday.
EUR/USD dropped 0.1% to 1.2117, having climbed on Friday as high as 1.2177, a level last seen in April 2018. USD/JPY was largely unchanged at 104.11, while the risk-sensitive AUD/USD was flat at 0.7420, not far off its highest level in more than two years.
On Sunday, California Governor Gavin Newsom ordered large parts of the most populous U.S. state to close down again as Covid-19 cases spiked to record levels.
California reported more than 30,000 new cases on Sunday, exceeding the state's previous high, and marked a new record for hospitalized Covid-19 patients. New Jersey, North Carolina, Virginia and West Virginia also announced record one-day rises in new infections.
This wave of cases is likely hitting the U.S. economic recovery, as evidenced by Friday's non-farm payrolls growing by 245,000 in November, much lower than October's rise of 610,000, and the smallest gain recorded since May.
However, the gains to the safe haven dollar from this backdrop have been limited, amid growing confidence there will be new fiscal stimulus to boost the U.S. economy as a bipartisan group of lawmakers look to get through a $908 billion bill this week.
Additionally, the U.S. Federal Reserve and the European Central Bank meet this week to set policy, with the ECB seen as more likely to ramp up stimulus.
Elsewhere, GBP/USD dropped 0.9% to 1.3314, retreating from the two-and-a-half year high of $1.3540 seen on Friday, after talks over the weekend stalled over issues such as fishing rights waters around the U.K., fair competition and ways to solve future disputes.
British Prime Minister Boris Johnson and European Commission President Ursula von der Leyen are due to hold a call on Monday evening, but these negotiations appear to be going right to the edge amid reports Johnson is prepared to walk away.
Given the gains sterling has made over the last few weeks, the downside on no trade deal looks substantial. Bloomerg reported the options market is seeing the biggest risk-reversal positions all year in sterling, with large volumes of put options waiting to be exercised in the event of talks breaking down.
Leave a comment