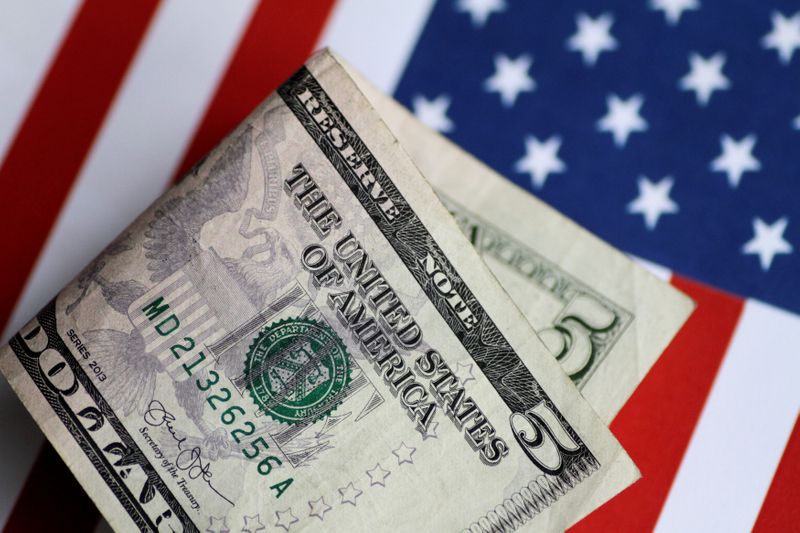 © Reuters
By Peter Nurse
Investing.com – The dollar traded lower in early European trade Thursday, weighed by downbeat U.S. data while optimism over coronavirus vaccines prompted traders to seek out riskier currencies.
At 2:50 AM ET (0750 GMT), the Dollar Index, which tracks the greenback against a basket of six other currencies, was down 0.1% at 91.892, falling to its lowest level in more than two months. Volumes are limited with the U.S. on holiday to celebrate Thanksgiving.
EUR/USD climbed 0.2% to 1.1931, close to a two-month high, GBP/USD rose 0.1% to 1.3366, close to its highest level in more than two months, while USD/JPY fell 0.1% to 104.34.
Additionally, AUD/USD inched up to 0.73664, near its highest since September, while NZD/USD edged up to 0.70036, near its strongest level in over two years. Both currencies are considered guides to risk sentiment due to their close ties with the global commodities trade.
"The benign risk environment and positive outlook for the 2021 post Covid-19 recovery is inducing further flows out of the dollar into cyclical FX," said analysts at ING, in a research note.
Optimism surrounding the likelihood of the prompt delivery of multiple Covid-19 vaccines has been added to by expectation of more fiscal stimulus from the incoming Biden administration, particularly after the weekly initial jobless claims data on Wednesday showed unemployment rising again.
The Federal Reserve released the minutes of its last monetary policy meeting on Wednesday, and they showed Fed members debated a range of options on bond purchases to support the recovery, including pivoting to purchases of longer-term securities, which could put more pressure on the dollar by keeping long-term yields unattractively low.
"Meeting minutes showed that Fed is debating how to change the asset purchases in December, which makes an Operation Twist highly likely. We still think that a Twist operation can only dampen the latent steepening pressure in the USD curve," said analysts at Nordea, in a research note.
Elsewhere, GBP/USD rose 0.1% to 1.3390, which is near its strongest level since the beginning of September, while EUR/GBP edged up to 0.8917, with traders looking for details on the Brexit trade talks between the U.K. and the European Union this week.
Sterling remains bid despite U.K. Chancellor Rishi Sunak stating Wednesday in his one-year spending plan that Britain's economy is likely to shrink by just over 11%, with the country having to borrow almost 400 billion pounds this year to pay for the massive coronavirus hit to its economy. This means the budget deficit will jump to its highest level since World War Two.
"In terms of the GBP's main driving factor, the currency still awaits the conclusion of the UK-EU trade negotiations – where a successful outcome should bring EUR/GBP to the 0.88 level," ING added.
Leave a comment