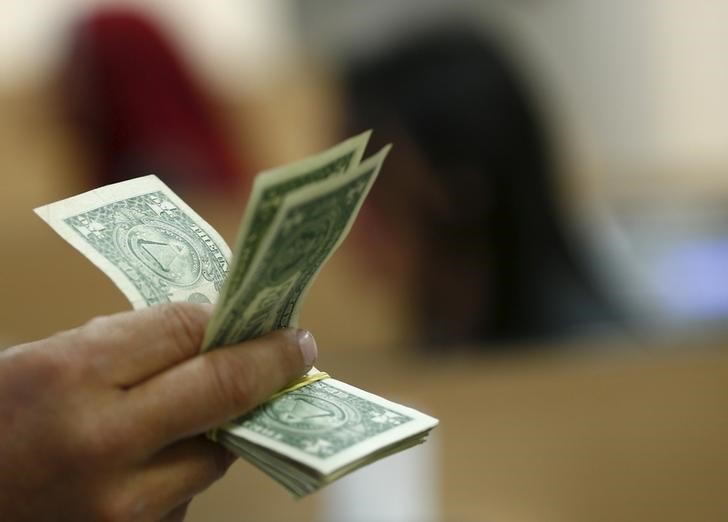 © Reuters.
By Gina Lee
Investing.com – The dollar was down on Tuesday morning in Asia, dropping to a near six-week low as investors await U.S. Federal Reserve Chairman Jerome Powell's potential response to rising inflation worries.
The U.S. Dollar Index that tracks the greenback against a basket of other currencies edged down 0.14% to 89.957 by 9:30 PM ET (2:30 AM GMT).
The USD/JPY pair inched down 0.11% to 104.94. The yen, currently the worst performing major currency of 2021 due to its sensitivity to dropping U.S. Treasury prices, steadied against the dollar.
The AUD/USD pair edged up 0.15% to 0.7926 while the NZD/USD pair inched down 0.04% to 0.7325.
The USD/CNY pair inched down 0.07% to 6.4582.
The GBP/USD pair edged up 0.15% to 1.4083, remaining above the 1.4 mark. The pound, which rallied nearly 3% in 2021 as the U.K. rolled out a quick and successful COVID-19 vaccine program, in turn boosting confidence in a U.K. economic recovery.
Elsewhere in Europe, the euro is set to re-test resistance around the $1.2220 mark after a small gain to $1.2165.
Riskier currencies such as the AUD and NZD climbed to their highest levels in almost three years as prices for materials such as oil, copper, lumber and milk powder also rose. These gains, however, have triggered worries of a global rise in inflation and a huge sell-off in longer-dated bonds.
Powell, who testifies before Congress later in the day, is expected to provide assurance that the Fed will not respond to higher inflation with an immediate rate hike, which could potentially calm bond markets and could eventually potentially cause the dollar to drop further.
"I think he will talk up the downside … if anything, I think he will give markets a bit of a cold shower and say, 'Mr. Market, you're getting a bit ahead of yourself. There are plenty of risks … and the U.S. economy is long, long way from full employment," Commonwealth Bank of Australia (OTC:CMWAY) currency analyst Joe Capurso told Reuters.
The market made slight moves ahead of Powell's testimony, but expectations of low U.S. interest rates in the short term could see trade-exposed currencies could climb further, which could lead to further drops in the dollar.
On the cryptocurrency front, bitcoin steadied above the $50,000 mark after a volatile session overnight that saw it trade in a $10,000 range and drop to $47,400.
Leave a comment