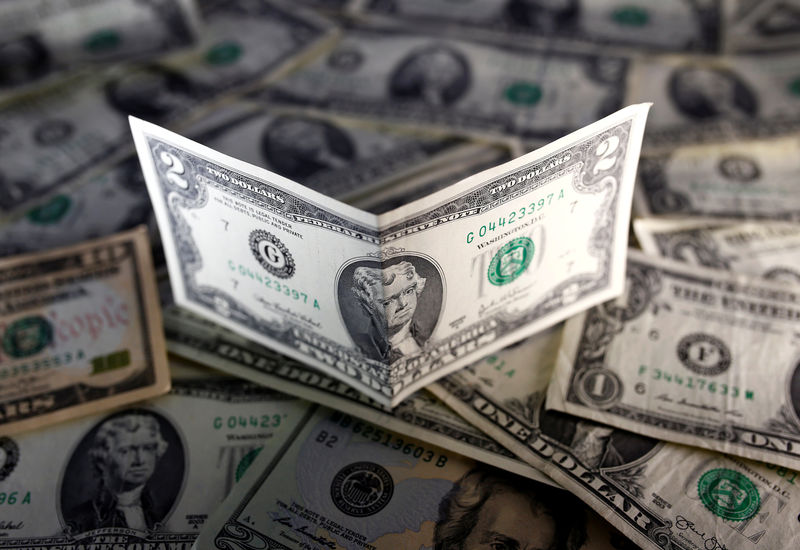 © Reuters.
By Gina Lee
Investing.com – The dollar was slightly down on Monday morning in Asia, with investor wariness remaining as the Wall Street battle between hedge funds and retail investors continues to rage on.
The U.S. Dollar Index that tracks the greenback against a basket of other currencies inched down 0.01% to 90.523 by 10:59 PM ET (3:59 AM GMT). The index was little changed at the beginning of trade in Asia on Monday but has recently been largely range-bound, after climbing from a nearly three-year low of 89.206 at the start of 2021.
The pair was flat at 104.69.
The AUD/USD edged up 0.11% to 0.7651 The riskier AUD reversed earlier losses against the dollar despite disappointing economic data from China, a key customer for Australian commodities.
The Reserve Bank of Australia will also hand down its policy decision on Tuesday.
The NZD/USD pair edged up 0.15% to 0.7201.
The USD/CNY pair gained 0.56% to 6.4610. Chinese economic data for January indicated a slowdown in the Chinese economic recovery thanks to a recent resurgence of cases in the country. The manufacturing PMI was 51.3, against the 51.6 in forecasts prepared by Investing.com and December's 51.9. The non-manufacturing PMI came in at 52.4, against December's 55.7.
The Caixin manufacturing PMI, released earlier in the day, was 51.5 and the Caixin services PMI is due later in the week.
The GBP/USD pair was up 0.27% to 1.3735.
In the U.S., Congressional debate over President Joe Biden's $1.9 trillion fiscal stimulus package continues, with a group of Republican lawmakers urging a significant reduction in the package's price tag to $600 billion.
Investors are also calculating whether the almost 7% selloff seen in 2020 will continue into 2021. The selloff was driven by, among other things, expectations of a global recovery from COVID-19, huge fiscal stimulus packages and a continuous ultra-easy monetary policy.
On the COVID-19 front, a slower-than-expected COVID-19 vaccine rollout saw investors turn to safer assets, including the U.S. currency and capping its losses.
U.S. shares are also bracing for more volatility ahead of the first trading day of February, with some investors concerned about a potential market correction. GameStop (NYSE:GME) and other shares saw wild swings after retail investor groups organized via social media targeted hedge fund short positions during the previous week.
"What happens in the next one day to one week to one month is probably in the hands of risk sentiment … if we do see a deeper equity correction, I've got no doubt that the U.S. dollar can show a little bit more strength," National Australia Bank (OTC:NABZY) head of forex strategy Ray Attrill told Reuters.
Leave a comment