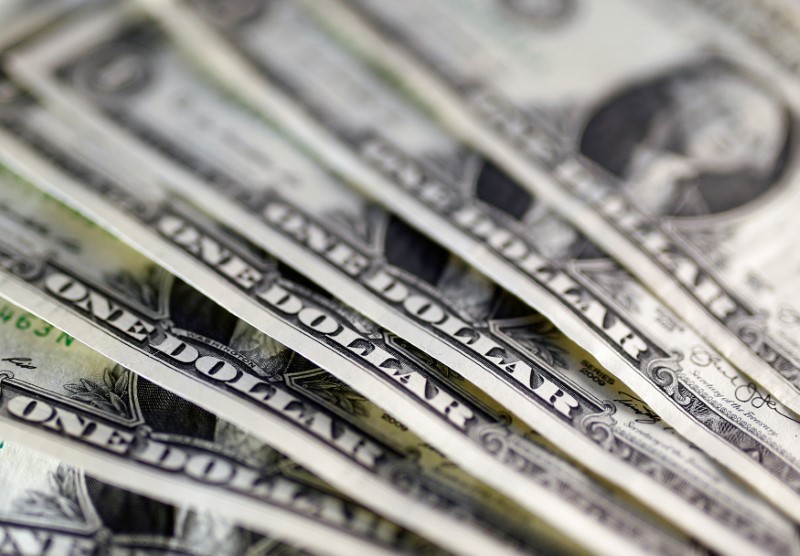 © Reuters.
By Gina Lee
Investing.com – The dollar was down on Tuesday morning in Asia but was hovering near seven-week highs. The U.S. currency was a beneficiary of an overnight euro selloff after COVID-19 lockdowns in the continent led to decreased consumer spending.
The U.S. Dollar Index that tracks the greenback against a basket of other currencies edged down 0.15% to 90.890 by 11:36 PM ET (4:36 AM GMT).
The USD/JPY pair inched up 0.03% to 104.94.
The AUD/USD pair inched up 0.09% to 0.7625, with the riskier AUD rebounding from two days of losses. The Reserve Bank of Australia kept interest rates unchanged at 0.10%, as widely expected, as it handed down its January policy decision earlier in the day. The NZD/USD pair was up 0.27% to 0.7175.
The USD/CNY pair inched down 0.10% to 6.4603. The GBP/USD pair was up 0.21% to 1.3689, with a Bank of England policy decision due on Thursday.
The euro sank to two-and-a-half-week lows overnight in reaction to disappointing German retail sales figures. Retail sales contracted 9.6% month-on-month and grew 1.5% year-on-year in December, well below the respective forecast contraction of 2.6% and 5% growth. Europe is still feeling the impact of a second wave of COVID-19 cases in the continent and is also struggling with its COVID-19 vaccine rollout program.
Meanwhile, gains in Asian shares saw the index ease slightly by 0.1% after rising 0.4% overnight, even touching 91.063 for the first time since Dec. 10. The index has also stuck to a tight range in recent weeks, bouncing back from the three-year low recorded at the beginning of 2021.
The blip in the correlation came down to the euro, and market sentiment would continue to drive the dollar's direction near-term, Commonwealth Bank of Australia (OTC:CMWAY) currency analyst Joseph Capurso told Reuters.
"When people think about selling euros, invariably you get some buying of dollars, because the euro-dollar exchange rate is easily the most liquid in the world," Capurso added.
Global sentiment remains cautious overall, with investors still digesting the previous week's market volatility that was trigged by a retail treading frenzy in stocks such as GameStop Corp (NYSE:GME) Investors are also evaluating whether the almost 7% selloff in 2020 over expectations of a global pandemic recovery amid massive fiscal spending and continued ultra-easy monetary policy, will continue in 2021.
In the U.S., investor sentiment was boosted after a "very productive" two-hour meeting on Monday between U.S. President Joe Biden and a group of ten Republican senators to discuss a downsized COVID-19 stimulus package.
However, Biden maintained that the $618 billion package proposed by the group does not go far enough to solve the COVID-19 crisis and insisted on keeping the $1.9 trillion price tag that he proposed in January. Democrat lawmakers also filed the $1.9 trillion budget measure on Monday, a step towards bypassing Republicans to get the measure passed in Congress, ahead of the meeting.
Leave a comment