While every major index and most stocks are making new all-time highs, Facebook (NASDAQ:FB) stock has so far not joined the party. Did you know it topped August last year? Hence, it is fair to ask with FB underperforming, "did it put in a long-term top?" Here, I use the Elliott Wave Principle (EWP) to assess if this is the case.
First, I want to draw your attention to FB's last rally from the June low to its ATH. It bottomed right in the ideal (red) intermediate-degree wave-iv target zone. It then rallied in a classic Fibonacci-based five-wave, impulse, pattern: (green) minor wave-3 was almost exactly 1.23x wave-1, measured from wave-2. Wave-4 then bottomed almost at the 0.618x extension, and wave-5 extended to nearly precisely the 1.764x Fib-extension at $303.43. When 3rd waves do not reach their typical target zone of 1.382-1.618x 1, the 5th wave will most often have to do the heavy lifting: extend.
FB daily candlestick chart with technical indicators and preferred Elliott Wave count into August top: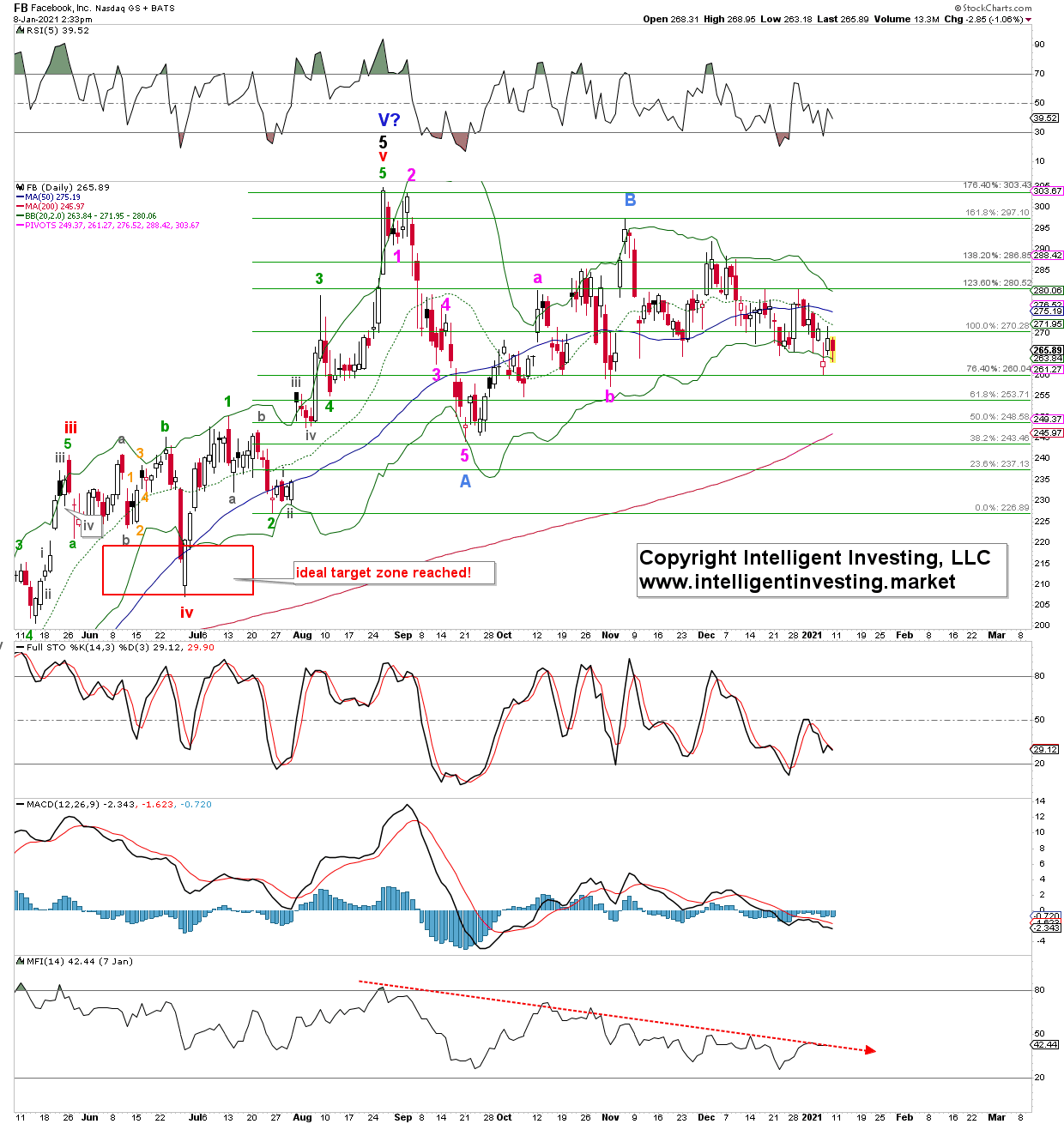 FB Daily Candlestick Chart With Technical Indicators.
Thus, so far, so good. Since the ATH, FB dropped in what, in my opinion, counts best as five (purple) waves down. Since its September low, it has then advanced in an overlapping fashion to its late-October high. Compare that advance to the clean, non-overlapping impulse pattern I just described, and it is most likely that the recent rally was corrective: a B-wave. Corrections are always made up of at least three waves: A-B-C. Thus if (teal) wave-A and -B completed, then wave-C to lower prices -ideally between $236-198- is now underway. A close below $255 will go a long way to confirm this thesis, with full confirmation on a break below the September low.
Facebook's stock is below its declining 20-day and 50-day Simple Moving Averages (SMAs) from a technical perspective. Thus, it is, in my book, in short- to intermediate-term downtrends. Since it is still above its rising 200-d SMA, I consider it even in a long-term uptrend. But a close below it will further help confirm the Bearish thesis. Besides, all other technical indicators are also trending down: weakening.
Zooming out, the weekly chart below shows FB's price action since its IPO. My EWP count shows FB put in a (blue) Primary-III top mid-2018. Then, it completed a complicated primary wave-IV March 2020 in the form of a running flat. Please see here for a more detailed explanation of EWP patterns. Remember, corrections are always at least three waves!
Here, wave-a was the 2018 low, wave-b the 2019 high (where b=a), and wave-c of IV then stopped March 2020 just above the wave-a low. That caused primary-IV to retrace almost precisely 38.2% of wave-III. A classic and typical 4th wave retrace level. Since that infamous low, FB has rallied in five waves up, as I showed in some detail earlier.
FB weekly candlestick chart with technical indicators and preferred Elliott Wave count since its IPO: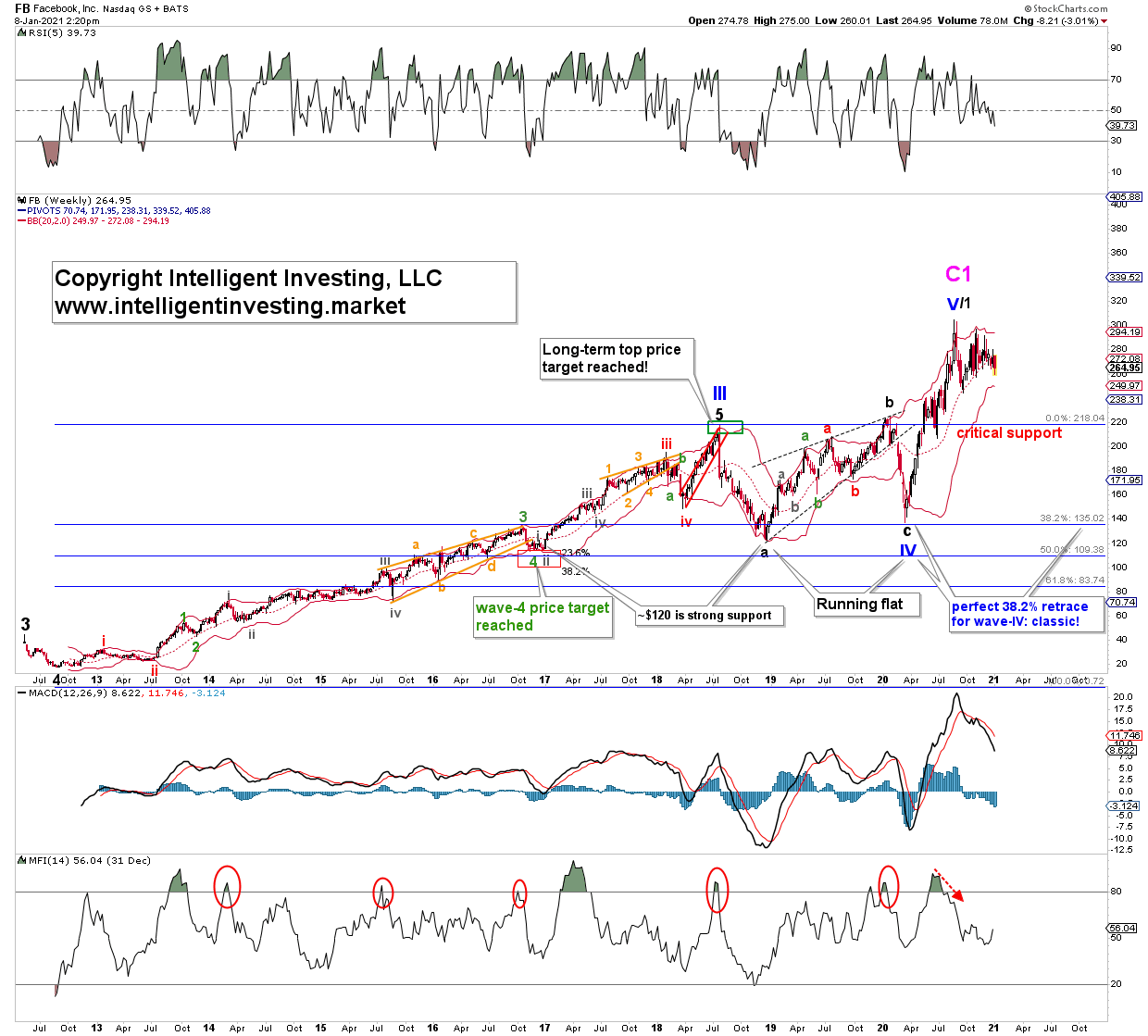 FB Weekly Candlestick Chart With Technical Indicators.
The weekly chart and EWP count suggest the August 2020 high was all of Primary-V of Cycle-1, and FB is about to correct most of its eight-year-long rally: with a move back to ideally $75-115 for Cycle-2, but possibly much lower. Given FB has lost 12% since its ATH, while the Nasdaq 100 has added around 16% during that time, I find FB a weak, underperforming asset with a lot of downside potential and, thus, I avoided it for now. The only way for the bulls to avoid such catastrophe is to hold the $236-198 region and rally price above the ATH. Then, FB will have many months of good times ahead.
Leave a comment