In-store sales on Black Friday were gutted by COVID-19, cut by more than half according to retail traffic and analytics firm Sensormatic Solutions, dropping by 52.1% from last year. On the other hand, online sales broke records as many customers chose to do their holiday shopping from the safety of their homes.
Still, though foot traffic to bricks-and-mortar outlets was a bust, Black Friday 2020 still managed to score some retail records: online sales hit $9 billion on the Friday that follows Thanksgiving in the US, for growth of 22% from last year according to Adobe Analytics, which analyzes website transactions from 80 of the top 100 US online retailers.
That beat all expectations, and made Friday, Nov. 27, 2020 the second richest online spending day in US history, right behind 2019's Cyber Monday. Analysts expect this Cyber Monday, which takes place today, to achieve a new record as well, with estimates for the total figure spent to come in somewhere in the $10.8 billion to $12.7 billion range, reflecting as much as a 35% increase from last year.
Along with such obvious coronavirus shopping beneficiaries as Amazon (NASDAQ:AMZN) and eBay (NASDAQ:EBAY), there's another, less obvious business segment that's likely to see a windfall. That would be companies delivering the packages consumers shelled out for. In that category, the two biggest firms are United Parcel Service (NYSE:UPS) and FedEx Corporation (NYSE:FDX).
From a technical perspective, we prefer FedEx since it looks as if UPS might be topping out.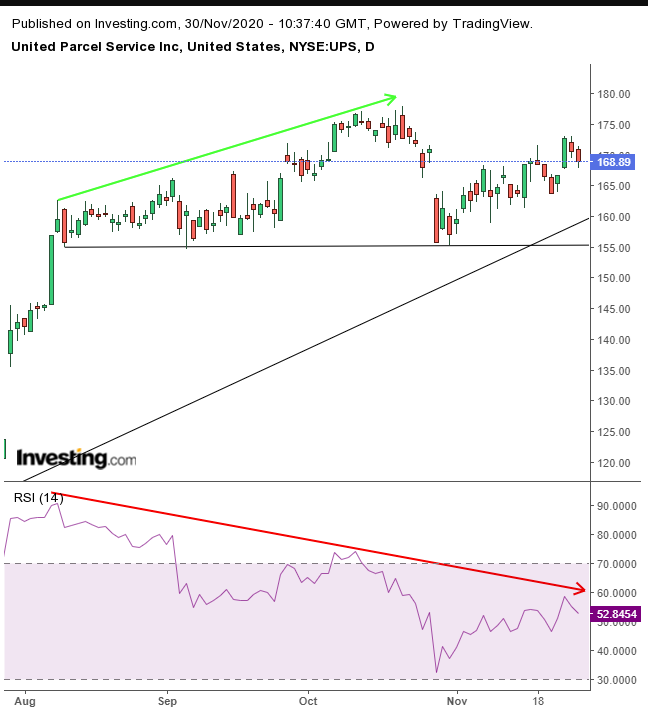 UPS Daily
We suspect UPS is forming a H&S top, which is particularly worrying after the negative divergence of the RSI. Unless the price decisively takes out the $180 level, we wouldn't touch this stock.
On the other hand, FedEx shares show a lot more promise.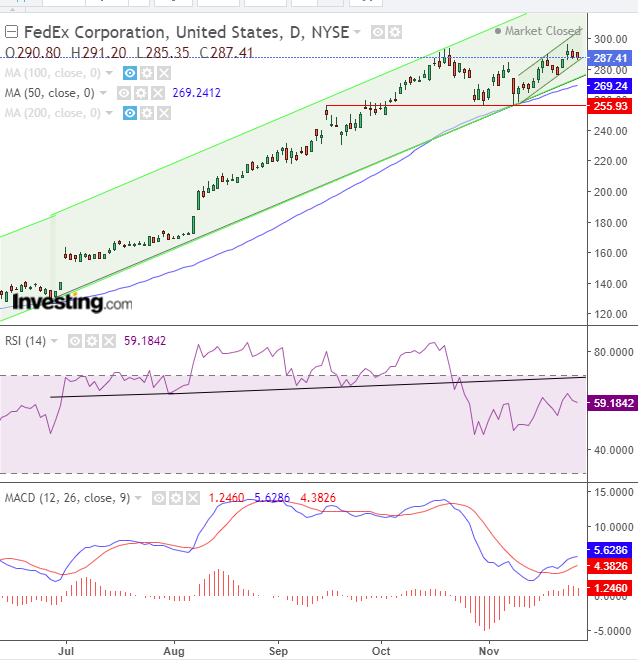 FDX Daily
Chart powered by TradingView
The stock has been trading along a rising channel since May, supported by the 50 DMA. Investors bid up shares ahead of the record-breaking sales holiday.
However, caution is warranted: the Nov. 4 peak failed to close above the October highs, opening the possibility of a double top, which would be complete with a fall below $255, the late October-early November lows.
The price action hit both a record close and record high, extending the uptrend, strictly speaking. Another technical trigger to keep an eye on is the RSI, which may find resistance at its July-October support.
On the other hand, the fact that the RSI is under 60 despite hitting all-time-highs, shows there's a lot of room left for continued highs, per the MACD's muted buy signal (a more meaningful buy signal would be if the short MA would cross above the long MA from below 0, especially after a sharp decline).
It pays to realize, of course, that just because FedEx stands to gain significant holiday business at this point, doesn't mean that would necessarily be reflected in the price right now. It could be that's already priced in. Therefore, money management is key.
Trading Strategies
Conservative traders would wait for the price to clear the October highs and return to rebound off the rising channel's bottom.
Moderate traders would wait for the price to either make new highs and dip or for a return to the channel bottom.
Aggressive traders could buy now, off the short-term, narrower rising channel since the November bottom, where the price appears to have found support—provided they understand and accept the risk, and are prepared with a premade trading plan they are committed to, irrespective of news or price action.
Here's an example of the key points of a viable plan:
Trade Sample
Entry: $285
Stop-Loss: $280
Risk: $5
Target: $300 – psychological milestone
Reward: $15
Risk:Reward Ratio: 1:3
Leave a comment