California-based electric vehicle (EV) manufacturer Canoo (NASDAQ:GOEV) stock has been selling off after it completed its reverse merger business combination with Hennessy Capital Acquisition (NASDAQ:HCACU). The new symbol change went into effect on Dec. 22, 2020. As with most special-purpose-acquisition-companies (SPACs), the business combination can be expected to sell-off anywhere from three to eight days following the symbol change. Shares fell nearly (-50%) to bottom at $12 and spring back up to the $20 high before selling off again. Shares recently made a new low at $9.68 before bouncing again. As with most U.S. EV makers, with the exception of leader Tesla (NASDAQ:TSLA), Canoo is in pre-production with the launch of its First Wave vehicles expected in 2022. Canoo hopes to carve out a niche with its subscription-based revenue model and skateboard architecture with top hat design engineered for expansive interior space and storage capacity. The Company recently announced details of its SUV causing shares to spike as high as $16.29. Risk-tolerant investors can monitor opportunistic pullback levels to consider exposure in this up-and-coming U.S. EV player.
Canoo EV Pickup Truck
On Mar. 10, 2021, Canoo debuted its fully-electric pickup truck at the Motor Press Guild's Virtual Media Day in partnership with Automobility LA. The six-feet long pickup truck can extend to eight feet and includes a pull-out bed extension housing a secondary lamp. The truck also features a fold-down worktable with electric outlets and front cargo storage area for tools or gear. Both sides of the truck feature a flip-down table in two expandable depths enabling the functions of a workbench with multi-functional power sources. A flexible storage area for coolers, first-aid kits, and lockable laptop storage is provided under the hidden step on the side allow quick access to the truck bed. The Company notes "This space-efficient feature is only possible due to Canoo's ultra-flat platform." The truck comes with multi-accessory charge ports, "The pickup truck can double as a powerplant with exportable power accessible on all sides of the vehicle. Power can last all day for tools and devices, with as little as 10% impact on vehicle charge." Additional features include option roof racks and can accommodate camper shells.
Truck Specs
Vehicle specifications include up to 600 horsepower and 550 lbs.-ft of roque with dual motors with over 200 miles per charge range. The truck has payload capacity up to 1800 lbs. Space-saving technology including steer-by-wire and brake-by-wire are utilized to maximize driver visibility. Bumpers are designed for maximum durability and functionality with integrated toe hooks and metal skid plates. Pre-orders will start in Q2 2021 with deliveries expected at the beginning of 2023. Canoo Executive Chairman, Tony Aquila, stated, "We are so passionate about building vehicles that can change people's lives… Our pickup truck is as strong as the toughest trucks out there and is designed to be exponentially more productive. This truck works for you. We made accessories for people who use trucks on the job, on the weekends, adventure. You name it, we did it because it's your platform and she's bad to the bone."
Wavemakers
Canoo is implementing a subscription model which it claims can save 40% over the traditional vehicle leasing plans available today and promotes a frictionless experience. Interested consumers need to join the free First Wave membership (to become Wavemakers) to get on the waiting list for the initial rollout of the Lifestyle vehicle. The direct-to-consumer (DTC) model leaves out the middleman which provides further cost savings to the consumer. Wavemakers can earn points by referring more people to join the membership. Points can be used to move up in the waiting line as well as win prizes ranging from hats to 3D printed models and design books. The Company plans to rollout its commercial delivery vehicles in 2023, which are not subscription-based. It's sports vehicle is planned for 2025 launch.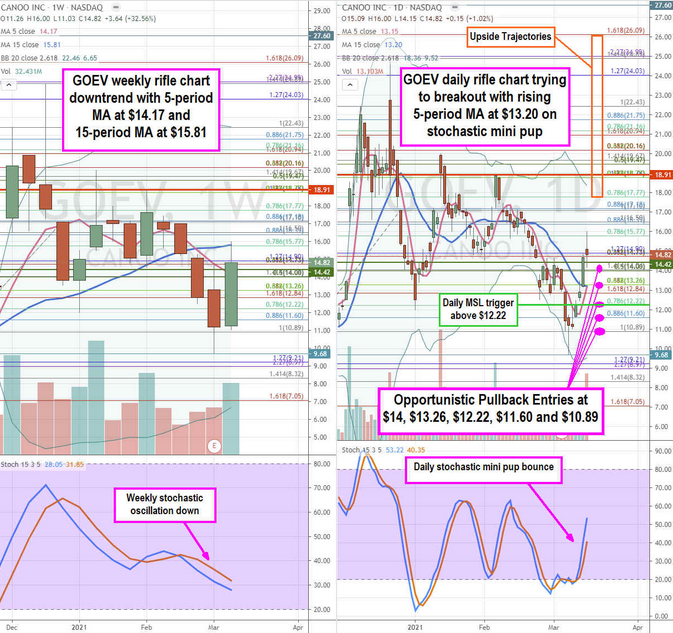 Canoo Inc Stock Chart
GOEV Opportunistic Pullback Levels
Using the rifle charts on the weekly and daily time frames provides a precision near-term view of the landscape for GOEV stock. The weekly rifle chart has been in a downtrend with a falling 5-period moving average (MA) resistance at $14.77 and 15-period MA resistance around the $15.77 Fibonacci (fib) level. The weekly downtrend has been driven by the falling weekly stochastic as it nears the 20-band. The daily rifle chart indicates a trend reversal attempt as shares bounced on the daily market structure low (MSL) buy trigger above $12.22. This formed a daily channel tightening as shares cleared the daily 5-period MA rising at $13.15 to overshoot through the daily 15-period MA resistance at $13.20. The daily stochastic has a mini pup rising through the 50-band. A nominal reversion back to the daily 5 and 15-period MAs will test the mettle of the bulls. Risk-tolerant investors and nimble traders can monitor opportunistic pullback levels at the $14 fib, $13.26 fib, $12.22 daily MSL trigger, $11.60 fib, and the $10.89 fib. Upside trajectories range from the $17.77 fib up towards the $26.09 fib.
Leave a comment