Investors in FTSE 100 member Antofagasta (LON:ANTO) (OTC:ANFGF) have had a great year so far. The price of shares in the multinational mining giant is up more than 55%. Put another way, the proverbial $1,000 invested in the stock in early January would now be worth well over $1,500.
Antofagasta's history goes back to 1888, when it was incorporated in London. The mining giant operates four copper mines in Chile. In addition, its transport division provides rail and road cargo services in northern Chile.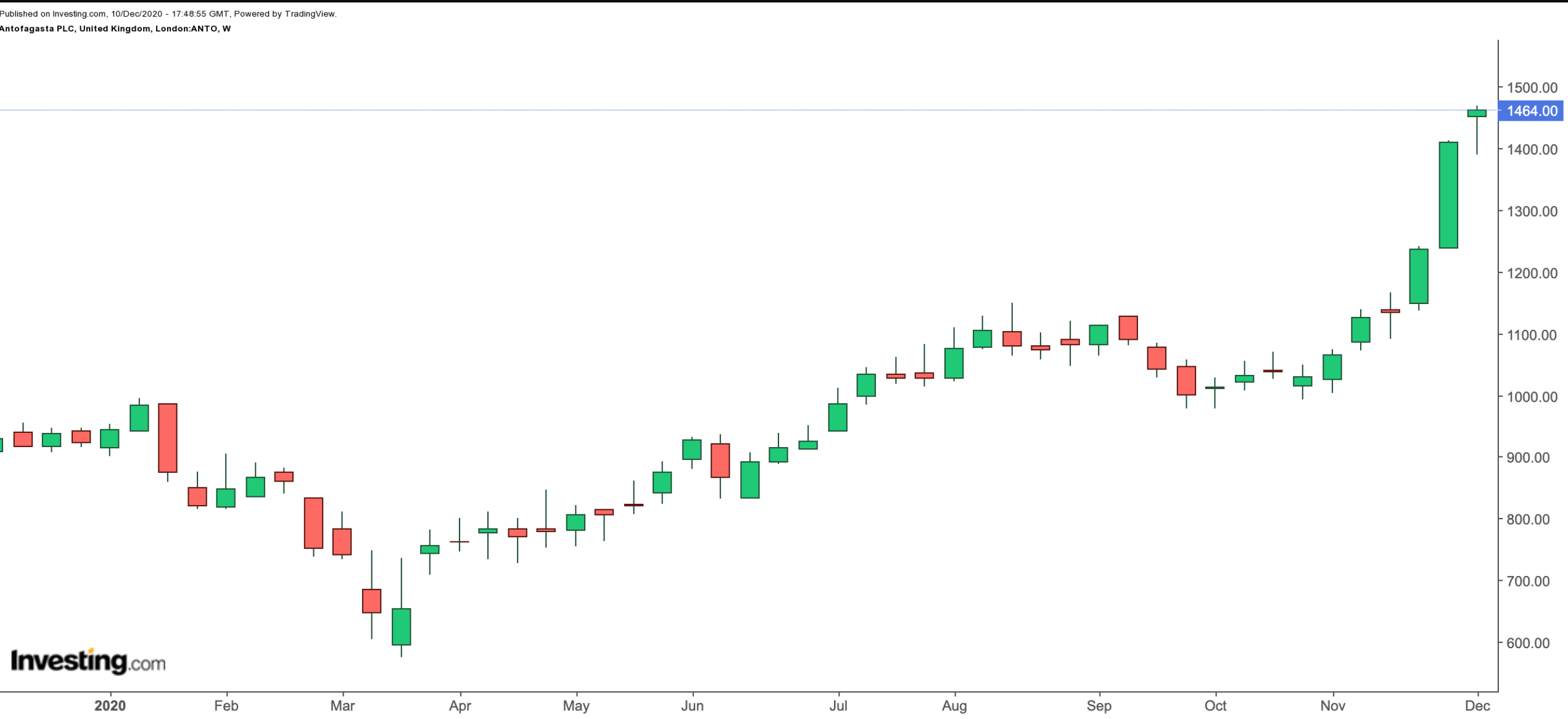 Antofagasta 1-Year Chart.
The final month of the year has meant a new 52-week high for the shares. On Dec. 10, ANTO stock closed at 1,464p ($19.39 for US-based shares). Now, investors wonder if the bull run in price can continue into 2021, as well.
No discussion of Antofagasta would be complete without discussing copper, one of the oldest metals used in the world. Let's take a closer look.
Antofagasta Is A Play On Copper
Extracting and refining copper are expensive processes, but the metal's unique specifications keep it in demand. Chile is the largest copper producer in the world, followed by Peru, China, the Democratic Republic of Congo and the US.
Recent academic research highlights:
"China has become a major user of copper as well as a producer of copper-containing products…. China's per-capita in-use copper stock has grown from about 7 kg in 1990 to close to 60 kg in 2015. At the same time, total copper imports have increased from approximately 0.65 Mt per year to close to 10 Mt."
Currently, "the biggest importers of copper are China, Japan, India, South Korea and Germany."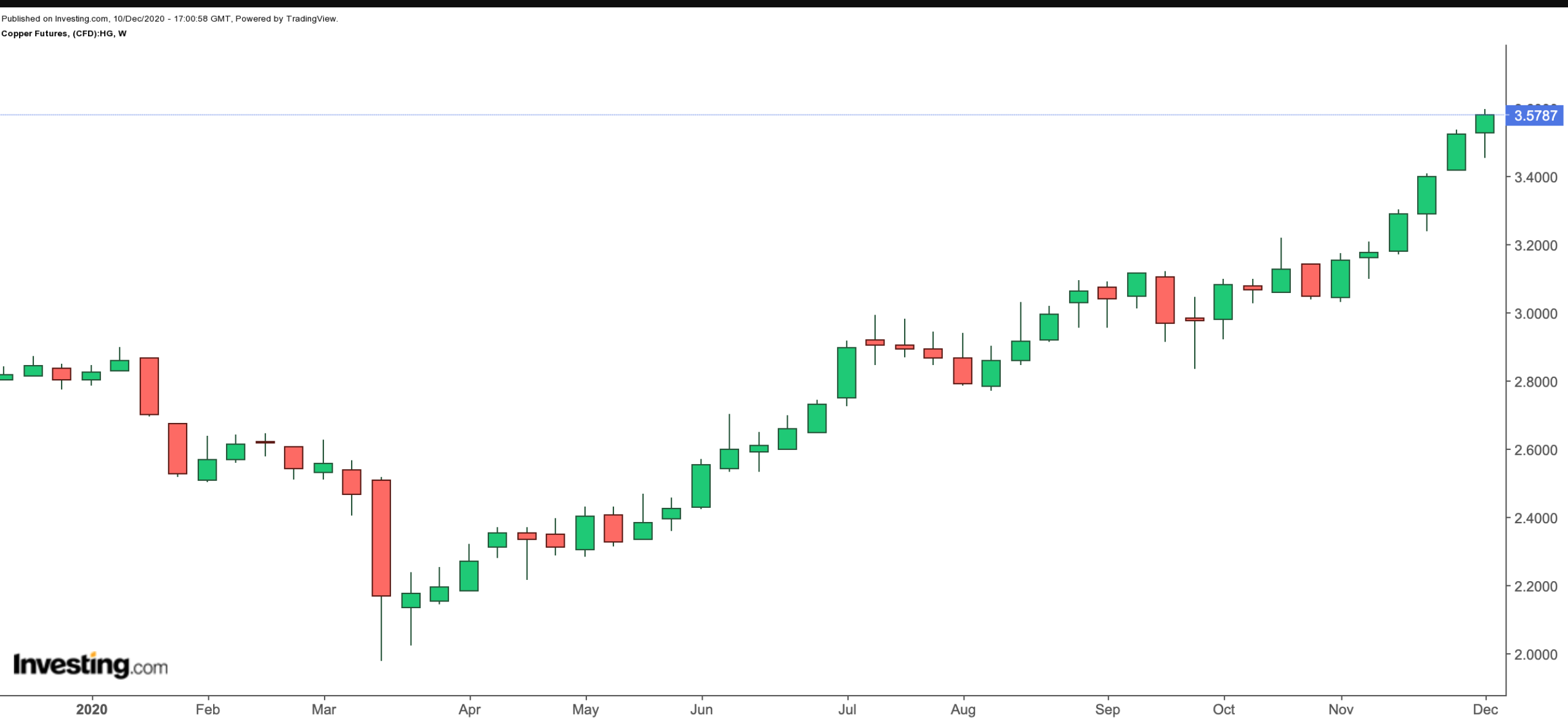 Copper Futures Chart.
After reaching multiple-year lows in the first few months of the year, a sharp copper rebound that started in Q2 continued through the third quarter. On a side note, copper futures are heavily traded on the London Metal Exchange (LME).
With optimistic post-pandemic scenarios dominating, the risk appetite has increased in the markets since early spring. As a result, prices of many asset classes have gone up. The markets appear to expect a substantial recovery in the global economy, including heavy industry, and thus an increased demand for copper.
The trend in the price of copper matches the run-up in ANTO shares. We can expect a parallel move in the coming months also. For those investors who are bullish on copper, Antofagasta could continue to be a good play.
However, we have to remind potential investors that valuation metrics are becoming overstretched. ANTO stock's forward P/E and P/S ratios are 23.75 and 4.10, respectively. In fact, recent analyst views have also been mixed.
In late October, the group released Q3 production results.
Said CEO Ivan Arriagada at that time:
"For the full year 2020 we continue to expect production to be at the lower end of the original 725-755,000 tonnes guidance range, and net cash costs are now expected to be below the originally guided $1.20/lb."
Potential investors may want to wait for the next earnings report before buying into the shares.
Bottom Line
In the coming weeks, we expect short-term profit-taking to put pressure on Antofagasta stock. A potential decline of about 5%-7% would improve the margin of safety for long-term investors.
Those investors who do not want to commit full capital into a single copper mining company but still believe in the power of the red metal could consider investing in a copper exchange-traded fund (ETF) that is designed to be a play on the price of copper. Examples include the Global X Copper Miners ETF (NYSE:COPX), the United States Copper Index Fund, LP (NYSE:CPER) and the Barclays (LON:BARC) iPath Bloomberg Copper Subindex Total Return.
In addition to Antofagasta, several other mining groups held in COPX are Canada-based First Quantum Minerals Ltd (OTC:FQVLF), India-headquartered Vedanta (NYSE:VEDL), Poland-based KGHM Polska Miedz (LON:0O8D) and Swiss group Glencore (OTC:GLNCY).
Finally, there is also an exchange-traded note (ETN), namely the Barclays iPath Bloomberg Copper Subindex Total Return (OTC:JJCTF), which utilizes copper futures contracts.
Leave a comment