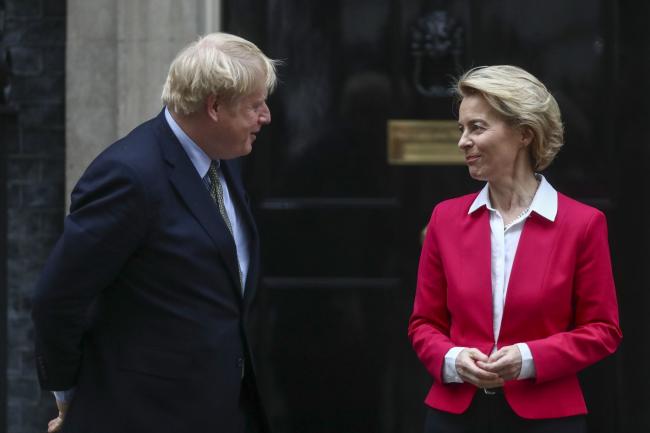 © Bloomberg. Boris Johnson, U.K. prime minster, left, greets Ursula von der Leyen, president of the European Commission, on the steps of number 10 Downing Street in London, U.K., on Wednesday, Jan. 8, 2020. Johnson will tell Von der Leyen that his government is only interested in negotiating a free trade agreement with its largest market, and that he's determined to achieve it by the end of the year. Photographer: Simon Dawson/Bloomberg
(Bloomberg) —
U.K. Prime Minister Boris Johnson and European Commission President Ursula von der Leyen plan to meet in person in coming days as they push to secure a post-Brexit trade deal.
"We agreed that the conditions for finalizing an agreement are not there due to the remaining significant differences on three critical issues: level playing field, governance and fisheries," the two said in a joint statement after a speaking to each other on Monday.
"We asked our chief negotiators and their teams to prepare an overview of the remaining differences to be discussed in a physical meeting in Brussels in the coming days," they said.
©2020 Bloomberg L.P.
Leave a comment