Beyond tech, 2020 has been a difficult year for many sectors. The search for positive news in the cannabis sector has been particularly tough. That does not mean there haven't been a few upbeat signs that could signal more prosperous times to come.
Aurora Cannabis (NYSE:ACB), (TSX:ACB) is one company with good reason to be optimistic. The Canadian cannabis grower saw its stock price sharply increase in November, followed by a reversal—but the gains are building.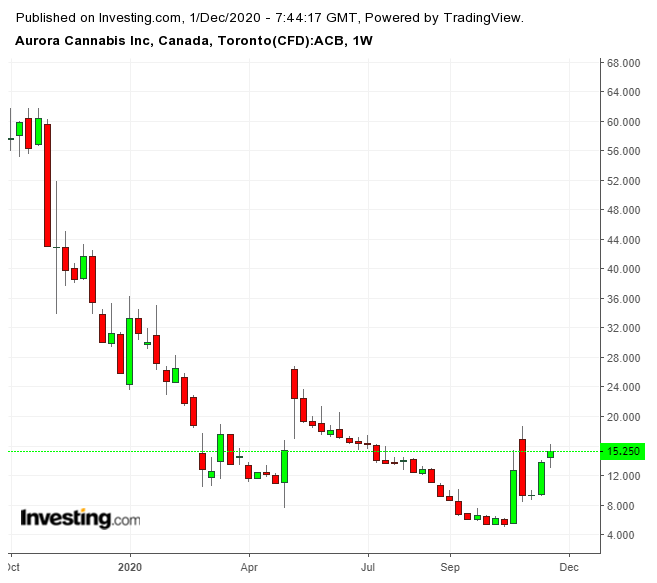 Aurora Cannabis Weekly
In November, the pot stock soared 188%, reclaiming its pre-pandemic level. This upward move reflects solid developments, including one that played out this past week.
Last Wednesday Aurora announced it had struck a deal to enter the Israeli market.
According to the terms of the two-year agreement, Aurora will supply 4,000 kilograms of dried flower annually to Cantek Holdings, a medical cannabis operator. The product will be processed and co-branded by the two companies.
The deal is a major coup for Aurora, as it expands its international footprint.
"We are excited about our strategic relationship with Cantek, a leader in the Israeli market," said Aurora CEO Miguel Martin.
"This agreement provides Aurora with a great opportunity to expand our medical cannabis brand and industry leading science in one of our key international markets of focus."
The deal also strategically positions Aurora in a second of two of the largest medical cannabis markets outside of Canada—Germany and Israel, one of the largest importers of medical-grade marijuana.
As an RBC Capital Markets analyst put it, the supply deal could effectively triple Aurora's international medical cannabis output to about $43 million in 2022.
Shares of the Edmonton-based cannabis grower added just over 11.5% on Monday to close in New York at $11.68. But despite the uptick in November, the stock has lost more than half its value since the beginning of 2020.
Village Farms: One To Watch
Another pot stock investors might want to keep an eye on is Village Farms International (NASDAQ:VFF), (TSX:VFF). This Canadian-based vertically integrated greenhouse operator is one of the largest produce growers in North America and the only publically traded greenhouse grower in Canada—traded both in Toronto and on the NASDAQ—and operates Pure Sunfarms, its cannabis subsidiary.
Its stock has climbed almost 120% in November. In the past year, it has gained just over 71%.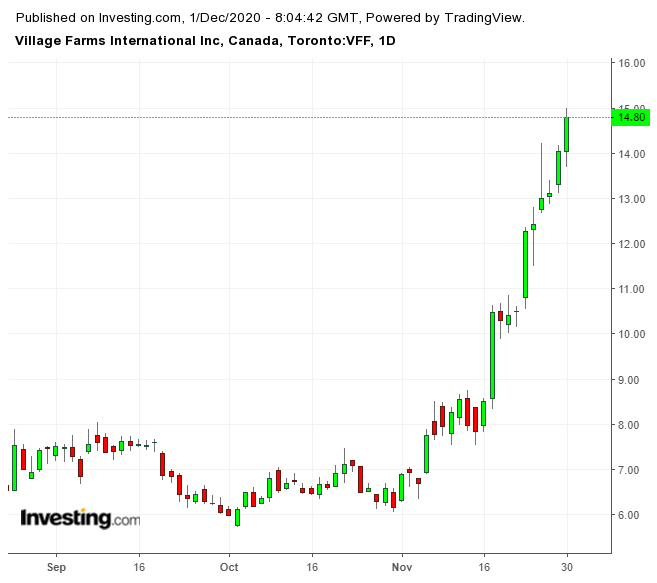 Village Farms Weekly Chart
The company has inked a deal with Shoppers Drug Mart, has launched CBD-infused gummies in Hong Kong and, according to an analyst's report last week, it is trading below its peers based on a "ratio of enterprise value to EBITDA."
Village Farms is also well positioned to benefit from U.S. legalization of cannabis given it operates several cultivation sites in the U.S.
Leave a comment