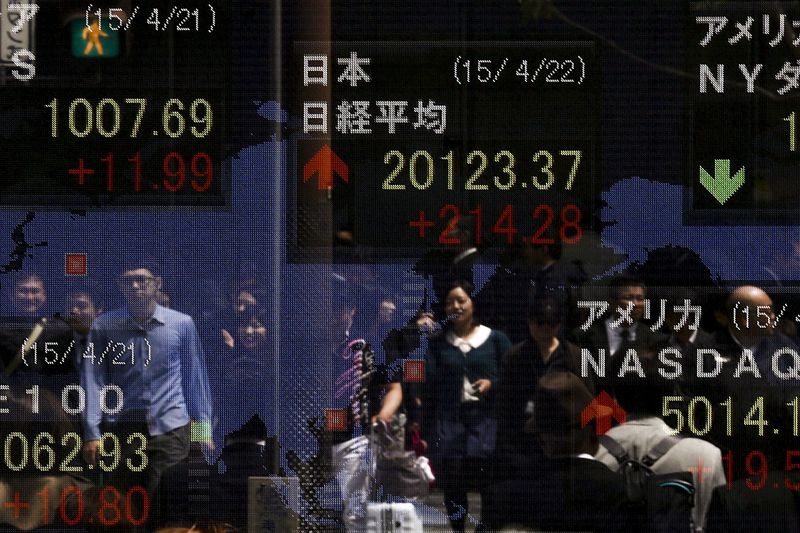 © Reuters.
By Gina Lee
Investing.com – Asia Pacific stocks were mostly up on Wednesday morning, with bets on a strong economic recovery in 2021 as policymakers show little signs of scaling down unprecedented stimulus efforts to boost COVID-19 battered economies. However, the U.S. Senate has delayed a vote on increasing the amounts on the stimulus checks to be distributed to Americans.
Japan's Nikkei 225 was down 0.54% by 10:14 PM ET (3:14 AM GMT), while South Korea's KOSPI gained 1.12%.
In Australia, the ASX 200 fell 0.72%. The country is facing a second cluster of COVID-19 cases in Sydney's Croydon suburb. In a bid to prevent a super spread, the Greater Sydney area sees household gatherings to ring in the new year limited to five visitors and the maximum size of outdoor gatherings reduced to 30 from 50. The city's Northern Beaches area remains under lockdown.
Hong Kong's Hang Seng Index jumped 1.57%.
China's Shanghai Composite was up 0.78% while the Shenzhen Component rose 1.36%. Chinese data, including the manufacturing and non-manufacturing Purchasing Managers Index (PMI) are due to be released on Thursday.
The National Bureau of Statistics also revised China's 2019 GDP down 6% to CNY98.65 trillion ($15.10 trillion) earlier in the day.
Some investors remained optimistic as 2020 draws to a close.
"Investors stick to a bullish view overall and some are starting to bet further on rise in equity prices," Nomura Securities cross-asset strategist Masanari Takada told Reuters.
Also underpinning risk assets such as stocks were expectations that central banks will also continue to pump liquidity into the banking system to support economic recovery.
"We think continued monetary and fiscal policy support means investors should take risk. Stocks will do better than bonds. Within bonds, corporate bonds should beat government bonds," State Street (NYSE:STT) Global Advisors head of Asia-Pacific fixed-income business Hiroshi Yokotani told Reuters.
U.S. shares hit pause on recent record highs during the previous session after Senate Majority Leader Mitch McConnell blocked increasing the stimulus checks amounts from $600 to $2,000 on Tuesday. The House of Representatives and U.S. President Donald Trump both approved the increase earlier in the week.
As a volatile 2020 draws to a close, risk assets such as stocks, corporate bonds and Bitcoin are hovering just below record highs. As investors attempt to assess the impact of COVID-19 and the pace of vaccine distribution, the MSCI AC World Index of global stocks looks set to end the year around 14% higher, after surging almost 68% since its low seen in March.
"This is an economy that is recovering, policy is going to be accommodative for years to come, it suggests a good backdrop for risk assets. But it doesn't mean there aren't going to be some challenges as we progress over the next couple of years," Invesco global market strategist Brian Levitt told Bloomberg.
"The reality is the markets are going to be focused on a recovery," he added.
Leave a comment