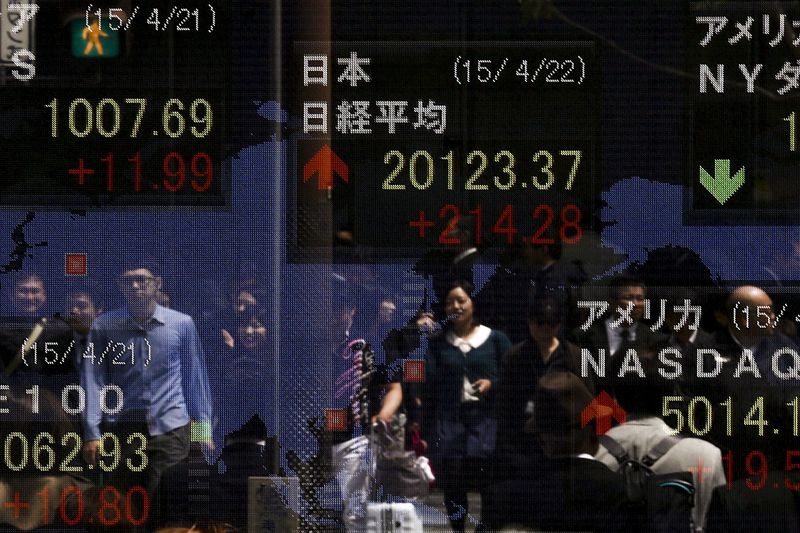 © Reuters.
By Gina Lee
Investing.com – Asia Pacific stocks were mostly up on Monday morning, with the possible imposition of a state of emergency in Japan capping gains from 2020's record rally.
Japan's Nikkei 225 fell 0.63% by 10:27 PM ET (3:27 AM GMT), after Japanese Prime Minister Yoshihide Suga said he would consider declaring a fresh state of emergency in the Tokyo area to stem record numbers of COVID-19 cases in the country over the past few days.
The government will finalize the extent of the emergency declaration shortly, Suga told a news conference earlier in the day. He also said he will ask parliament to amend an act on virus management when it convenes later in the month.
South Korea's KOSPI jumped 2.36%. South Korea has also seen the number of daily cases exceed more than 1,000 for four days, and in response will expand a ban on private gatherings larger than four people to the whole country as well as extending unprecedented social distancing rules in greater Seoul.
In Australia, the ASX 200 rose 1.41% and Hong Kong's Hang Seng Index gained 0.92%.
China's Shanghai Composite was up 0.79% and the Shenzhen Component rose 1.88%. The Caixin Manufacturing Purchasing Managers Index (PMI) came in at 53 for December, lower than both the 54.8 in forecasts prepared by Investing.com and November's 54.9 reading.
Meanwhile, Chinese oil majors could be next in line for delisting in U.S. stock exchanges. The New York Stock Exchange said during the previous week that China Mobile Ltd (HK:0941), China Telecom Corp Ltd (NYSE:CHA) and China Unicom Hong Kong Ltd (NYSE:CHU) would all be suspended from trading between Jan. 7 and Jan. 11, with delisting proceedings already initiated.
Although global shares began 2021 at rich valuations, amid hopes that a widespread distribution of COVID-19 vaccines, central bank support and government support will lead to economic recovery, the ever-increasing numbers of COVID-19 cases globally and the fact that much of the optimism has been priced in, saw some investors paint a cautiously optimistic picture.
"COVID-19 cases and vaccine distribution will remain the key focus for investors for now. Without the wide distribution of vaccines, the paths of COVID-19 and the economy are locked together, given the impact on social mobility and economic curtailment. This link will be broken as immunity levels rise into the middle of the year, but until then the economic path will be bumpy over the first quarter," JPMorgan (NYSE:JPM) Asset Management global market strategist Kerry Craig told Bloomberg.
The number of COVID-19 cases globally has exceeded 85 million as of Jan. 4, with over 20.6 million cases in the U.S. alone, according to Johns Hopkins University data.
Also on investors' minds is the Jan. 5 runoff election in the state of Georgia for two Senate seats that will determine which party will control the Senate.
If the incumbent Republican candidates win either or both seats, they will retain their slim majority and hamper President-elect Joe Biden's agenda.
However, a Democrat victory, which has not happened in the state for 20 years, could see more stimulus measures.
"If Democrats win both races, Vice President-elect Kamala Harris would be the tie-breaking vote, giving the party unified control of the White House and Congress," CBA analysts said in a note.
"This would raise the likelihood a material U.S. infrastructure spending package gets fast tracked through Congress," the note added.
The Federal Reserve will also release the minutes from its December meeting on Wednesday. The minutes are expected to offer more detail on the discussions about making their forward policy guidance more explicit and the chance of a further increase in asset buying in 2021.
Leave a comment