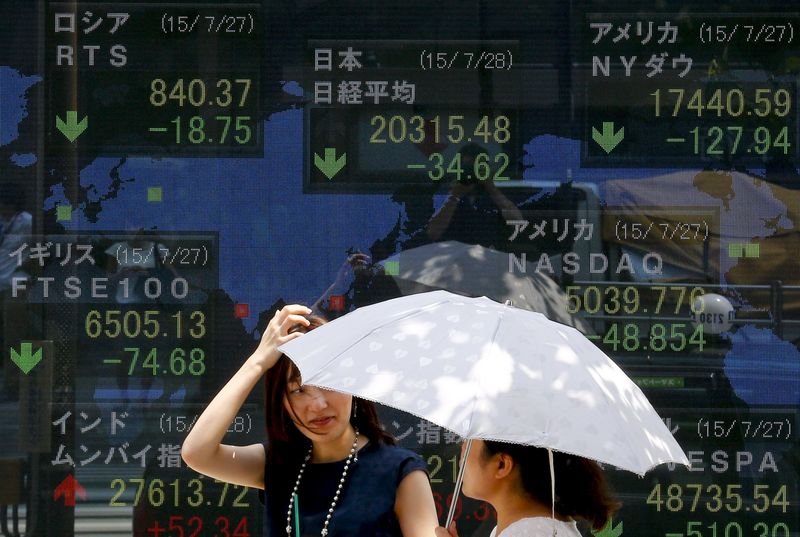 © Reuters.
By Gina Lee
Investing.com – Asia Pacific stocks were down on Wednesday morning, continuing to take a breather from November's rally. However, a possible renewal of U.S. stimulus talks and the lingering optimism that a COVID-19 vaccine will soon become available continued to give the market support.
House of Representatives Speaker Nancy Pelosi presented a new Democratic proposal for the latest stimulus measures, while Senate Majority Leader Mitch McConnell teased a revised version of his own plan to fellow Republicans on Tuesday. McConnell's plan has a much smaller price tag than Pelosi's.
In Australia, the ASX 200 was down 0.31% by 10:29 PM ET (2:29 AM GMT). The Reserve Bank of Australia kept its December interest rate unchanged at 0.10%, as widely expected.
Data released by the Australian Bureau of Statistics earlier in the day showed that the Australian economy returned to growth during the third quarter. GDP grew 3.3% quarter-on-quarter, above the 2.6% growth in forecasts prepared by Investing.com and the second quarter's 7% contraction. The data also showed that GDP shrank 3.8% year-on-year, above the forecast 4.4% contraction and the 6.3% contraction reported in the second quarter.
Japan's Nikkei 225 inched down 0.10%, while South Korea's KOSPI rose 1.19%.
Hong Kong's Hang Seng Index fell 0.68%. The city woke up to fresh restrictions on Wednesday, with seating in restaurants limited to two people, most civil servants working from home and schools closed until 2021. The travel bubble with Singapore was also delayed for a second time.
China's Shanghai Composite inched down 0.07% and the Shenzhen Component was down 0.29%. The Caixin services PMI is due to be released on Thursday.
Global shares saw a record month in November over the vaccine optimism, with little to no sign that the rally will wane any time soon. BioNTech (F:22UAy) said that shipment of the first doses of its candidate BNT162b2, co-developed with Pfizer Inc (NYSE:PFE), could happen "within hours" after approval. Moderna Inc (NASDAQ:MRNA) also announced plans on Monday to request clearance for its candidate mRNA-1273 in the U.S. and Europe.
"Markets are closing out a phenomenally volatile year in a euphoric manner … in a full bull scenario," Bulltick LLC chief investment strategist Rooney Vera told Bloomberg.
Other investors were also optimistic.
"We've had some positive leads, and a combination of optimism around the vaccine, and government and central bank stimulus remains in place … it's a sweet spot for market," CMC Markets chief markets strategist Michael McCarthy told Reuters.
However, U.S. Federal Reserve Chairman Jerome Powell was more cautious, warning that the U.S. economy remains in a damaged and uncertain state at Tuesday's hearing before the Senate Banking Committee. Powell testifies before Congress again later in the day.
Investors now await November's U.S. employment record, which includes manufacturing and non-farm payrolls, due out on Friday. The data is expected to show that employment increased during the month, albeit at a slower pace than October.
Leave a comment