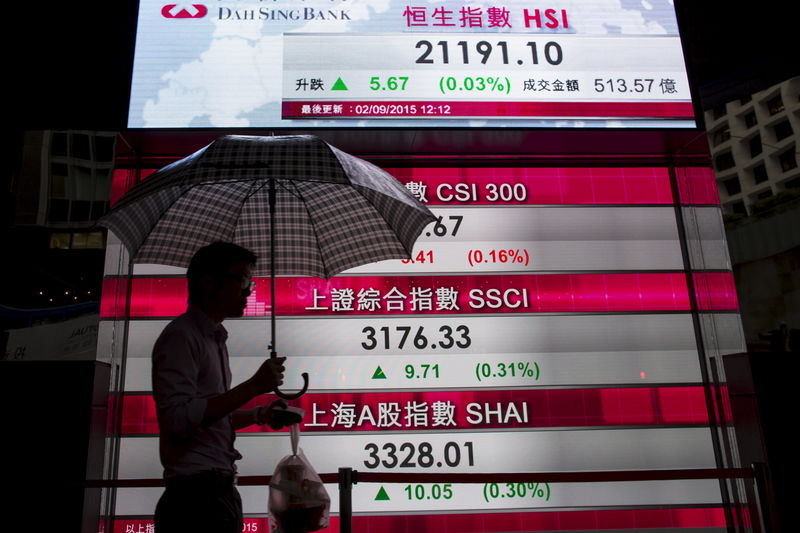 © Reuters.
By Gina Lee
Investing.com – Asia Pacific stocks were mostly down on Friday morning, with investors digesting disappointing jobs data and weighing the likelihood of the latest stimulus measures being passed by the U.S. Congress.
Japan's Nikkei 225 fell 0.60% by 10:31 PM ET (2:31 AM GMT), while South Korea's KOSPI was up 0.94%.
In Australia, theASX 200 was down 0.47%, while Hong Kong's Hang Seng Index was up 0.49%.
China's Shanghai Composite was down 0.29% and the SZSE Component fell 0.39%.
Data released on Thursday showed 853,000 U.S. jobless claims for the past week, more than the 725,000 in forecasts prepared by Investing.com and the previous week's 716,000 claims. The data suggested that more claims were filed as more businesses shut down due to the ever-increasing numbers of COVID-19 cases in the U.S.
U.S. shares also saw a second day of losses overnight. Although Treasury Secretary Steven Mnuchin and House Speaker Nancy Pelosi said on Thursday that there was progress toward an agreement on the measures, there seems to be with no apparent signs of it as Asian markets opened on Friday.
Democrats and Republicans continued their negotiations over the measures, with Senate Majority Leader Mitch McConnell supporting Mnuchin's $916 billion proposal and emphasizing the need to do "everything we can" to help the economy. However, Pelosi sees an alternate $908 billion plan, which is still being drafted by a bipartisan group of lawmakers, as her preferred option.
Both sides have until Dec. 11 to reach a consensus to avoid a government shutdown. However, some investors did not have high hopes for a deal, even if it materializes before the deadline.
"We're just kind of waiting on a deal. I wouldn't expect the market to do a whole lot one way or the other going into year-end from here … especially if the stimulus package keeps getting pushed out," Gradient Investments portfolio manager Keith Gangl told Bloomberg.
Meanwhile, the European Central Bank (ECB) deployed another round of monetary stimulus totaling EUR500 billion ($605.19 billion) during its policy meeting on Thursday. The central bank said that it would its ongoing bond purchase stimulus by EUR500 billion euros to EUR1.85 trillion and will extend its support program until at least March 2022 from the current earliest end date of mid 2021.
With Europe continuing to fight a second wave of COVID-19 cases, the measures were widely within expectations, although the ECB might not use all the funds.
ECB President Christine Lagarde said that the euro's exchange rate had not been targeted. However, she also added, "But clearly [the] exchange rate, and in particular the appreciation of the euro, plays an important role and exercises downward pressure on prices, so we monitor it, we will continue to monitor it very carefully going forward.".
The Federal Reserve also met for its policy meeting on Thursday.
Meanwhile, a panel of outside advisers to the U.S. Food and Drug Administration (FDA) on Thursday voted 17-4 to endorse emergency use of BNT162b2, the COVID-19 vaccine co-developed by Pfizer (NYSE:PFE) and BioNTech SE (F:22UAy). The panel's overwhelming endorsement could clear the way for the FDA to authorize emergency use of the vaccine within days. Vaccine distribution and inoculations in the U.S. are expected to begin almost immediately thereafter.
Some investors remained cautiously optimistic about the overall situation.
Markets are "having to balance a weak short-term picture against a much rosier medium-term as vaccines start to be rolled out … [and] in this environment equities have largely held onto recent gains," National Australia Bank (OTC:NABZY) director of economics and markets Tapas Strickland said in a note.
Leave a comment