Boeing (NYSE:BA) stock has gained 28% in the past month. Shares of the downtrodden aviation giant are riding a wave of investor optimism that the worst of the crises the company has been facing during the past two years is over.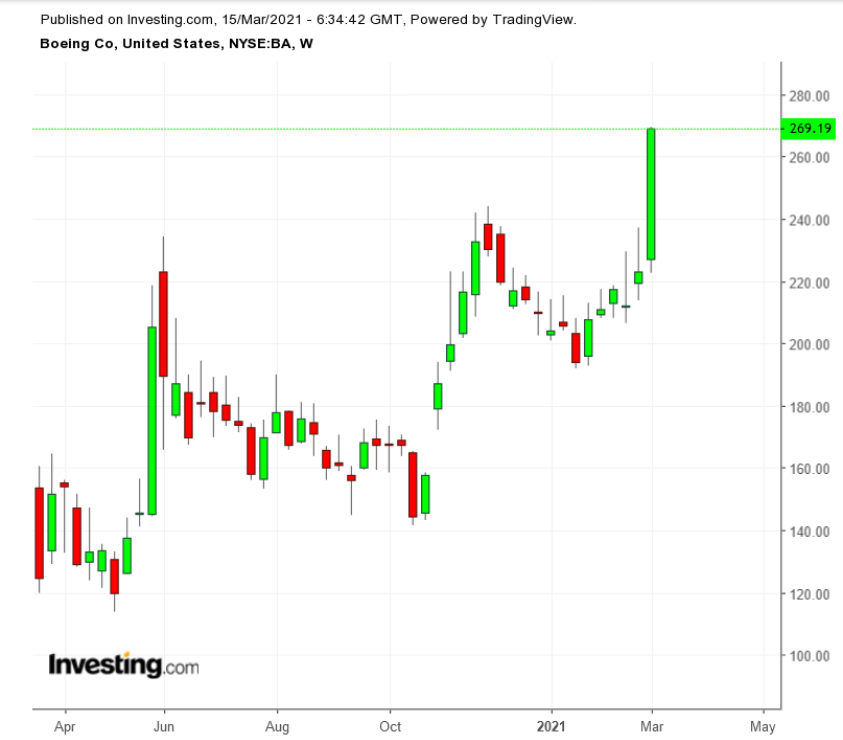 BA Weekly TTM
The stock gained more than 20% in just the past five trading days, closing at $269.19 on Friday. The momentum in BA shares is so strong this time that its surge in 2021 is more than 3 times higher than what the Dow Jones Industrial Average has delivered.
The Boeing rebound comes alongside a broad rally in other cyclical stocks—including airlines, cruise operators and retailers—as investors deployed their cash in areas which are closely tied with the economic reopening after the coronavirus pandemic.
The Chicago-based plane maker's rally is especially striking. Boeing has been grappling with the pandemic-fueled slump in air travel along with the grounding of its 737 MAX jet—which lasted for more than a year—after two fatal crashes linked to a faulty flight-control system.
The latest developments suggest that airlines are returning to buy the popular 737 MAX after Boeing won regulatory approvals to re-start flying the plane. The aerospace and defense behemoth told investors last week that it got more new orders for commercial planes in February than cancellations for the first time in 15 months.
During the month, it got 82 new orders and 51 cancellations. Boeing delivered 22 commercial planes, including 18 of its 737 MAX jets. The MAX was grounded in the US from March 2019 until last November, after two crashes killed 346 people.
How Far Can This Rally Go?
The number of 737 MAX jets back in service has now topped 100, as airlines in the US, Brazil and Europe add more flights with the re-certified jet. More than 1,300 flights were logged in the week through Mar. 3, with American Airlines Group (NASDAQ:AAL) operating almost 400 flights, according to data from aviation analytics firm Cirium.
While these positive developments are important to restore confidence in this embattled industrial giant, the swift rebound in its shares also leaves many investors wondering how far this rally can go. Even after recent gains, Boeing stock is still 40% below its Mar. 1, 2019 record high of $440.62.
Analysts at Canaccord Genuity on Friday upgraded their rating on Boeing's stock to buy from hold, increasing their price target to $275 from $200, based on the 737 MAX return to service, improved outlook for travel, and as the market for wide-body, long-haul planes stabilizes.
According to analyst Ken Herbert:
"While BA's widebody franchise will take substantially longer to recover, we see stability in the 787 and 777 build rates into 2022-2023."

"However, we believe an uptick in air travel and continued stimulus will enable BA to see an increase in orders after several quarters or very low activity."
Despite this bullish activity in BA shares, the analyst community in general doesn't see too much upside from here given the airline industry continues to face many challenges in order to fully recover from the global plunge in travel.
Boeing took a total of $8.3 billion in writedowns in the past quarter, closing out one of the worst years in its century-long history. The major portion of this charge came from the company's decision to delay its production of 777X wide-body planes, announcing that deliveries won't begin until late 2023. This move suggests that regulators will take much longer to certify new jets after the MAX fiasco.
Of 25 analysts covering the stock, half still have a hold rating with a consensus 12-month price target of about $232 a share.
Bottom Line
In the short-run, Boeing stock is benefiting from the trend of investors shifting their cash from high-growth stocks to industrial names that have struggled during the pandemic. That upside, coupled with the improving outlook for MAX jets, is very much reflected in the current stock price.
However, the travel industry, in our view, will take years to return to normal and the hit to Boeing earnings is long-lasting. After the latest move, investors should wait on the sidelines for a better entry point.
Leave a comment