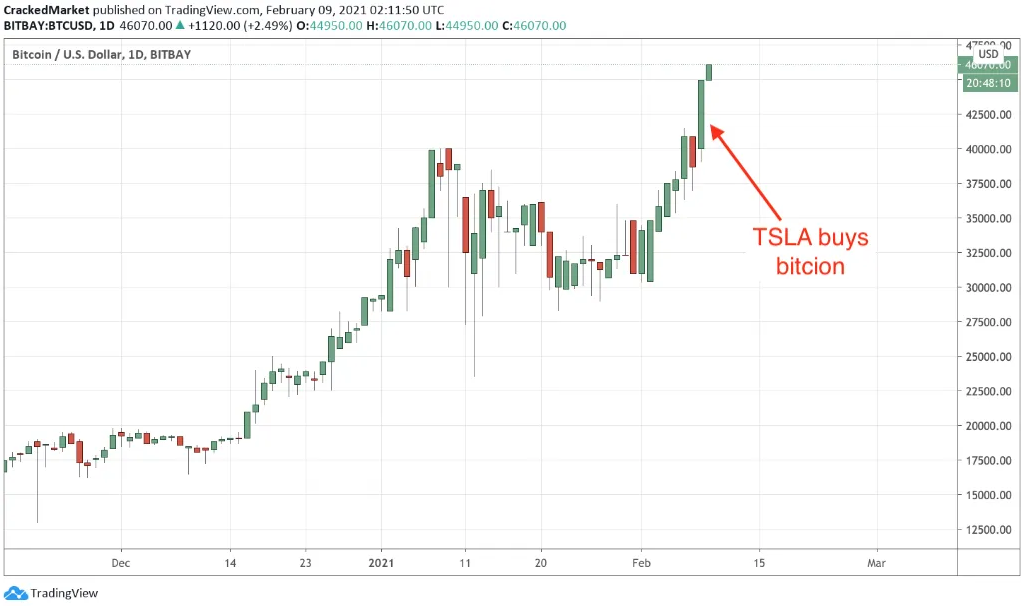 BTC/USD Daily Chart
Bitcoin surged 20% and hit $47K after Elon Musk announced Tesla (NASDAQ:TSLA) bought $1.5 billion worth of the cryptocurrency.
While this is great news for Bitcoin owners, it is borderline negligent for TSLA shareholders. TSLA is a car/battery/solar panel company. It is most definitely not a hedge fund. It doesn't have the mandate from shareholders or the skillset necessary to speculate in cryptocurrencies.
If the highest and best use of TSLA's cash is to buy cryptocurrency, then it should sell its car division and invest the proceeds into Bitcoin. Or even better, give that money to back shareholders and let them decide the best way to invest it.
But no, Elon is gambling shareholders' money and chances are good this will end in a giant writedown at some point. And given TSLA's modest 1.3% gain yesterday, shareholders were not overly enthused about this idea either.
Decisions like this show a lack of fiscal discipline and while Elon has gotten away with big risks in the past, the problem with luck is it always runs out. While this $1.5 billion is largely immaterial to the company's long-term prospects, it demonstrates a carelessness with shareholder money and no doubt that will come back to haunt the company when Elon's luck runs out.
But this is a problem for another day. Until then, the Cult of Elon is strong and as much as I disagree with this move on principle, most shareholders put Elon on a pedestal and he can do no wrong. Momentum is higher and there is no reason to think yesterday's announcement changes the upward trajectory of this stock.
The near-term outlook is for higher prices but never get far from the exits because there is a frightening amount of air underneath us. The question isn't if this stock falls, but when. If you have a solid plan for protecting your profits, you will be fine.
Leave a comment