Bond market action is once again taking center stage as investors become more nervous about betting on growth stocks if yields should continue to rise in the week ahead.
Yields rose again on Friday after U.S. President Joseph Biden said all adults would be eligible for a vaccine by May 1, taking the U.S. economy closer to full reopening. The 10-year Treasury yield touched a high of 1.642%—its highest level in more than a year before settling just a bit lower.
That move also helped the Dow Jones Industrial Average to post a 4% gain for the week. The 30-component mega cap index finished Friday at a record 32,778 as investors favored value and cyclicals over growth stocks whose stretched valuations have become a reason for concern as interest rates edge higher.
The NASDAQ, home to big tech shares, also rose 3% in the past week, but it is down 5.5% over the last month. As these volatile market conditions prevail, here are three mega cap stocks which we're following closely—two of which will announce their latest earnings in the days ahead:
1. Nike
Nike (NYSE:NKE) will release its fiscal 2021 third quarter earnings on Thursday, Mar. 18, after the market close. On average, analysts are expecting the sportswear giant to report $0.758 a share profit on sales of $11.03 billion.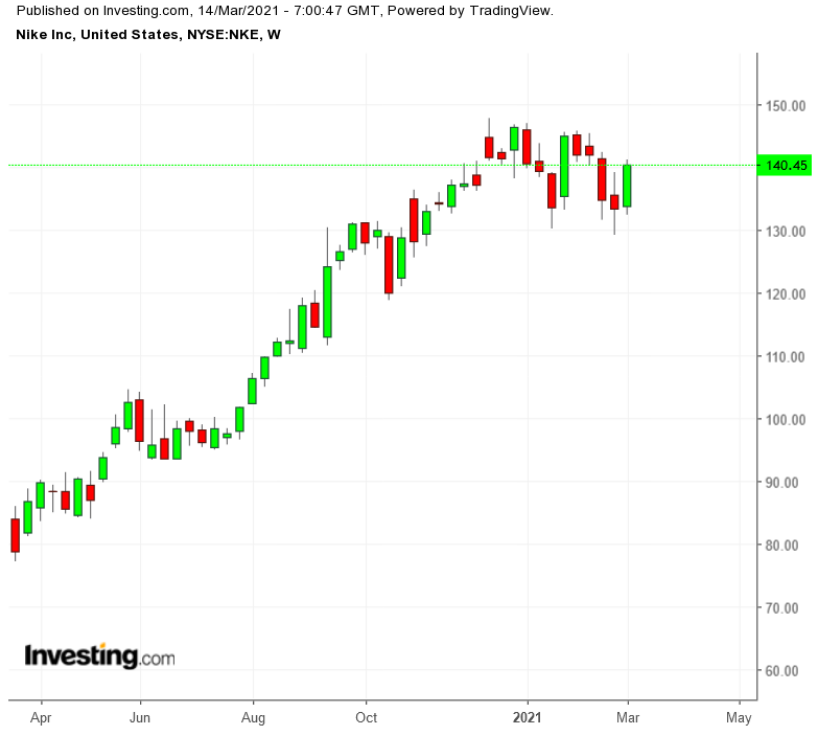 NKE Weekly TTM
After a strong rally following the COVID-19 plunge last year, Nike shares haven't moved much this year. Investors are waiting for further signs of a recovery in the company's sales as economies reopen in the company's two major markets—the U.S. and China.
If Nike is able to report a strong recovery in sales, the stock might break out its current trading range and reach new highs. Nike closed on Friday at $140.45, a little below its record high of $147.95, hit this year.
Nike's strong brand, along with its digital strategy, have positioned the athletic footwear maker of Air Jordan sneakers, among other sports apparel, for long-term growth. The Beaverton, Oregon-based company returned to profit in its fiscal first quarter, and posted much better results than analysts had predicted, despite widespread global lockdowns and the cancellation of sporting events.
2. FedEx
The world's largest parcel delivery service, FedEx (NYSE:FDX), is another mega cap company that will report its fiscal 2021, third quarter earnings after the market closes on Thursday. On average, analysts are expecting earnings per share of $3.35 on sales of $19.93 billion.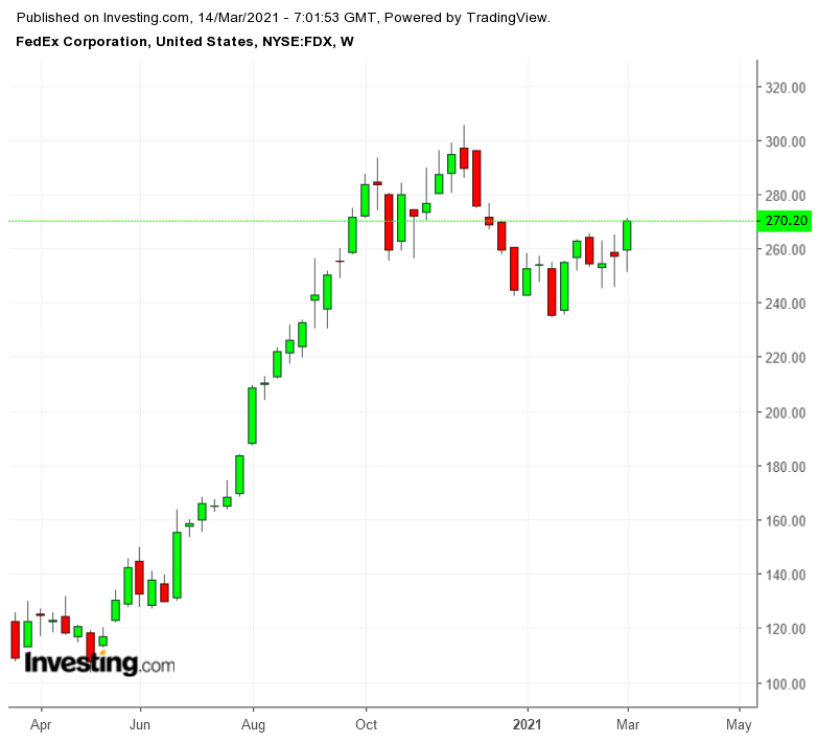 FDX Weekly TTM
FedEx's earnings, which come almost a month earlier than the majority of U.S. companies, are closely watched. The delivery business is considered a proxy for the health of the global economy. The latest releases from the Memphis, Tennessee-based company show that its business is booming as it caters to accelerating, pandemic-fueled demand.
But the stock has lost its momentum since hitting a record high in December, after the company said costs to ship packages to consumers are rising, crimping margins at its flagship ground unit. FedEx shares have gained about 4% this year, closing at $270.29 on Friday after surging to $305.66 in December 2020.
Investors turned bullish on courier companies during the pandemic which forced consumers to do more shopping online. However, any sign that e-commerce deliveries are further eroding profitability, could hurt their shares.
3. Tesla
Tesla (NASDAQ:TSLA) stock may see some activity on Monday after the electric carmaker said over the weekend that it plans to make adjustments to the manufacturing processes in its Chinese factory to boost production capacity in the world's biggest car market.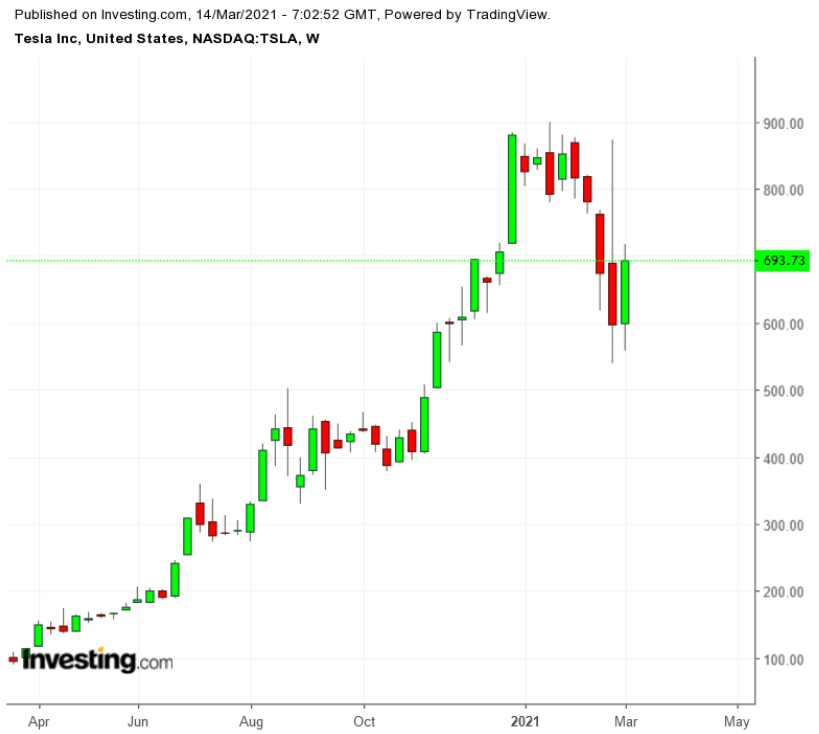 TSLA Weekly TTM
The changes focus on spare-part production in Tesla's Shanghai facility, including plans to improve the power system, chassis and electric motor, the company said in a statement on a Shanghai government website. According to Bloomberg the statement said:
"The project aims to meet demand growth after the production capacity expansion in the factory, and it starts with improvements to the manufacturing process."
China is the second-largest market for Tesla and a key factor in its expansion plans. Retail sales of passenger cars in China last month more than quadrupled to 1.18 million vehicles compared with the year before. Tesla shares closed on Friday at $693.73, after gaining 23% during the week.
Leave a comment