After a week brimming with IPO euphoria, which sent shares of newly listed Airbnb (NASDAQ:ABNB) and DoorDash (NYSE:DASH) soaring, investors might now turn their focus back to the Congressional stimulus package which has so far failed to gain the full political backing necessary for it to be enacted.
Both the Dow and S&P 500 posted their first weekly declines in three weeks, losing 0.6% and 1%, respectively. The NASDAQ dropped 0.7% for the week.
These pullbacks came as politicians continued their negotiations over a coronavirus relief package. Lawmakers are trying to pass a bill before the end of 2020, but disagreements over state and local stimulus, unemployment assistance and the size of stimulus checks still persists, according to media reports. Without fresh fiscal aid, millions of Americans could lose unemployment benefits in the new year.
Amid this uncertainty, investors will also be getting the latest quarterly reports from some of the largest U.S. companies which could provide additional insight into consumers' behavior during the COVID-19 pandemic which continues to spread. Below are mega cap stocks we'll be focusing on during the upcoming week:
1. FedEx
The world's largest parcel delivery service, FedEx (NYSE:), will report fiscal 2021, second quarter earnings after the market closes on Thursday, Dec. 17. On average, analysts are expecting earnings per share of $3.81 on sales of $19.27 billion.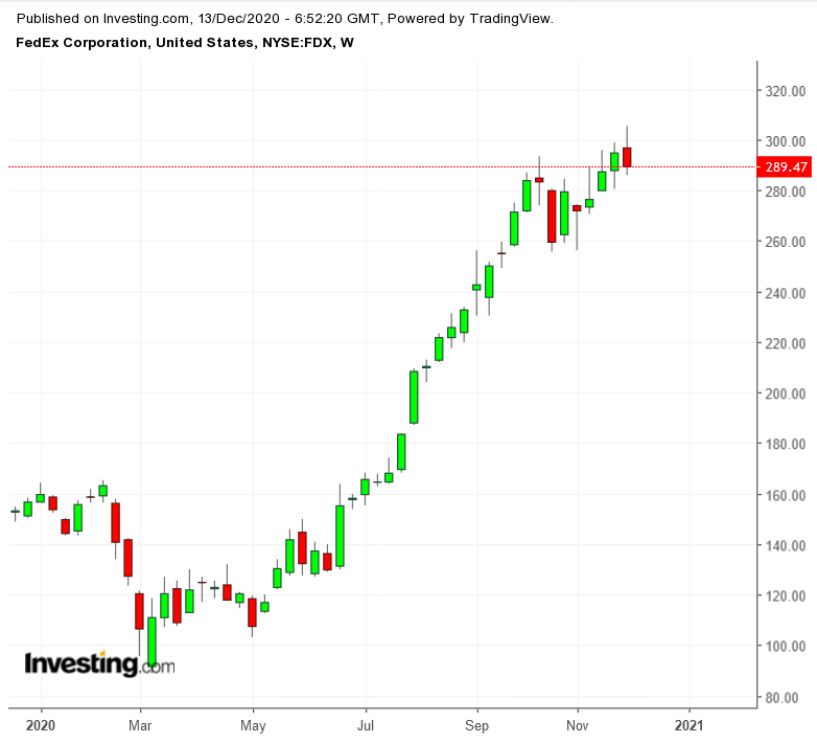 FDX Weekly TTM
FedEx's earnings, which come almost a month earlier than the majority of U.S. companies, are closely watched since the delivery business is considered a proxy for the global economy. The latest communications from the Memphis, Tennessee-based company show that its business is booming as it caters to the accelerating, pandemic-fueled demand.
With digital ordering increasingly becoming the default option for millions of people stuck in their homes due to the coronavirus outbreak, FedEx's ground deliveries are swelling.
Chief Marketing Officer Brie Carere told Bloomberg News in September that FedEx expects the U.S. market will reach 100 million packages a day by 2023, three years earlier than it had previously anticipated.
Due to this momentum, FedEx shares have soared about 90% this year, closing at $289.47 on Friday. The company's latest guidance might offer some clues on how long this boom will last and whether this is the beginning of a long-term trend.
2. Nike
Nike (NYSE:NKE) will release its second quarter fiscal 2021 earnings on Friday, Dec. 18, after the market close. On average, analysts are expecting the sportswear giant to report $0.62 a share profit on sales of $10.55 billion.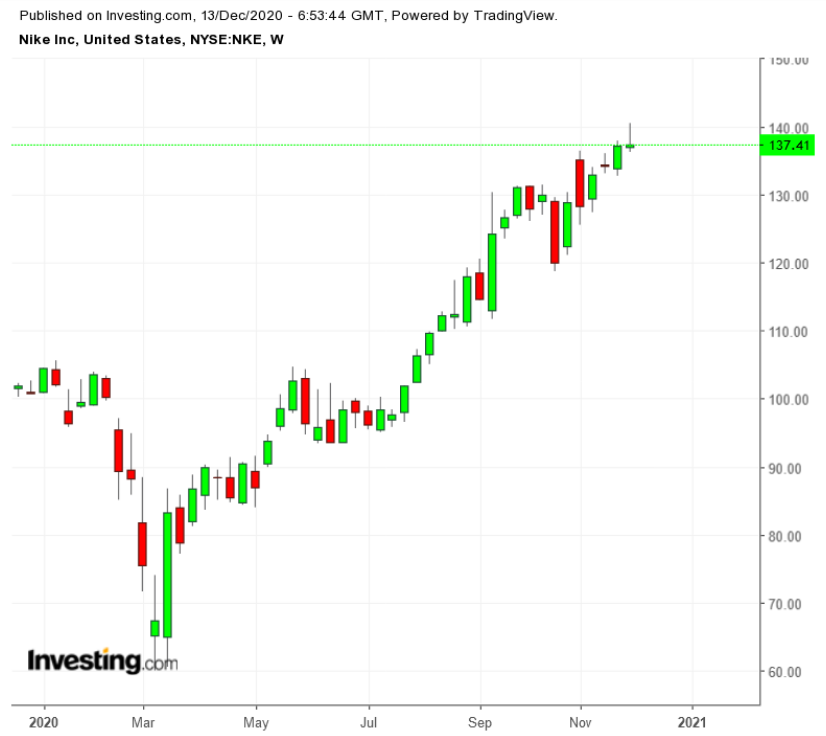 NKE Weekly TTM
Expectations are that Nike will report very strong numbers with its physical stores opening and its direct-to-consumer business booming. Based on these hopes, investors sent Nike shares to a record high last week, after they surged more than 35% this year. The stock closed on Friday at $137.41.
Nike's strong brand and its digital strategy have positioned the athletic footwear maker of Air Jordan sneakers, among other sports apparel, for long-term growth. The company returned to profit in its fiscal first quarter, and posted much better results than what analysts had predicted, despite widespread global lockdowns and the cancellation of sporting events.
3. Pfizer
Pfizer (NYSE:PFE) stock may see some activity after the drugmaker gained emergency use authorization in the U.S. on Friday for its COVID-19 vaccine. Buying shares of the companies that are developing vaccines against COVID-19 has been a great bet this year.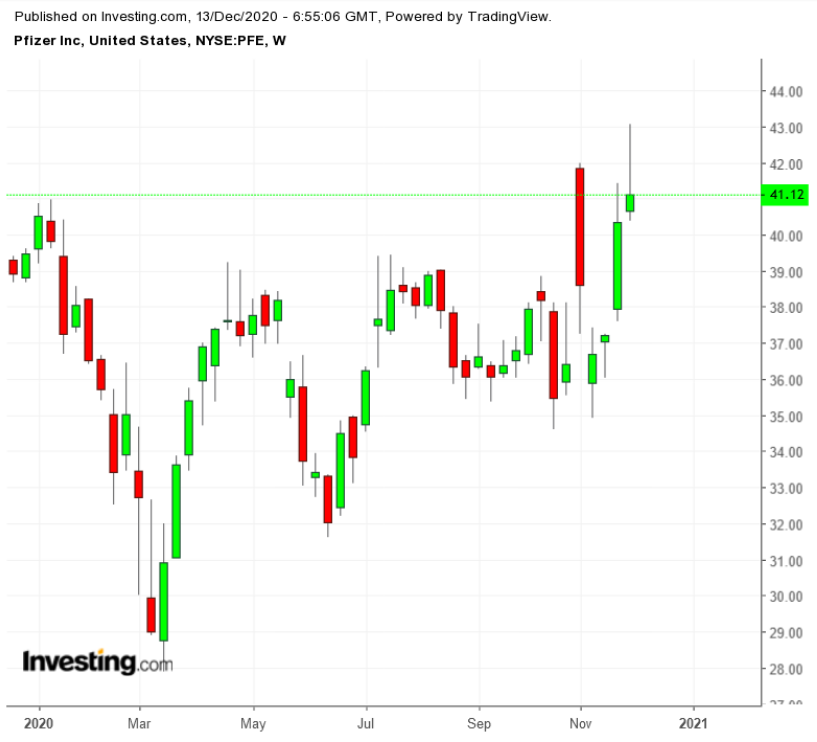 PFE Weekly
Some of the leading candidates in the race to beat the deadly virus have seen the value of their stocks more than double in just a few weeks.
The Food and Drug Administration's decision to authorize use of the vaccine developed by Pfizer and German partner BioNTech (NASDAQ:BNTX) will now set in motion a complicated immunization drive that will launch across the country in coming days.
Gen. Gustave F. Perna, the chief operating officer for the government vaccine program Operation Warp Speed, said at a news briefing Saturday that vaccines are being packaged and will arrive at the initial administration sites on Monday. Among the first to be inoculated will be health-care workers and seniors living in long-term care facilities.
Pfizer shares are up 20% during the past three months, closing on Friday at $41.12, while BioNTech's stock has gained 94% during the same period.
Leave a comment