With President Joseph Biden's new stimulus package in the final stage of negotiation and the Reddit-inspired stock frenzy subsiding, investors turned their attention back to market fundamentals last week.
The Reddit-fueled trading frenzy in some heavily shorted stocks over the past weeks may have proved a distraction for investors who perhaps missed stellar earnings results from mega cap technology companies. Currently, tech is leading all the other S&P 500 sectors with more than 95% of companies in the sector that have reported beating profit estimates, according to data compiled by Bloomberg. As for revenue, 88% have topped estimates.
Below, our list of three significant earning announcements, scheduled for next week, that could provide some insight on how companies are shifting their strategies to survive during the pandemic.
1. Disney
The Walt Disney Company (NYSE:DIS) reports earnings for its fiscal 2021 first quarter after the closing bell on Thursday, Feb. 11. Analysts are expecting $15.89 billion in sales and -$0.33 loss per share.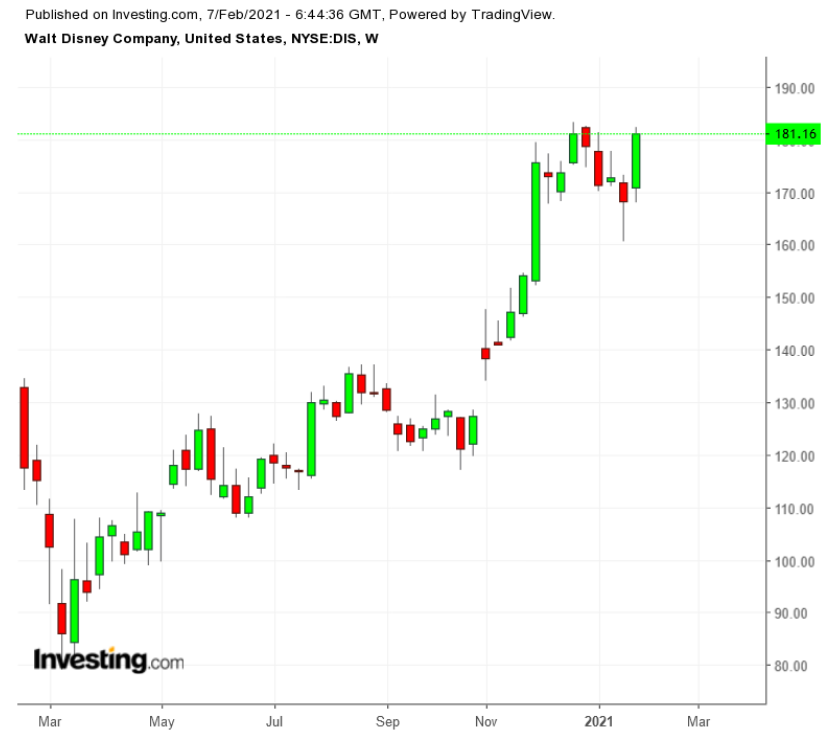 DIS Weekly TTM
The House of Mouse has been taking massive losses during the pandemic as its core travel businesses—theme parks, cruises and hotels—which thrive on shared group experiences, is suffering during lockdowns.
However, one bright spot in the upcoming earnings report could be subscriber numbers on its new streaming service, Disney+ which is benefiting from the stay-at-home environment. Shares of the entertainment giant have gained about 25% in the past one year, after falling about 40% in March. This strong rebound shows investors' faith in the company's business model and its ability to thrive again when the economy reopens. Shares closed on Friday at $181.16.
2. Twitter
Social media platform Twitter (NYSE:TWTR) is scheduled to report its fourth quarter earnings in the upcoming week. Analysts are expecting $0.29 a share profit on sales of $1.18 billion when it reports on Tuesday, Feb. 9, after the close.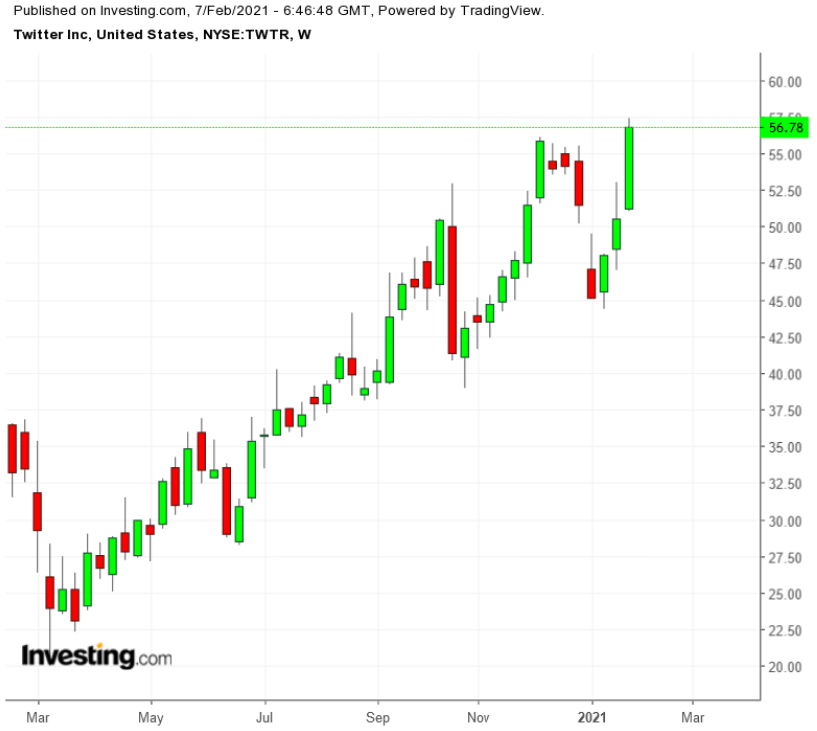 TWTR Weekly TTM
Judging by the latest earning reports from other social media giants, it will be perhaps another strong quarter from the San Francisco, California-based company, especially for the period when the U.S. concluded its presidential election and traffic on Twitter surged.
But for Twitter shares to rally further, the company would also need to show strong gains in its subscriber acquisition.The stock, which closed on Friday at $56.78, has handsomely rewarded investors over the past 3 months, rising about 30% during that period.
3. Coca-Cola
The world's largest soft drink maker, Coca-Cola (NYSE:KO), is scheduled to release its Q4 2020 earnings on Wednesday, Feb. 10, before the market opens. On average, analysts are expecting $0.42 a share profit on sales of $8.61 billion.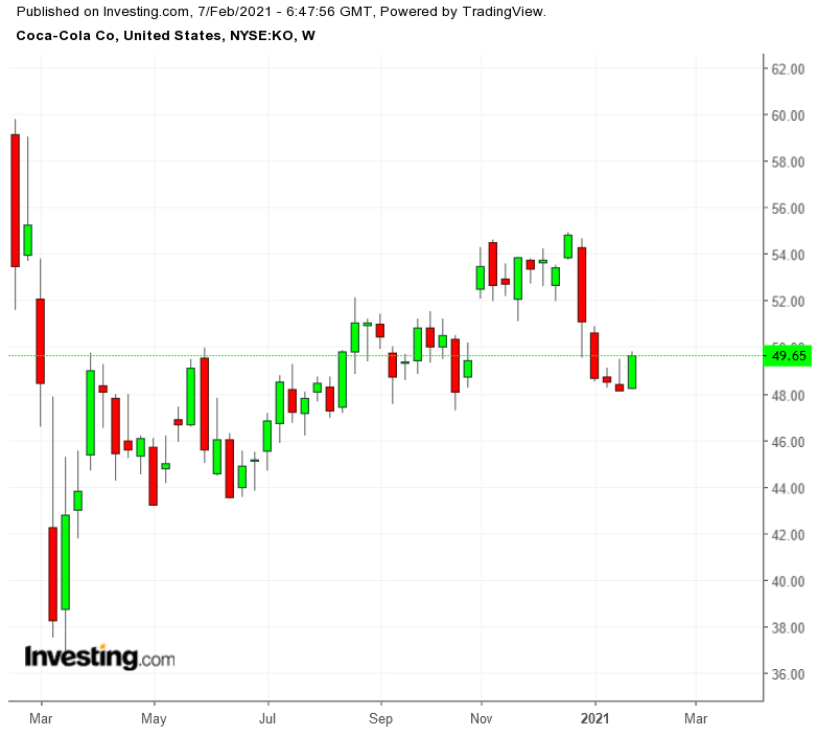 KO Weekly TTM
With so many of its restaurant customers closed during the pandemic, the Atlanta-based company's sales are under pressure. The beverage and snack giant told investors in October that it expects to see growth in China, even as its global sales continue to decline because of lockdown activated closures of restaurants, bars, movie theaters and sports stadiums elsewhere around the world.
In China, where the coronavirus originated, consumers are "more or less back to where they were" before the pandemic started, though away-from-home sales aren't quite back at pre-pandemic levels, Coke's finance chief, John Murphy, told The Wall Street Journal.
Coca-Cola's shares, which closed on Friday at $49.65, are down almost 16% during the past one year. Investors will also be eager to find out from its Q4 earnings report if the company is succeeding in its efforts to arrest the slowing soda business while expanding sales of non-sugary products.
Leave a comment