In a financial environment riddled with unprecedented levels of uncertainty, investors are at wits' end. When it comes to finding an investment strategy that will yield returns, traditional methods might not be as dependable. So, how should investors get out of the rut?
In times like these, a more comprehensive stock analysis can steer investors in the direction of returns. Rather than looking solely at more conventional factors like fundamental or technical analyses, other metrics can play a key role in determining whether or not a particular stock is on a clear path forward.
Investing.com offers a tool that does exactly that. Its Investing Insights measures six key metrics including Investor, hedge fund and insider activity, while also taking into account analyst, blogger and news sentiment. After analyzing each metric, a single numerical score is generated, with 10 being the best possible result.
Using the Investing Insights tool, we were able to pinpoint three promising stocks that score a 'perfect' Smart Score of 10. Let's take a closer look.
Rush Street Interactive (RSI)
We'll start with a gaming company, Rush Street Interactive (NYSE:RSI). Based in Chicago, and active in online casino social gaming since 2015, Rush Street now offers a line-up of online social games for casino operators in regulated markets. The company is live in 8 states, including Colorado, Illinois, Indiana, Iowa, Michigan, New Jersey, New York, and Pennsylvania – and with games live in Colombia, Rush Street was the first US company to launch online sportsbook betting in Latin America.
Casino-style gaming is a big business, and Rush Street's strong position drew interest from a special acquisition company (SPAC). The deal – a business combination with dMY Technology Group II Inc (NYSE:DMYD) – put the RSI ticker on the market on December 30 at the standard SPAC price of $10 per share. At the end of the first day's action, RSI was trading at $21.51. The company currently has a market cap of $4.26 billion.
In November, shortly before the merger that took the company public, Rush Street reported solid results for the third quarter of the year. Revenue, at $78.2 million, was up 370% year-over-year. Those gains were supported by 135% growth in quarterly real money active users – a key metric, measuring the number of paying gamers. The company raised it 2020 full-year guidance by 20%, putting revenue projections in the range of $265 million to $275 million.
Brad Erickson, writing from Needham, sees a clear path forward for Rush Street in the interactive online gaming niche, writing, "RSI is the leading iGaming player in the U.S., offering a differentiated user experience. In our view, RSI offers investors a cheaper way to play the legalization of online gambling in the U.S. with a valuation almost directly in-between brick & mortar peers and digital pure plays… we believe RSI's brands are perceived as offering a better user experience, which has driven better retention vs. peers and ultimately, the #1 run-rate market share in the U.S. with key features being lower play-through rates and fewer payments-related conversion abandonments…"
In line with his comments, Erickson rates the stock a Buy and his $35 price target implies a one-year upside potential of 63%.
The Strong Buy analyst consensus rating on RSI is based on 4 reviews, including 3 Buys and 1 Hold. The stock is selling for $20.88; it has an average price target of $26.25, suggesting an upside of 25% for the year ahead. (See RSI stock analysis)
RSI Smart Score

ConocoPhillips (COP)
Next up, ConocoPhillips (NYSE:), is a big name in the energy industry. This company has major hydrocarbon exploration and production assets, in various locations around the world. ConocoPhillips has over $35 billion in yearly revenues, yielding more than $7 billion in annual income, and supporting a market cap of $56 billion – all making this the world's largest oil and gas producer. The company is based in Texas, and derives almost half of its production from US sources.
Despite all of that clear strength, COP's shares remain down, having bounced back only partially from the 'corona recession.' An unfortunate combination of low prices, depressed demand, and consequent reduced production led to lower revenues in 2020, especially in the first half. In Q3, the trend started to turn around, and the top line came in at $4.35 billion, up 55% sequentially.
In other positive news, the company reported having $2.8 billion in cash and cash equivalents on hand at the end of the quarter, plus $4 billion in short-term investments, for a total of $6.8 billion in liquid or near-liquid assets. It is an example of ConocoPhillips' deep pockets in the face of an ongoing crisis. Investors can also take heart from the company's announcements last month of new oil and gas discoveries off the Norwegian coast and in the Norwegian Sea.
Through everything, ConocoPhillips has maintained its commitment to the dividend payment as a tool for returning profits to shareholders. The company raised its payment in the last dividend declaration, setting it at 43 cents per commons share. This annualizes to $1.72, and gives a high yield of 4%.
In his note on this stock, RBC's Scott Hanold says, "COP offers a returns-focused value proposition, a strong balance sheet, and peer-leading distributions. The company appears well positioned to maintain competitive FCF generation through various commodity price cycles with 23 Bboe of resource potential…"
His bullish outlook supports his Outperform (Buy) rating, and his $58 price target suggests a possible upside of 37% for the next 12 months.
With 14 reviews on record, including 13 Buys and just 1 Hold, there is plenty of support for the Strong Buy analyst consensus rating on COP. Shares are priced at $41.68, and their average target of $52.54 implies a 26% one-year upside. (See ConocoPhillips' stock analysis)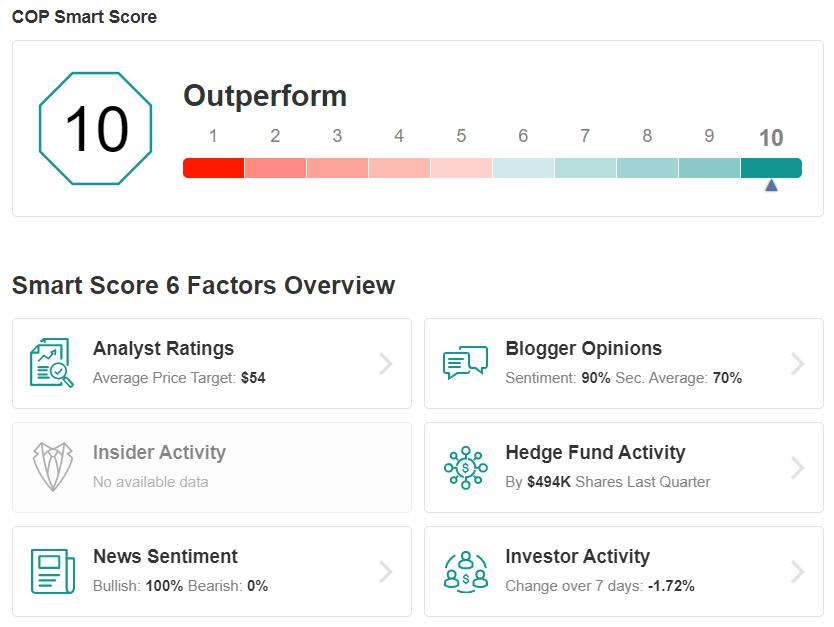 COP Smart Score

Brown & Brown (BRO)
Brown & Brown (NYSE:BRO) is an insurance company – one that does over $2.3 billion in annual business. The company is based in Florida, boasts a market cap of $12.4 billion, has 300 office locations, and is the fifth largest insurance broker in the US. Brown & Brown deals in risk management, offering insurance products for customers of all sizes: government agencies, professional organization, businesses, corporations, and families and individuals.
Brown & Brown has seen its revenues and earnings rise year-over-year during the corona crisis – which makes sense, as a stable and reliable insurance company should expect to see an increase in business during unsettled times. The 4Q20 results showed revenue of $642.1 million, up 10.9% yoy. Earnings came in at 34 cents per share, an increase of 25% yoy.
On the insider front, Board of Directors member James Hay put down $433,750 for a purchase of 10,000 shares on January 29. This brings the insider sentiment here into positive territory.
Truist analyst Mark Hughe sees Brown & Brown as a solid choice for investors interesting in the insurance sector.
"The company is generating solid organic revenue growth, margins should be steady-to-up this year, and M&A activity has been healthy, all of which should drive solid top- and bottom-line expansion in coming periods. We believe BRO shares remain a good way for investors to get exposure to the recovering economy and firming P&C pricing," Hughes opined.
In line with his optimistic approach, Hughes rates BRO a Buy, and his $55 price target indicates confidence in ~25% growth for the next 12 months.
Is the rest of the Street in agreement? As it turns out, the analyst consensus is more of a mixed bag. Split almost right down in the middle, 4 Buy ratings and 5 Holds were assigned in the last three months, giving BRO Moderate Buy status. With a $51.44 average price target, the potential twelve-month gain comes in at 17%. (See BRO stock analysis)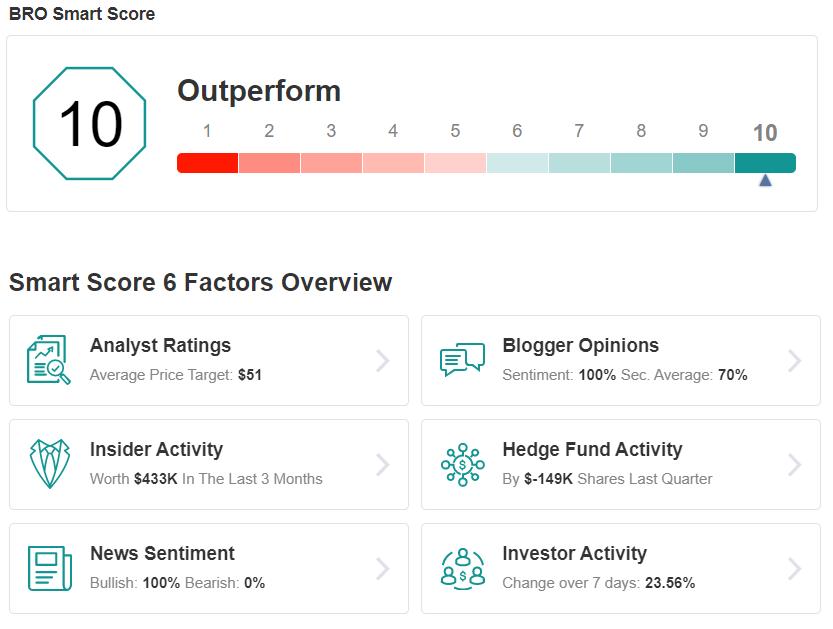 BRO Smart Score

To find more ideas for stocks trading at attractive valuations, visit Investing Insights.
Leave a comment