It was an unusual year for raising capital through equity markets. During 2020, even while investors were grappling with this century's worst health crisis, U.S. companies were able to raise a record amount in Initial Public Offerings (IPOs).
Firms raised $435 billion in stock sales this year, far exceeding the previous high of $279 billion set in 2014. Another surprising element linked with these transactions: these IPOs held their ground after a remarkable surge during early trading days as investors looked beyond economic, political and corporate-profit uncertainties.
For those who missed these opportunities and are keen to make some of these great stocks part of their portfolios now, we've shortlisted the following three names to keep them on top of in order to take a position when they drop in price.
1. Airbnb
Airbnb's (NASDAQ:ABNB) IPO earlier this month was, no doubt, one of the greatest success stories of 2020. The San Francisco-based vacation rental platform decided to go public even as the travel industry faced one of its worst crises, marked by a collapse in the demand for flights and hotel bookings amid the COVID-19 pandemic.
After the company remained afloat when liquidity dried up last spring, Chief Executive Brian Chesky quickly shifted his strategy to focus on local stays when travellers began avoiding taking long flights.
Airbnb's relative resilience in a historically bad year for the travel industry is a result of a flexible business model that allowed the company to meet customers in the places they wanted to go. That meant city dwellers fleeing to less crowded locations or families and groups looking to vacation close to home.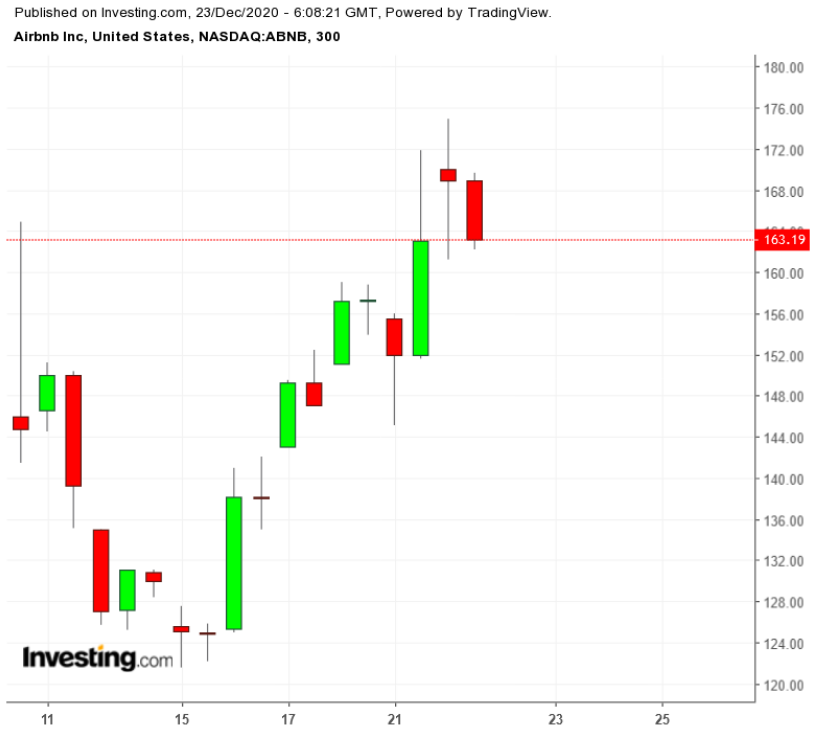 ABNB 300 Minute Chart
While these strengths are very much reflected in the success of Airbnb's IPO, the big question for retail investors is: When is the right time to buy this stock? The shares closed Tuesday at $163.19, more than two-fold higher than their IPO price.
After this massive move, the smarter strategy for investors should be to wait and look for a better entry point. That opportunity might come when the company releases its first post-IPO earnings report, the date of which has yet to be announced.
2. DoorDash
DoorDash (NYSE:DASH) went public last month, proving investors valued the food delivery platform that is capturing the pandemic-fuelled boom in demand for meals brought to our doors.
The San-Francisco-based company has a growing subscription program, which shows the loyalty of its customers and the potential for recurring sales. DoorDash's subscription program had more than 1 million subscribers from August 2018 to August 2019.
Its first-mover advantage has helped the company to capture 50% of the U.S. market's food-delivery business, far ahead of its main rivals, UberEats (NYSE:UBER), Grubhub (NYSE:GRUB) and Postmates which is also owned by Uber.
But DoorDash stock, after its post-IPO boom, has become quite expensive. It could also be vulnerable if the competition heats up.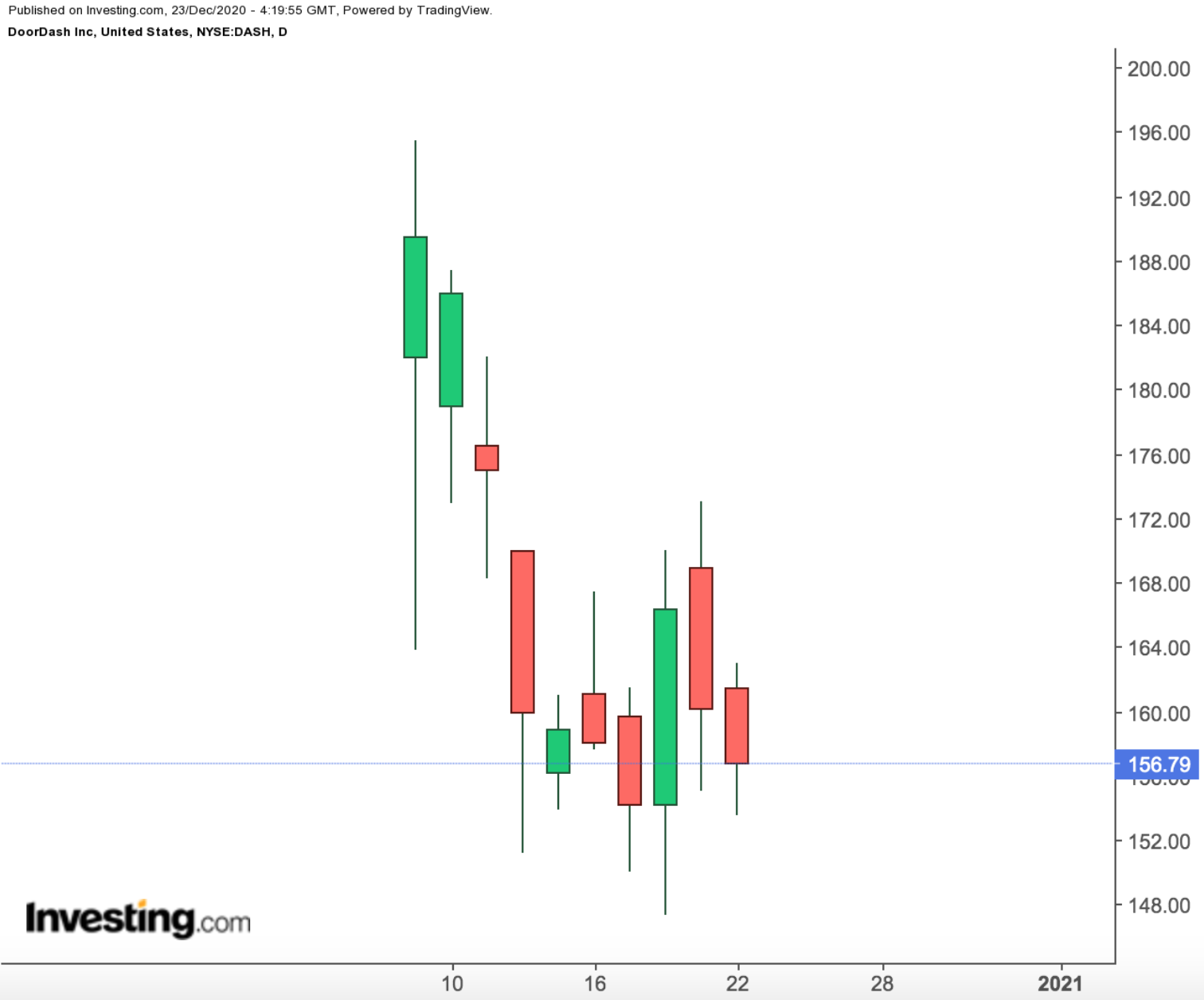 DoorDash Daily Chart.
DoorDash should be worth $40 a share, according to Citron Research, citing intense competition in the market for food delivery, lack of brand loyalty from customers and potential government regulation. That would represent a 75% decline from Tuesday's closing price of $156.79.
The chances of that massive decline are slim in the short-run, but investors should take the advantage when and if this stock falls more than 20% from its current value.
3. Snowflakes
The cloud-data software maker Snowflake (NYSE:SNOW) is another stock that should be on your buying list in 2021 when its share price becomes more affordable.
Snowflake shares have more than tripled since its initial public offering in September. The stock closed Tuesday at $341.16, giving the company a market valuation of more than $100 billion.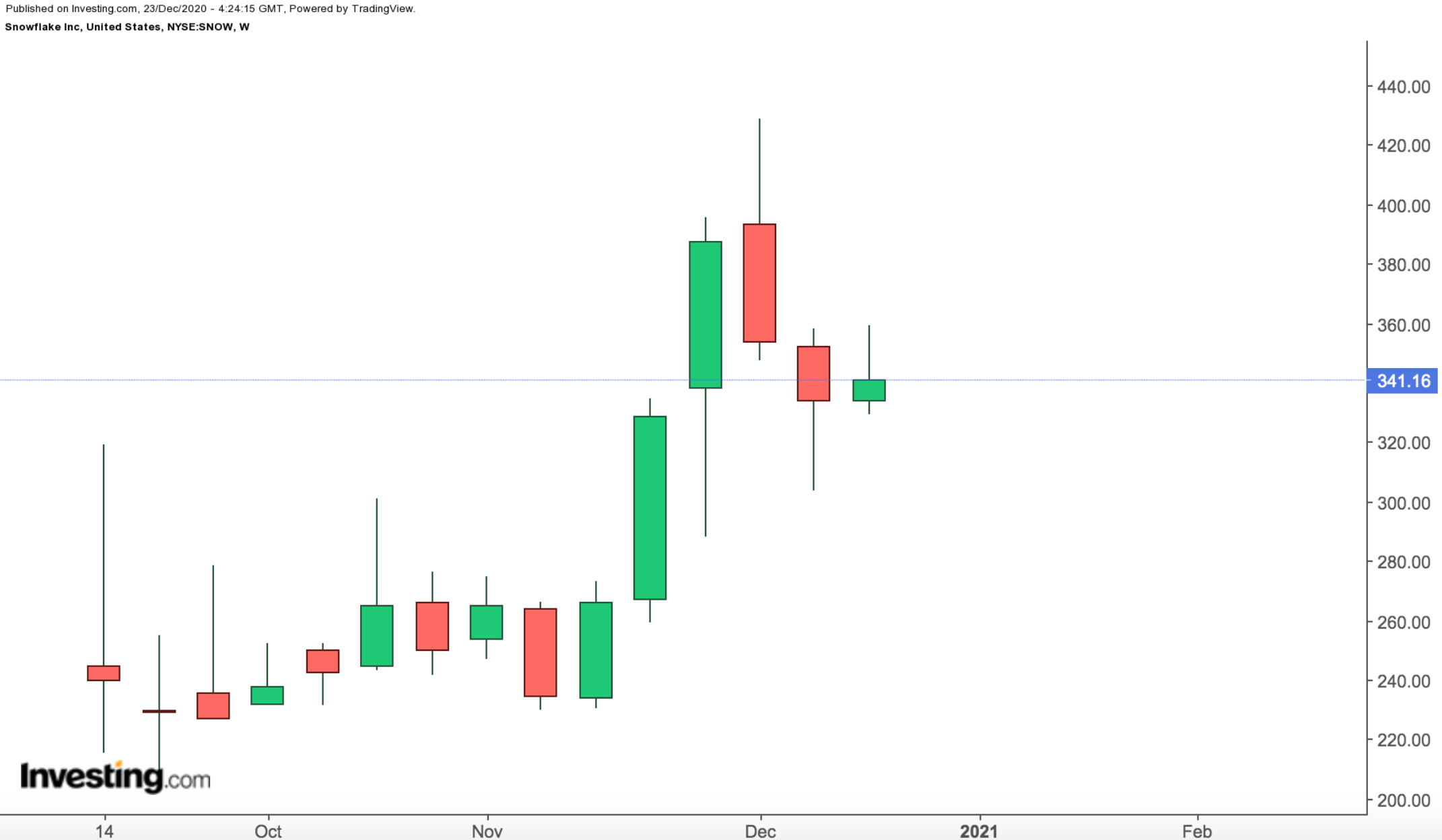 Snowflake Weekly Chart.
The California-based firm's revenue growth is projected to exceed 80% next year.
But despite investors' extreme positivity about the stock, analysts remain relatively cautious over concerns about whether its valuation had become stretched. The cloud-computing company is trading at 83 times next year's revenue estimates, compared with an average of about five times for companies in the NASDAQ 100 Stock Index.
With more than half of the 22 analysts covering it maintaining a hold rating, according to data compiled by Bloomberg, Snowflake shares are now 31% higher than the average analyst price target. Despite these red flags, Snowflakes runs a solid business with huge growth potential.
Leave a comment